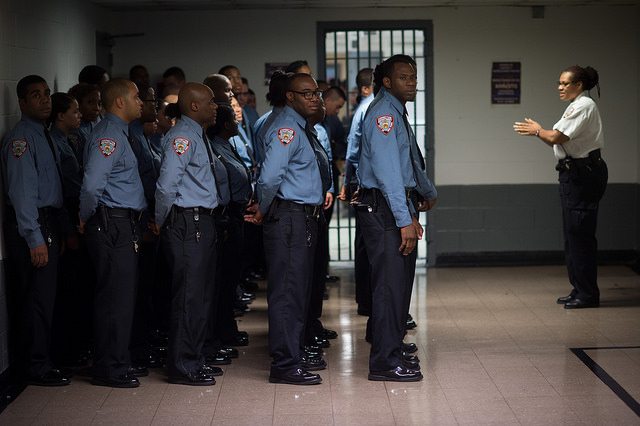 (photo via The Mayor's Office)
---
When a head injury occurs in any of New York City's 12 jails, no one bats an eye, according to Jonathan Stenger. "It's accepted," said Stenger, who was formerly incarcerated on Rikers Island and now works with inmates in the city's jails through the Osborne Association. "People are just used to it."
Quantifying these incidents for the first time, a new study finds that the rate of traumatic brain injuries (TBIs) sustained by inmates in New York City jails is more than 60 times higher than in surrounding communities. A head injury is considered a TBI if it causes the person to lose consciousness or to become confused and dazed. Published in the August issue of the Journal of Health Care for the Poor and Underserved, the study also provides estimates for the 5,000-plus jails and prisons across the country; the five-person research team concluded that there are some 600,000 incidents of head trauma annually, close to 90,000 of which are TBIs.
The new findings could help researchers better understand recidivism and the long-term mental health issues facing many individuals who are spending or have spent time in jail, since these injuries can lead to degenerative brain diseases. They also raise questions about the societal costs of injuries incurred in jails, about officer training, and about the need for better injury and health recording systems in jails, which aren't required to maintain such data.
"Brain injuries are a chronic health condition that shorten and diminish quality of life," said Wayne Gordon, a rehabilitation medicine professor at Mount Sinai Hospital in New York City. "We need to be looking at how to make jails safer for these individuals, or it will continue to have significant public health implications."
During a traumatic brain injury, the brain—which has a consistency similar to gelatin or firm tofu—shakes and jiggles within the skull. No matter where the head is hit during a severe injury, the gelatinous brain collides with and scratches against the front part of the skull that has bony ridges, damaging tissue. If there's enough movement, tissues connecting the mid-brain and frontal lobe move at different speeds, harming connections from one area to the other.
"The frontal area is what makes us most distinctly human," says John Corrigan, director of the Ohio Valley Center for Brain Injury Prevention and Rehabilitation. "Relative to the weight of the brain—we have way more frontal lobe than any species."
This area primarily regulates impulse control, delayed gratification, and the ability to understand abstract and nuanced concepts. Following a TBI, people commonly report an inability to concentrate and high levels of fatigue, among a host of other symptoms that have implications for recidivism rates and employment.
Repeated brain trauma can deteriorate brain tissue to the point where it loses some function—a condition called chronic traumatic encephalopathy, or CTE. Symptoms of the disease, which has drawn public attention because of its impact on players in the National Football League, include aggression, depression, confusion, suicidal tendencies, and progressive dementia. The National Institutes of Health has taken the lead on conducting CTE research, but has mainly studied the disease in football players and boxers.
Prisoners have not been studied and one of the main reasons, Corrigan said, is a lack of data. Jail and prison facilities across the country aren't required to keep standardized injury logs, and many facilities haven't implemented electronic medical records. New York City was among the first to do so, and is one of a handful nationwide that uses records as a surveillance tool to monitor head injuries.
The research team behind the new study jumped on the opportunity in 2012 when the city announced it would use electronic health records to monitor medical care in its jails. They tweaked the recording system so physicians working with inmates would be prompted to ask more specific questions if their patient had a head injury—including detailed descriptions of the immediate effects, and how the injury happened.
The researchers looked at 42 months of records of nearly 275,000 New York City inmates, and observed that, over this period of time, nearly 14 percent of inmates suffered a traumatic brain injury. After examining emergency room and clinical records across New York City, the researchers calculated that the rate of TBI sustained in jails over the three-and-a-half-year study period was about 63 times greater than in community settings. Experts said there's no reason to believe much has changed since the study period ended.
A possible limitation of the study, said lead author and physician Anne Siegler, is that someone who experienced two traumatic brain injuries could have been counted as two individuals. The researchers were unable to identify unique incidents in the emergency room data due to privacy reasons, and therefore chose to tally each head injury as one.
The study was able to identify causes. The team found that inmate-on-inmate fighting and the use of force by an occupational officer were the greatest sources of head injuries: 42 percent (5,966) and 23 percent (1,776), respectively. Other causes included self-injury, slipping and falling, and attacks.
As they began to collect data, the researchers noticed how frequent head injuries were, which echoed their anecdotal experience. Homer Venters, an author of the study and former chief medical officer of the New York City Health and Hospitals Corporation, described hundreds of visits he had made to city jails during his two-year tenure that involved treating patients who had suffered head injuries. Often, Venters recalled, a light would go on for an inmate he was treating when he began reciting the cognitive issues associated with TBI.
"It runs counter to the narrative they get everywhere else, which is that they're lazy, they're dumb, or there's a problem in their will or moral character," said Venters, who is now the director of programs at Physicians for Human Rights.
One patient Venters worked with said he used to read hundreds of pages a day before a correctional officer injured him; afterward, he had trouble reading more than a page or two in one sitting. He told Venters he felt tired and unable to follow the text.
Experts in the field say the new findings are alarming, particularly when extrapolated to the national level. The 600,000 or so head injuries that the researchers estimate occur in jails nationwide would amount to an additional 40 percent of head injuries if included in data collected by U.S. public health systems, said Venters. The Centers for Disease Control and Prevention estimates that 2.1 million individuals suffer TBIs annually.
More accurate numbers could be found with better record-keeping in jails, Venters said, but no one seems eager to quantify the scale. There is a dearth of data on the methods cities use to record injuries in jails or whether steps are being taken to implement electronic health records. "Jails and prisons don't really want to know rates of injuries," said Venters. The federal Bureau of Prisons' (BOP) office of public affairs said the bureau does not monitor these injuries "due to the fact the cause of inmate head injuries in the BOP may vary."
Experts say that the new findings suggest that only better record keeping will make fully clear the extent of the injuries on a national scale, and that training programs for re-entry should include discussions of TBI and its implications. Another study published in February 2017 found that former inmates in Indiana with TBI were more likely to return to jail than former prisoners without TBI.
Corrigan described the importance of arming re-entry workers with strategies to effectively communicate and create treatment plans with this subset of the formerly incarcerated population. If someone is displaying a short attention span and has a history of TBIs, slowing down when explaining something, recapping points and asking them to summarize major points can help them process information.
Members of the team said that training prison officers is critical as well. When Venters and his colleagues noticed the frequency of head injuries, they reached out to correctional officer training academies, delivering a handful of lectures about how to identify when incarcerated individuals may be showing signs of head injury. But the future of these or similar training efforts is not clear. Following multiple requests for interviews about guard training, a public relations officer at the Department of Corrections sent an email with a statement attributed to spokesperson Peter Thorne: "The Department cares deeply about the health and well-being of all inmates and is working closely with our city's correctional health services provider to ensure people in our custody are provided with quality health care."
Stenger said he hasn't noticed any changes in the prevalence of head injury in the people he has worked with over the last few years. He described the jails as still feeling "unsafe." Venters seems to agree:
"The way the jail system confers new health risks onto the people that pass through it is profound."
***
by Maya Miller for Gotham Gazette
@GothamGazette
The author is a freelance journalist currently earning an M.A. in health and science journalism at Columbia's Graduate School of Journalism.