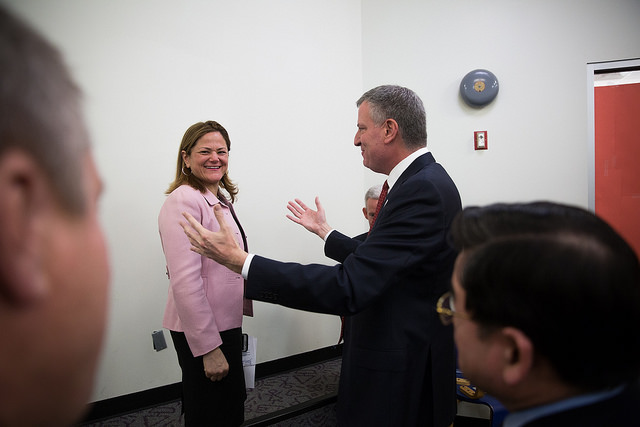 (photo: William Alatriste/City Council)
---
Melissa Mark-Viverito, the first Latina to preside over the 51-member New York City Council, leaves office having shepherded a progressive shift in the city's direction, in conjunction with fellow Democrat Mayor Bill de Blasio, a philosophically aligned partner in government who was the deciding factor in her winning the powerful speaker position four years ago.
As arguably the second most powerful elected official in the city, Mark-Viverito oversaw an agenda of progressivism that significantly moved the needle for causes of social justice, especially related to immigrants, workers, and the criminal justice system, many of which were close to her heart and supported by a Council dominated by progressive members. But when the needle didn't move fast enough, there were those that said Mark-Viverito too often carried the mayor's water. It's a charge she disputes, as do numerous Council members that served under her as they look back at her four years at the helm.
Members broadly agree that she followed through on a promise to give rank-and-file Council members the freedom to pursue their priorities while standing firm against the mayoral administration when it mattered, and that some capitulation to the administration's priorities was part of the high-wire balancing act that defines the speakership. While they worked together far more often than they were in opposition, it was not always clear to what extent Mark-Viverito and her members, on one hand, and de Blasio, on the other, disagreed, given that the Council speaker often kept negotiations close to the vest and declined to comment in detail as the legislative process unfolded.
Mark-Viverito and her members also rarely aired internal conflict publicly, while members appeared to know that their speaker would support them, even as she very much pursued her own policy priorities and kept a tight grip on what legislation made its way to the Council floor for a vote.
The outgoing speaker made careful decisions about when and how to criticize the mayor, preferring to hold oversight hearings than to make splashy headlines with a sharp quote. She regularly declined to comment about de Blasio's ethics and transparency problems, instead pursuing legislation to address certain issues or allowing others more willing to be oppositional to fill the space. She mostly stayed out of de Blasio's feud with Governor Andrew Cuomo, another fellow Democrat, though she herself has been part of some tense intra-party political battles with officials like former Assemblymember and current Manhattan Democratic Party leader Keith Wright.
Mark-Viverito assumed the speakership in January 2014 with support from an ascendant mayor, strong labor unions, and a newly empowered Progressive Caucus, bucking the traditional county party-dominated process for selecting a new speaker. The new dynamic led some to be wary of whether Mark-Viverito would be a speaker for the members of the Council or for the mayor, whose politics so closely resembled her own. After taking office, she quickly advanced internal changes at the Council that were meant to empower members, particularly the chairs of the 40-odd committees, while also maintaining sufficient control within the speaker's office.
"The considerable thing about my leadership is that I made it a member-focused legislative body," Mark-Viverito said, in a recent appearance on the Max & Murphy podcast hosted by Gotham Gazette and City Limits. "It wasn't about me centralizing the power, just pushing what my agenda was…[it was about] having the members really have much more of a functional role and ownership for this institution. It belongs to all of us, it doesn't just belong to the speaker."
Mark-Viverito beefed up the Council staff to support members' legislative priorities, she said, which led to greater output. Over the four years, the Council passed 714 bills under her leadership, more than any Council class before it. "I was being respectful to member priorities and the vision that they had and working with them on that...and I think that's the way a legislative body should function," she said.
[Listen: Max & Murphy Podcast: City Council Speaker Melissa Mark-Viverito]
The first two years of Mark-Viverito's speakership proceeded amicably with the mayor for the most part. The Council played its part in supporting the mayor's agenda that included universal pre-kindergarten and expanding the paid sick leave law. City spending ramped up with little opposition from the Council, which also advocated for increased spending on its own policy priorities.
"I think that from the start the speaker was a forward thinking, independent leader," said outgoing Council Member Elizabeth Crowley, a Queens Democrat. "She brought real fairness and transparency to the Council and made the Council a better place to work, from someone who had been in the Council for five years prior to her leadership."
An early area of disagreement was Mark-Viverito's call for an increase in the NYPD's headcount, which struck many as peculiar given her criticisms of police practices and the larger criminal justice system. She unsuccessfully pressed the issue in 2014, and then renewed her efforts in 2015, eventually convincing a hesitant de Blasio to back the expensive idea. The department ended up adding 1,300 new officers, a compromise among the Council, the mayor, and the NYPD.
Also in 2015, in the city's fight against the ride-hailing service Uber, Mark-Viverito publicly chastised the mayor for presuming that the Council would do his bidding. The mayor, after giving up his effort to cap the number of new cars run by Uber and its competitors, threatened that a cap was still a tool available to him, even though it would have to be approved by the Council first. "I'm not going to allow anyone to attempt to save face at the expense of this Council," she said at a news conference at City Hall, raising many eyebrows. "This Council decides what bills we need to discuss, what debates we will have, what will be taken off the table, what will be put on the table. No one else leads that discussion, no one else influences that discussion."
Higher profile battles would occur later still, as de Blasio's first term wore on towards a potential second and as the speaker's final term wound to a close. (Mark-Viverito was early to endorse de Blasio for reelection, but, over the following months, she seemed to show more willingness to resist his politics and policies.)
"I think first and foremost, she's been her speaker," said Council Member Brad Lander, in a phone interview, on whether Mark-Viverito had been the members' speaker or the mayor's. "She's got a strong vision for the city and for the Council and that's what I think has guided her. I think it's been a really productive and fair and highly consequential and progressive speakership."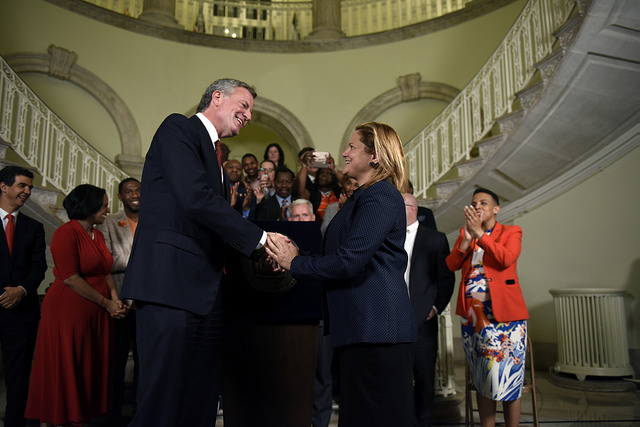 Lander, who was a leading proponent for Mark-Viverito to become the speaker and was named chair of the Council's rules committee by her, praised the internal reforms that Mark-Viverito implemented early on, which he helped write. The reforms made the Council "a more equal and inclusive body in which every member can zealously represent their community and their values, even when those are different, without fear or favor," Lander said. Perhaps most notably, Mark-Viverito and her colleagues changed the system by which members are provided discretionary funds to disperse to nonprofits, rationalizing a process that had often been used by previous speakers to reward and punish members.
On particular issues, Lander said, Mark-Viverito facilitated legislation championed by members, such as the right to counsel for tenants in housing court, fair work-week legislation, and certain freelancer protections. The most impactful, in Lander's view, was her successful advocacy for the closure of the Rikers Island jail complex. Mark-Viverito convened an independent commission to recommend a raft of criminal justice reforms and particularly to look at Rikers. De Blasio, who did not support the closure at first, seemed to begrudgingly accept the inevitable and announced his support just before the commission issued its report. "I believe Rikers is on a path to closure," Lander said, "and I don't think that would be true if [Mark-Viverito] had not been elected speaker four years ago."
Lander noted that while the speaker often agreed and collaborated with the mayor, she was not hesitant to oppose him or break with him when her members dictated she should. For instance, when she pulled a bill she supported from consideration by the full Council that would have curbed the city's horse carriage industry. It was a prominent campaign issue in the 2013 mayoral race and de Blasio had advocated for and promised a complete ban. But, amid discontent from members on potential compromise legislation in early 2016, the speaker stood with her colleagues.
"I think she's been independent," said Council Member Rory Lancman, a vocal critic of the de Blasio administration, in a November interview at City Hall. "Each speaker, just like each member, has their own political relationship with the other side of the building here. And no speaker's going to be completely independent from the mayor or the governor or any other political actor that has influence."
As the process to select the next speaker of the City Council has played out in the final months and weeks of 2017, de Blasio has repeatedly said how well he thinks his involvement in Mark-Viverito's victory turned out. De Blasio captured his overall feelings in June, when announcing a final budget deal with Mark-Viverito, saying of the speaker:
"[S]he has been an extraordinary partner over the last four years. We knew each other well before we each assumed these roles. We knew that we had a lot of respect and trust for each other. We knew that we shared values. We didn't know what it would be like to play these roles. We didn't know what the times ahead would be or what the issues we'd face would be. But there was a core belief that if you share values, a lot of good things can happen. And many, many conversations over many years – mostly in agreement, sometimes not, but we always found a way to get to a good outcome, and with great support from all our colleagues. So from me, I can tell you I'll be sorry when these four years are over because it has been such a great and positive partnership. As a progressive, I want to thank Melissa Mark-Viverito for helping to move this city in a new progressive direction. And the things she has championed are going to have a huge impact on this city for many years to come."
A former Council member, who asked to remain anonymous to speak freely, served under both Mark-Viverito and former speaker Christine Quinn and said the process of Mark-Viverito's election as speaker hampered her ability to distance herself from de Blasio. "Melissa started at a very great disadvantage, the fact that the mayor picked her to be the speaker and only because of him," the former member said. "He made her. That hurt the whole body and it hurt her ability to really appear to be independent...because people perceived that the City Council is now a wholly owned subsidiary of the mayor. Right off the bat, that's a bad start."
This former member did credit Mark-Viverito for giving more leeway than Quinn to Council members to push legislation and pursue their individual agendas, while also breaking with the mayor on controversial items. But even then, the member said, there was a degree of deference. "I think Melissa did check with the mayor on everything, and even when they broke, I think they probably checked with the mayor before they broke. So I think it was a real problem," the former member said.
On no other issue has that dynamic played out more strongly than criminal justice reform and the Council's attempts to legislate, and regulate, the city's police force. Two police reform bills to regulate officers' interactions with people, collectively named The Right to Know Act, progressed slowly through the legislative process over the years despite having overwhelming support from Council members and progressive advocates. Tensions reached a head in mid-2016 when Mark-Viverito reached a compromise on administrative implementation by the NYPD of partial measures, in lieu of a full Council vote to codify the provisions into law. Advocates saw it as a backroom deal while Council members fumed over the concession to the administration and the police department.
Amended versions of the bills would ultimately pass in a divisive vote at the final full meeting of the Council on December 19, 2017, with numerous Council members and hundreds of community groups coming out in opposition to one bill sponsored by Council Member Ritchie Torres that had been, in their view, diluted to appease the NYPD and the mayor, who said he'd sign the bill given it had struck the right balance despite his skepticism about too much legislating of NYPD protocols.
Monifa Bandele, a spokesperson for Communities United for Police Reform, an advocacy coalition, said in a statement that it was "disappointing," particularly given Mark-Viverito's progressive credentials on police reform and accountability. "While [Mark-Viverito] was a champion on Closing Rikers, she did not show the same willingness to fight for front-end police reforms that hold the NYPD accountable and systemically change racial disparities in policing and what feeds the criminal justice system," Bandele said. "She spent three to four years blocking the Right to Know Act, and then helped the de Blasio administration undermine the half of the legislative package of which Council Member Torres was lead sponsor." Bandele also criticized the speaker's push to increase the headcount of the NYPD, which Mark-Viverito had argued would help with reforms and implementation of community policing.
Council Member Torres also criticized the administrative compromise in 2016 and he told Gotham Gazette in November that Mark-Viverito had not been sufficiently independent of the mayor in that case. In a separate interview after a November 1 Crain's New York Business breakfast forum, Torres indicated, amid praise, some dissatisfaction with the speaker's record. "I support Melissa, I love Melissa as a person and as a speaker. I thought she has struck the right balance between decentralizing greater power to the members while at the same time maintaining the power of the speaker's office," he said. "There are a few moments when I felt we were excessively deferential to the mayor and I said so at the time of those controversies."
Torres had said at the Crain's forum -- part of his bid to become Mark-Viverito's successor as speaker -- that the Council was prone to sideshow distractions. "Oscar Lopez, Christopher Columbus, what's the latest sensation of the week," he elaborated in the interview afterward. "The Health and Hospitals Corporation could disappear within the next five years. NYCHA has $17 billion worth of capital needs. Those are the things that matter, those are the things that we should be discussing."
Torres later changed his tune somewhat, perhaps showcasing some of the mixed feelings Council members have about Mark-Viverito's tenure and her relationships with de Blasio and her members. "She has been responsive to the needs of the members, there's no question about it. As a member, I could not be more satisfied with the leadership that she's given me," Torres recently told Gotham Gazette at City Hall.
As to his earlier comments on her independence, Torres said, "I think it's a matter of degree. We could always be more effective, we could always be more independent. But has she fundamentally been representative of the needs of the members of the institution? The answer is yes. Not perfect, but fundamentally." When the Right to Know Act headed to a vote and many of Torres' colleagues criticized his bill, Mark-Viverito was one of his fiercest defenders, though a number of Council members felt that Torres and Mark-Viverito had capitulated too much to the de Blasio administration. Torres' bill did pass.
On the Max & Murphy podcast, Mark-Viverito addressed working with de Blasio, and the Council negotiating hundreds of bills with the administration, along with land use deals, budgets, and more. "I can safely say that we've had a good partnership and I think that there are a lot of things that I was able to move them on and they had conversations with us and maybe there's things that they [moved] us on," she said December 20. "But definitely it was a very productive relationship in that way. And I think that in areas where they may have had concerns about pieces of legislation, really engaging with them and talking to them and exerting ourselves, we were able to get some reconsideration on those items. And that's in consultation with colleagues...I'm not regretful of anything."
Mark-Viverito is leaving office proud of the way she led the Council, and not ruling out her own run for mayor down the line. It's no surprise that even though she is term-limited she did not challenge a sitting mayor of her own party who she is largely aligned with and who helped her reach the height of her power. She's leaving office having not only ushered in significant changes to city law, but having altered the way the Council functions and how members expect to be treated by their leader.
"Anyone that has to deal with a thousand bills over the course of a tenure is going to have to work to be tremendously balanced when you're leading a legislative body against, at times, or in conjunction with the mayor's administration," said Staten Island Council Member Joe Borelli, one of only three Republicans on the City Council who, more often than not, vote against the types of progressive legislation championed by Mark-Viverito.
"I don't think you can box her in as being either/or [the members' speaker or the mayor's speaker]. I'm sure her critics will say that she's both at times when it suits their narrative," Borelli continued. "She's someone who wore her progressive banner very proudly and that's certainly going to be her legacy and I think people over the next few years will view her as someone who carried the football for progressive causes a bit further, and people like me and those I represent will see her tenure in the speakership as slightly different."
Ben Max contributed to this article.