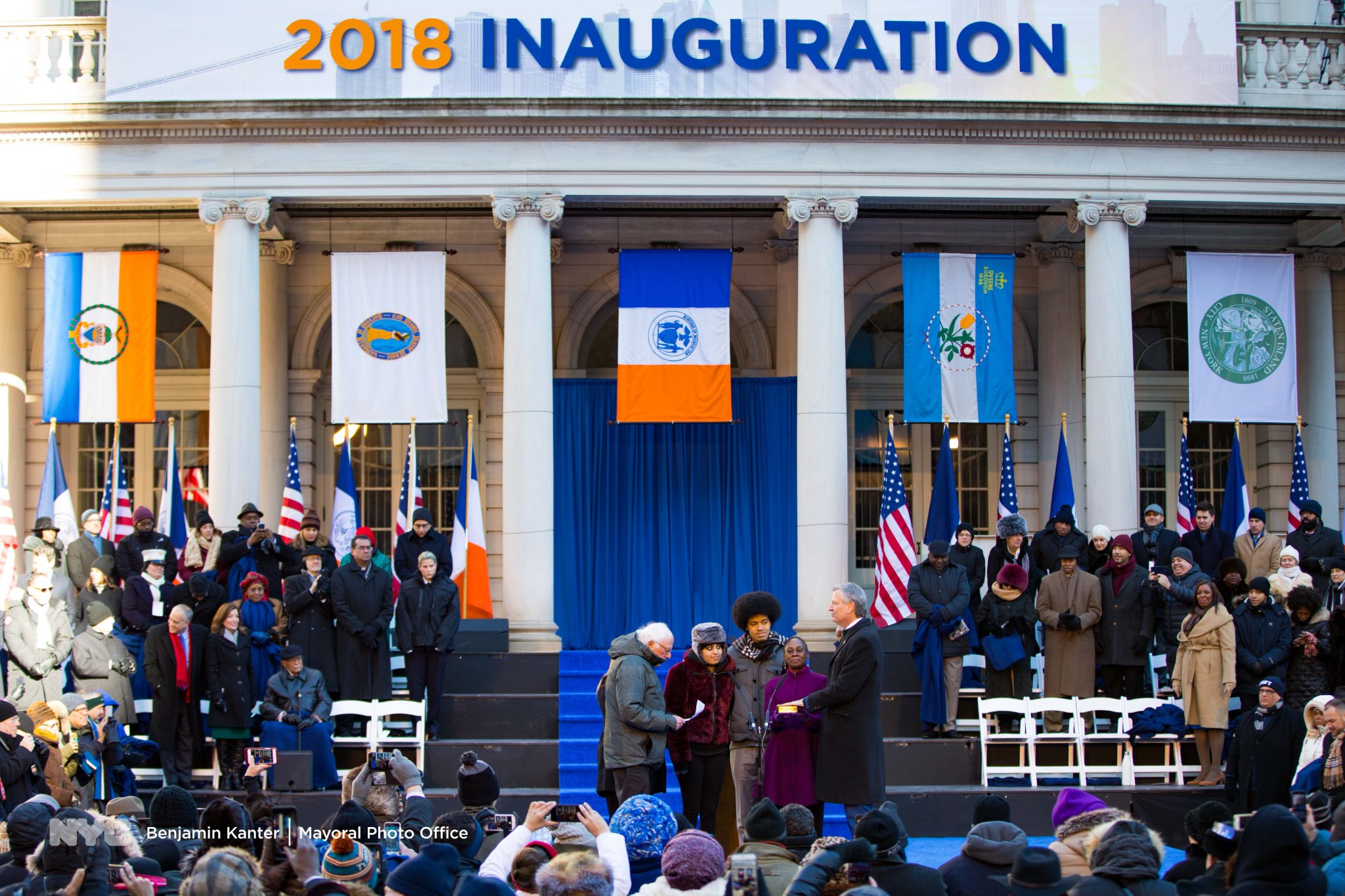 De Blasio is sworn in by Sanders (photo: Benjamin Kanter/Mayor's Office)
---
Mayor Bill de Blasio, a Democrat, was sworn in for a second and final term at City Hall on a frigid Monday afternoon, in a ceremony attended by nearly a thousand people and starring United States Senator Bernie Sanders of Vermont.
De Blasio's oath of office was administered by Sanders, the popular progressive leader who has championed policies to benefit middle- and working-class Americans, similar to the mayor's own politics. In a fiery introduction, Sanders railed against the Trump administration while praising de Blasio's first term record. "Instead of pandering to billionaires we have a government here which has chosen to listen to the needs of working families," Sanders said.
The runner-up to Hillary Clinton in the 2016 Democratic presidential primary, Sanders had particular praise for the mayor's signature universal pre-kindergarten program and also lauded the administration's efforts in protecting immigrants, providing mental health services and tackling the affordability crisis through its affordable housing program. "The bottom line is that what Mayor de Blasio and his administration understand, is that in this country, in the home of Ellis Island, our job is to bring people together with love and compassion, and to end the divisions and the attacks that are taking place," he said, casting the city's efforts as wholly different from what is happening in the Republican-led federal government, especially the Trump administration.
De Blasio also spoke loftily, as is his style, of the "essence" of his second term. In relatively brief remarks, in which he repeatedly acknowledged the freezing temperature, he raised New York City as a model for the nation. He noted the city's record-low crime rate in 2017, with the lowest number of murders since 1951, making it "the safest big city in America" and pledged that he would also work to make it "the fairest big city" in the country. He hearkened back to his reelection campaign, and his promise to New Yorkers who have been left behind in the city's rapid but uneven prosperity.
"This is your city," de Blasio said, repeating the slogan of his campaign and promising to pursue policies that promote affordability and "good-paying jobs." De Blasio asserted that his administration "has begun a new progressive era in this city's history."
And, without mentioning Donald Trump, de Blasio pledged to stand up in the face of the growing divisiveness that defined the country's zeitgeist for much of the two years. "We know the overt and gleeful prejudice that is suddenly en vogue spits in the face of all that has made our city great," the mayor said, "and we will not be passive in the face of regression. We will not ignore or deny the threat, we will confront it head on. To do anything less would be an affront to our very identity as New Yorkers."
Early in his remarks he congratulated the other two citywide elected officials, Public Advocate Letitia James and Comptroller Scott Stringer, fellow Democrats also beginning second terms. Notably, although both praised the mayor in their inaugural remarks, each also seemed to take digs at his administration. After crediting de Blasio for low crime and universal pre-K, Stringer spoke of the "sobering challenges" the city still faces, including a homelessness crisis that will see more than 60,000 people sleeping in shelters on Monday night. He decried the 33 percent increase in rents in the last ten years, while wages have not nearly grown apace, and the number of New Yorkers living in poverty. "Solving this crisis requires bold ideas and putting them into action," he said.
James spoke more than the other two of her first-term accomplishments, including some in which she was pitted against the de Blasio administration. She claimed victory, for instance, in ensuring that students with disabilities are provided air-conditioned school buses, for which she sued the administration. And she spoke of marching in the rain with housing advocates to demand a more equitable and ambitious affordable housing program, specifically citing a proposal that the de Blasio administration has pushed back against.
It was a markedly different scene from four years ago, when de Blasio had been sworn in by former President Bill Clinton, with former Secretary of State and Senator Hillary Clinton and Governor Andrew Cuomo also in attendance. On Monday Cuomo was on Long Island presiding over the oath of office for newly-elected Nassau County Executive Laura Curran, a Democrat.
Present at Monday's New York City Hall ceremony were Lieutenant Governor Kathy Hochul, State Comptroller Tom DiNapoli, Manhattan Borough President Gale Brewer, Brooklyn Borough President Eric Adams, Bronx Borough President Ruben Diaz Jr., Brooklyn District Attorney Eric Gonzalez, and many City Council members. Former Mayor David Dinkins was also there, as was actor and education activist Cynthia Nixon, a de Blasio ally who attended four years ago and is now rumored as a potential primary challenger to Cuomo in his reelection bid this year. U.S. Senator Charles Schumer of New York snuck in late during de Blasio's speech, having been at another event beforehand.