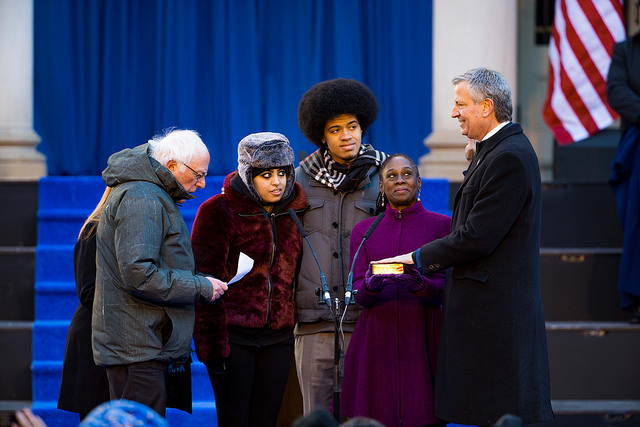 Bernie Sanders swears in Bill de Blasio for a second term (photo: Benjamin Kanter/Mayor's Office)
---
Bill de Blasio was inaugurated for his second term as New York City mayor on Monday, taking his oath of office on a frigid day blanketed by the warmth of mutual admiration with Bernie Sanders. With praise from the Vermont senator and leading national progressive, de Blasio may also have been attempting, whether consciously or not, to finalize his shift away from the Clinton-Cuomo wing of the Democratic Party, where he has kept one foot as he has navigated, with fits and starts, his past relationships, efforts to move the party leftward, and national ambitions.
Four years ago, de Blasio was the first Democrat to take the New York City mayoral oath of office since 1990, and did so facing Bill Clinton, who swore him in, with Hillary Clinton and Governor Andrew Cuomo looking on and applauding. De Blasio, seemingly cut from a different cloth as the more centrist trio, each of whom he has worked for, went on to back Cuomo and Hillary Clinton in hard-fought primaries where his ties to them and political calculations seemed to trump his ideological dispositions.
As de Blasio was putting his progressive vision into practice as mayor, Zephyr Teachout and Bernie Sanders went without his support in 2014 and 2016, respectively, even as they spoke the gospel of the de Blasio political bible.
After backing Cuomo in 2014, de Blasio appeared to quickly regret the decision, and eventually broke from the governor in an infamous public tirade. The two have been mostly at war over the course of the last four years, with Cuomo doing his best to avoid endorsing de Blasio during the mayor's relatively easy 2017 reelection campaign. A new chapter is sure to emerge in 2018 as Cuomo seeks a third term. Even as Cuomo has moved leftward, de Blasio has derided the governor for claiming to be progressive and for not following through on promises made during the 2014 endorsement process, calling him out for propping up Republican control of the state Senate, where a variety of de Blasio priorities, like higher taxes on the wealthy to fund city programs, have met their demise.
In 2016 and again battling cognitive dissonance, de Blasio also misplayed his endorsement of Clinton, initially declining to give her the backing that was a virtual given and eventually came, but with diminished standing with the presidential nominee and many in the larger party. All the while, de Blasio praised Sanders, who offered a message that aligned more with de Blasio's and is one the mayor has said would have won the general election lost to Donald Trump. Since the shocking November 2016 result, de Blasio has become increasingly sharp in his criticisms of the Clinton campaign, while reiterating his respect for Hillary Clinton herself, and increasingly sought to align himself with Sanders, who traveled to New York City in the fall to endorse de Blasio for reelection and express support for the mayor's proposal to tax millionaires to fund subway fixes and reduced-price MetroCards for low-income New Yorkers.
Meanwhile, de Blasio has credited Sanders for changing the conversation and acknowledged that Sanders' campaign filled a role in the presidential election cycle that de Blasio had hoped to fill, moving Clinton to the left and pushing a focus on income inequality.
And so, on January 1, 2018, Brooklyn native Bernie Sanders took the seat on the New York City Hall plaza dais that four years before had been occupied by Hillary Clinton, and, from the podium at which Bill Clinton had addressed the 2014 crowd, praised Bill de Blasio's progressivism.
As Sanders led the mayor in recitation of the oath of office, Cuomo was on Long Island, administering a similar oath to Laura Curran, the new Nassau County Executive. Former Mayor David Dinkins, who gave de Blasio his start in city politics, occupied the seat where the governor had sat four years ago, while Lieutenant Governor Kathy Hochul represented the Cuomo administration to Dinkins' right.
"Today we're here to thank Mayor Bill de Blasio for leading this city in making it one of the most progressive cities in the United States of America," Sanders said.
Speaking in their favorite shared nomenclature, Sanders said de Blasio gets it, and painted the mayor's administration as a welcome juxtaposition and antidote to the national rule of Trump and congressional Republicans.
"At a time when we have a massive and growing level of income and wealth inequality, we have a government in Washington which has just provided the billionaire class with hundreds of billions of dollars in tax breaks, while raising taxes on middle class families," Sanders said. After rattling off that and other problems he sees in the nation's capital, like steps backward on climate change, he shifted gears.
"That is the bad news," Sanders said. "But I am very happy to say that there is also a lot of good news in our country and we are witnessing some of that good news today. In this city, the largest city in our country, the people of New York under Bill de Blasio have chosen to move government in a very different direction than what we're seeing in Washington. Instead of pandering to billionaires we have a government here which has chosen to listen to the needs of working families."
Referencing de Blasio's signature accomplishment, Sanders said the mayor's efforts are "leading this country toward universal pre-K education."
De Blasio basked in the adulation, recognition from the 76-year-old Sanders, a national liberal icon, on the first day of a second four-years as mayor during which de Blasio, 56, has pledged to continue his pursuit of national political influence while promising that he is not running for president in 2020. Sanders has not ruled out another presidential bid.
Unmentioned by Sanders or de Blasio, but referenced by the other two citywide officials being re-inaugurated on Monday, Comptroller Scott Stringer and Public Advocate Letitia James, are the limits to de Blasio's progressivism. The mayor has been criticized for a too-moderate affordable housing plan, not being bold enough in reducing homelessness, and a too-careful approach to police accountability.
When the mayor took the microphone, after a hug with Sanders and a group hug with his family, de Blasio thanked many in attendance, with a special message for the couple in 2014's Clinton seats. "To Bernie and Jane Sanders: these two proud Brooklynites have changed America in a profound way," de Blasio said. "Bernie and Jane, you have proven that the voices of the people are what matter most, and the political process in this country will never be the same -- it will be better, it will be more democratic, because of what these two have done. Let's thank them."