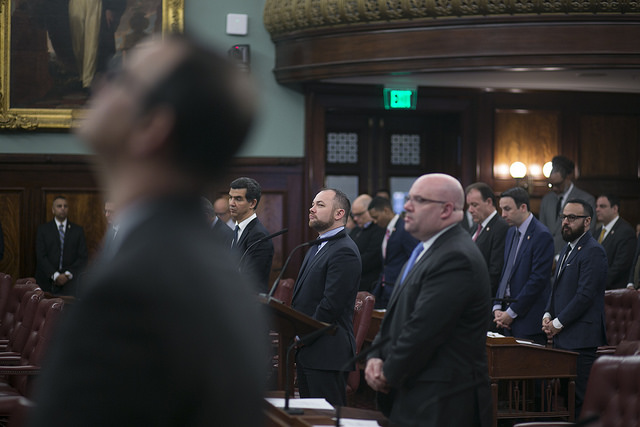 City Council members (photo: William Alatriste/City Council)
---
The New York City Council is gearing up for a new agenda under Speaker Corey Johnson, with several newly created committees and fresh faces in the legislative body. As the Council begins to schedule its first committee hearings and readies for the reintroduction of legislation from the last session, there are a number of priorities that Council members are planning to pursue. Returning members say they want to pass bills that have been pending and build on their work from the last four years, while new members are eager to follow through on the policy platforms that got them elected.
New issue committee chairs appear ready to steer those committees in new directions, while Johnson has promised a robust agenda and is taking steps to beef up the Council's oversight powers, expand its land use division, and increase its scrutiny of the mayor's budget. Many of the committees, new and old, under his watch will take on greater responsibilities and are expected to tackle a slew of contentious policy issues, legislation, and oversight matters. Council members who spoke with Gotham Gazette indicated a broad list of priorities, with some agenda items that will have citywide ramifications and others more parochial, district-level in their scope.
Council Member Helen Rosenthal, in her new role as chair of the women's committee, said she will pursue legislative and public policy solutions to combat sexual harassment in the public and private sectors, to end the gender pay gap for municipal workers, and advance criminal justice reforms to protect sexual assault and domestic violence survivors.
"We are seeking to empower women at every level -- in the workplace, in the economic arena, in social interactions, and in politics," Rosenthal said. In December, Rosenthal stood with Council Member Mark Levine to announce a request for drafting legislation that would require complaints by Council staffers to be investigated by the Council's Committee on Standards and Ethics, as is currently the case for complaints against elected Council members, and would also mandate that city agencies report on sexual harassment claims twice a year.
Rosenthal also wants to see through the full implementation of her legislation, signed by the mayor in September last year, to create an Office of the Tenant Advocate within the Department of Buildings. Among her other priorities are protections for small businesses in her Upper West Side district, seniors' needs, and the city's social safety net. Formerly chair of the contracts committee, which will now be led by new Council Member Justin Brannan, Rosenthal said her guiding philosophy in approaching priority issues will still be "fiscal responsibility."
Council Member Levine said he hopes to follow up on unfinished business from the last session, including the implementation of Right to Counsel for low-income tenants facing eviction in housing court, which was a bill he sponsored and waged a years-long campaign to win support from the mayor. Now chairing the health committee (he had parks last term), Levine will also focus on expanding healthcare coverage and addressing racial inequities in health outcomes across the city. One priority he has expressed support for is single-payer healthcare, an issue that Speaker Johnson has been vocal about pursuing.
After chairing the public safety committee last term, Council Member Vanessa Gibson is chairing the new Subcommittee on Capital Budgets, which will be tasked with analysing the city's now $96 billion capital budget. The subcommittee will assess the procurement process at city agencies and how agencies spend their capital dollars. Gibson said she is "looking to create better capital spending oversight and ensure there is a consistent process for capital projects so that we can truly realize meaningful investment in New York's aging infrastructure."
Gibson also said she will continue to advocate for bail reform, an issue that Governor Andrew Cuomo has promised to put his weight behind this year. Gibson will also have to navigate complicated land use issues as she tackles the proposed Jerome Avenue rezoning in her Bronx district. The project is moving forward quickly and will come through the land use committee now being chaired by Gibson's Bronx colleague Council Member Rafael Salamanca.
Council Member Ritchie Torres, another Bronx Democrat, is overseeing the newly empowered Committee on Oversight and Investigations, which will comprise a dedicated investigative unit of former prosecutors, professional investigators, and former journalists. While the division is staffing up, Torres' first public task will be a joint oversight hearing on February 6 with the Committee on Public Housing, which he chaired last term, concerning heat and hot water failures in NYCHA housing. The new chair of the public housing committee is newly-elected Council Member Alicka Ampry-Samuel, who formerly worked at the public housing authority, NYCHA.
[Related: New City Council Committee Chairs Have Plenty on Their Plates]
The new chair of the Committee on Rules, Privileges, and Elections, Council Member Karen Koslowitz, said last week she was still formulating her agenda for 2018. Her committee is expected to lead the way on a package of internal rules reforms that a majority of the Council, including Speaker Johnson, have endorsed.
Koslowitz, of Queens, also spoke of extending traffic safety laws to bicycle riders, saying that she would "like to see them be registered, licensed."
Council Member Mark Treyger, a former teacher who has taken over as chair of the education committee, spoke at length about the issues plaguing public school infrastructure. "I come from a district that some of our schools were built with money from the New Deal, and haven't seen upgrades since the New Deal," he said of his southern Brooklyn community, also emphasizing the need for additional school aid.
Treyger also wants to advance two bills he proposed in the last session: one requiring the city to station licensed social workers in all police precincts, and another to make it illegal for police officers to engage in sexual activity with a person in their custody. The second bill was prompted by a recent case in which an 18-year-old woman accused two officers of rape while she was in their custody. The officers claimed the act was consensual, leading to public outcry over the loophole in the law that does not automatically categorize it as custodial rape. Legal proceedings continue in the matter.
Council Member Fernando Cabrera, the new chair of the governmental operations committee, said he will push campaign finance reforms over the next few years since his committee has oversight of the Campaign Finance Board, which administers the city's public matching funds program to incentivize small-dollar donations in elections. "The whole idea of the campaign finance [program] was to equalize the playing field," he said. "Whenever you have policies that don't… [that] puts a candidate at a disadvantage, I have issues with that," he added, without going into specifics.
In his role, Cabrera will also oversee the city Board of Elections, the Law Department, the Office of Administrative Trials and Hearings, and the Department of Citywide Administrative Services, among other agencies. The BOE will administer at least three election days this year, in June, September, and November, with a fourth likely in some districts if Cuomo calls for special elections to fill several currently vacant state legislative seats.
Council Member Steven Matteo, the Republican minority leader, said he plans to prioritize property tax relief this year, something he has long advocated for. "Last year we had the veterans property tax that we passed here, my bill. I want to expand on that this year, too, do some real property tax relief for everyone else," he said. Matteo, one of three Republicans in the Council, was appointed by Johnson to chair the Committee on Standards & Ethics, which, if new legislation on workplace sexual harassment is passed by the Council, will likely see its role expand this session. The committee is currently investigating an allegation of sexual harassment against Council Member Andy King.
Mayor de Blasio has promised to take up property tax reform this term, which Matteo intends to hold him to. The Council had announced plans for a property tax reform task force last term, but it never came to be.
Council Member Brannan also hopes to tackle property tax reform, he said, hoping that he will be able to sit on the proposed commission "to really take a deep dive into it." As a former employee of the Department of Education, Brannan also said the Council has an opportunity to increase its oversight of DOE operations. "I think, it's a couple areas where I think we can get a little more aggressive," the contracts chair said. DOE contracts to outside vendors have been a point of contention for years, an area Brannan may be able to meld his prior experience and new responsibilities.
Council Member Carlina Rivera, also newly-elected, will have her hands full chairing the Committee on Hospitals, newly created to oversee the city's municipal hospital system, which is in financial crisis. But she also has local concerns she wants to address, she told Gotham Gazette, including reforms to city rules that allow construction in the early mornings, evenings, and weekends, an issue leftover from her predecessor, former Council Member Rosie Mendez.
Some of Rivera's other priorities concern land use and infrastructure projects, particularly the East Side Coastal Resiliency Project, an integrated coastal protection initiative aimed at reducing flood risk due to coastal storms and sea level rise. She also intends to focus on NYCHA's infrastructure woes, citing the numerous developments in her district and the issues of heat and hot water in NYCHA housing, and she must negotiate a major land use deal in her district related to a proposed Union Square tech hub that the de Blasio administration wants to build.
Council Member Diana Ayala, another rookie lawmaker, is chairing the Committee on Mental Health, Developmental Disability, Alcoholism, Substance Abuse and Disability Services. She said she expects some examination of safe injection sites coming to New York City, which advocates argue would reduce drug users' risk of overdose, transmitting diseases, and death. Speaker Johnson has said he is in favor of exploring the possibility. "The safe injection sites I know are going to be a big issue," Ayala told Gotham Gazette. "There's been a lot of conversation around bringing those to New York."
Ayala also suggested that she will be looking into how New York City's criminal justice system deals with the issue of domestic violence.
When asked about her policy priorities, new Council Member Adrienne Adams emphasized immigrant protections and homelessness. Adams expressed deep concern about the policies coming out of Washington, D.C. under the Republican-led Congress and President Donald Trump. Under former Council Speaker Melissa Mark-Viverito, the Council passed a number of immigrant-friendly laws and curbed the city's cooperation with federal immigration enforcement authorities. "My district is extremely diverse and with the policies coming from Washington these days, they're affecting my district and the entire city of New York tremendously," said Adams, of southeast Queens.
Council Member Ruben Diaz, Sr., of the Bronx, who joined the Council from the state Senate, is the first chair of the Council's new Committee on For-Hire Vehicles. When asked about his priorities, Diaz Sr. simply said, "Taxis."
Samar Khurshid contributed to this article.
Note: this article has been updated to better clarify Diana Ayala's comments on safe injection sites.