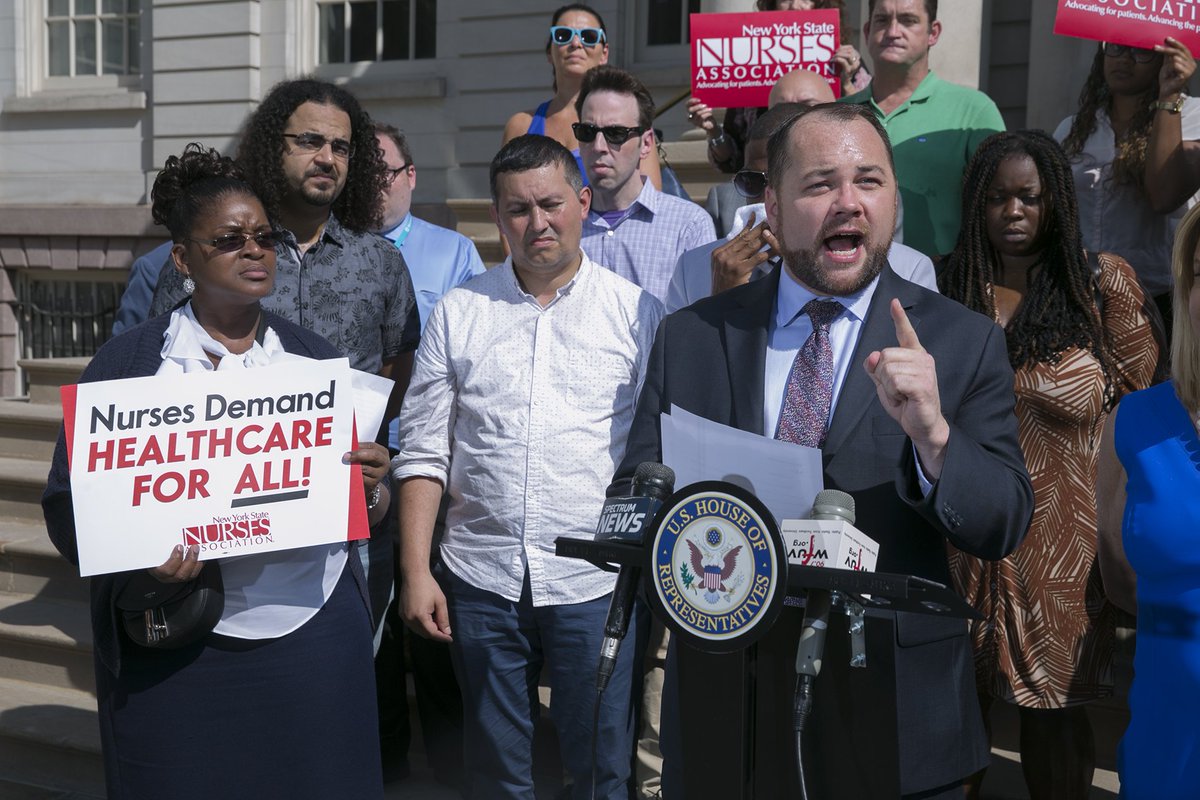 Corey Johnson at a rally (photo: City Council)
---
Before being elected Speaker of the City Council, Council Member Corey Johnson led the Committee on Health for four years. Drawing from his own personal experience as an openly gay, HIV-positive man who has struggled with drug and alcohol abuse and tobacco use, he pushed a raft of legislation to improve healthcare services and outcomes for many of New York's most underserved populations. In his early days as Speaker, Johnson has indicated that health and healthcare issues will continue to be one of his main priorities over the next four years.
At the same time, though, as he takes on his larger role Johnson has in some ways passed the torch to other Council members who will lead relevant committees related to health and oversee the city's public hospital system, which is in the midst of a financial crisis that Johnson has been tasked with helping to monitor over the past four years and will now, as speaker, have even greater responsibility for as he negotiates the city budget with Mayor Bill de Blasio.
Among the first steps that Johnson took upon assuming his new leadership position was to create a new committee, chaired by Council Member Carlina Rivera, dedicated to hospitals, especially New York City Health + Hospitals, the city's municipal hospital system that has long suffered from budgetary difficulties and struggled to remain afloat even as the de Blasio administration has sought to overhaul its finances. Johnson's move was a clear recognition of the H+H crisis, one that Council members, the mayoral administration, and healthcare advocates agree must be addressed amid threats of federal funding cuts to the city.
The move to make the new committee also comes in conjunction with the beefing up of the Council's oversight committee, now led by Council Member Ritchie Torres, and a repositioning of the health committee, under new chair Council Member Mark Levine. Levine, taking over the health committee from Johnson, will be able to focus his efforts closely on oversight of the city's health services and to advance legislation expanding equitable access to healthcare for New Yorkers. There is some discussion among the parties of a city-run single-payer health care system, but it is unclear how far down this road Johnson, Levine, and others may go.
In a recent NY1 interview, shortly before his election as speaker, Johnson indicated his continued interest in pursuing it. "My goal is for this city to be a laboratory for potential ideas that we could achieve," he said, citing San Francisco's implementation of a municipal single-payer system as a potential model albeit for a population a tenth of the size of New York City. "This would be a legacy item, it would be a big seismic thing to do," he added, "but it's gonna take a lot of work, it's gonna take cooperation from the governor and from the state insurance superintendent and other folks that are gonna have a say in this. But it's something that I want us to look at."
Over the four-year course of the last Council session, Johnson's committee held 62 hearings, passing 34 bills that became law. Johnson was the prime sponsor on 11 of those bills, which included new regulations on tobacco products and electronic cigarettes, mandated air quality surveys by the city, new animal safety protections, required reporting on health services in city jails, and allowing individuals to change their gender designation on their birth certificates.
The committee also conducted broad oversight of the city's hospital system, healthcare services provided by city agencies, and the city's efforts to enroll people under the Affordable Care Act. Naturally, Johnson raised many of the same issues during separate Council hearings to examine de Blasio's budget proposals over the years. His advocacy also extended beyond the Council's work: he was arrested in Washington D.C. in July of last year while protesting the Republican-led Congress' (so-far unsuccessful) efforts to repeal the Affordable Care Act.
"He believes really strongly in universal health access and he talks a lot about the importance of single-payer," said Claudia Calhoon, director of health policy at the New York Immigration Coalition, discussing Johnson's record as health committee chair. Johnson's support of implementing a single-payer healthcare system in the city could only be achieved through collaboration with the state, as Calhoon noted. "It's really great to have leadership talking about that when you're trying to advocate for closing gaps and trying to engage the city in doing the work to close the gaps as they are able," Calhoon said.
In particular, Calhoon praised Johnson's efforts to create the Access Health NYC initiative, which, starting in 2016, provided funding to community-based organizations for health education and outreach efforts, particularly for underserved communities. "I think he has a very good vision for equity which flows into a lot of different areas," Calhoon said.
Johnson has spoken openly about coming of age in the 1990s and watching how treatment of the AIDS-HIV epidemic was handled, and about discovering his HIV-positive status and the need for medication and good health care. He represents a district largely made up of Chelsea and the West Village that was and continues to be home to much of LGBT activism, including around equitable health care.
Elizabeth Adams, director of government relations at Planned Parenthood of New York City, praised Johnson's work in holding city agencies accountable for sexual and reproductive health services, particularly abortion access for young New Yorkers, and to expand health care to immigrants. "During a time of increased federal attacks on abortion and rollbacks of funding for healthcare, it's really really critical that New York City is examining its own care options and leads the nation in accessible and affordable health care, including abortion," Adams said in a phone interview.
Taking over the health committee, Council Member Levine has expressed support for issues that Johnson has championed, but he has yet to lay out an agenda of his own. "We are still in the midst of reviewing all the policy issues before the committee, still in the midst of forming our legislative priorities," he told Gotham Gazette at City Hall last week, not long after being named to chair the committee.
"[Speaker Johnson] did a lot," as chair of the committee, Levine said. "We look to build on that." Among broader items, Levine has said he will pursue a single-payer municipal health system, tackle the city's opioid epidemic, address racial inequities in health outcomes, assess bioterrorism threats, and promote animal protections. "I think all of us need to step up on Health + Hospitals," said Levine. "It is a crisis and it ultimately could affect every hospital in the city and effect the health of New Yorkers in profound ways and it's gotta be a higher priority for all of us in this term."
As Levine noted, perhaps the most significant area of oversight for the health committee has now largely fallen to the newly created Committee on Hospitals, under Council Member Rivera. "Health + Hospitals, it can't be overstated how important it is to the fabric of the city," said NYIC's Calhoon. The system -- comprised of 11 hospitals, six neighborhood health centers, five nursing facilities and more than 60 community and school-based health centers -- mostly treats patients on Medicaid or who are uninsured, including many undocumented immigrants.
In fiscal year 2017, the system treated more than 1.1 million patients according to the Mayor's Management Report, of which nearly 415,000 were uninsured. But the system faces a projected budget gap of $1.8 billion by 2020. In the current fiscal year ending June 30, the de Blasio administration expects to spend $897 million on the system, of which $784 million will come from the city's coffers and the rest from state and federal funds. Those costs are only expected to grow over the next few yearsn. Johnson, Levine, Rivera, and other Council members, including new finance chair Danny Dromm, will now lead budget negotiations with the administration.
While the de Blasio administration has put in place a plan to reinvigorate the municipal hospital system, any progress that has been made is threatened by federal funding cuts. The city, and state, have long braced for reductions in Disproportionate Share Hospital payments from the federal government, which help reimburse hospitals for providing healthcare to low-income and uninsured patients. The DSH cuts went into effect in October last year, further exacerbating a trend of decreasing investment from the federal government that city officials have repeatedly cited.
First Deputy Mayor Dean Fuleihan, at a forum hosted by Citizens Budget Commission on Wednesday, said those cuts amounted to about $300 million in lost funding, placing "an additional and unnecessary strain on our hospitals." And he warned of the larger implications of the federal budget. "[E]very major proposal that's come out of either the [House of Representative] or the president has had dramatically huge cuts to New York City," he said. "We're going to have to balance all of this and be very careful how we proceed."
At the same time, Mayor de Blasio has repeatedly promised that the city will not shut down any municipal hospitals. "The hospital facilities are going to stay open. We're also going to constantly look at how to use them better because the previous uses in many cases weren't working and a lot of them were outmoded," he said at an unrelated December 12 news conference. In that vein, the new president of Health & Hospitals, Dr. Mitchell Katz, who took over earlier this month, has said he will focus the hospital system more closely on primary care while implementing certain cost-saving and efficiency measures.
Rivera recognizes the responsibility handed to her. "This is probably the most important public system in the city," she told Gotham Gazette at City Hall last week. Looking back at Johnson's leadership of the health committee, she said, "I think he was doing as much as he could in trying to cover as many health topics and issues as there are. He passed some great legislation, he worked on policy, and he took some of those issues very personally, which I appreciate in terms of his openness."
Rivera agreed that the creation of her committee "does lend an urgency to the issue," a point echoed by advocates.
In a statement on Tuesday, Rivera noted the numerous challenges that H+H faces, including "closing Health + Hospitals' growing budget deficit and updating hospital facilities for modern usage, to increasing access and support to community-based clinics."
"We as advocates are really trying to change the narrative around the value of Health + Hospitals," said Calhoon, "and think about it less in terms of a crisis and think about it more in terms of 'how do we keep this tremendous resource we have and make it stronger?'" Although she did not fault anyone in particular, she said "it certainly would've been better to have that conversation happen early."
Planned Parenthood's Adams acknowledged that though Johnson had worked to ensure adequate oversight and accountability at public hospital facilities, that much remained to be done. "It's really exciting to see this committee be formed and really dig into how to strengthen and support healthcare options and availability of health options to all New Yorkers, regardless of income or immigration status," she said.
Beyond Health and Hospitals, however, Adams and Calhoon noted a number of policy areas where they hoped to see renewed energy from the Council. Both said the city needs to expand support for community health organizations through Access Health NYC.
Adams said the city needs to prioritize abortion access at H+H, expand free-of-cost contraceptive coverage, and improve sexual health education in city schools along with ensuring that school-based health centers have the resources to provide comprehensive care to students. "Given all the public attention to sexual assault and sexual harassment, and bullying of LGBT students, we're in a moment where we need to really be examining our health education program and putting in place comprehensive K-12 sexuality education," Adams said.
Calhoon stressed that all stakeholders need to work to provide better care to uninsured New Yorkers, particularly ensuring quality behavioral and mental health services for immigrants. "That is something that I think there is going to be a really important role for both the Council and the administration, and I do think all entities -- advocates, the Council, the administration -- are gonna have to work together and collaborate to figure out what's going to happen," she said, "because we're obviously in a moment of crisis in terms of the impact that changes at the federal level, the impact its having on immigrant communities."