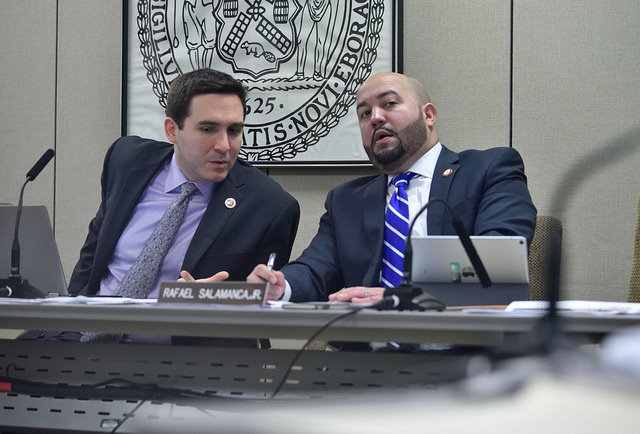 Council Members Ben Kallos, left, and Rafael Salamanca (photo: John McCarten/City Council)
---
When new City Council Speaker Corey Johnson reshuffled committee portfolios earlier this month, Council Member Ben Kallos lost his position as chair of the Committee on Governmental Operations. Sources say the move was punishment for Kallos' approach to Board of Elections commissioner nominations and because of his support for one of Johnson's opponents in the speaker race.
By virtually all accounts, Kallos had done an exceptional job chairing the governmental operations committee during last legislative session, from 2014 through 2017. He led the way on a slew of reforms to campaign financing, government transparency and accountability, and was viewed by good government advocates as a valuable partner on the Council. He was praised by many, and snickered at by some, for his independence.
But, with the election of Johnson as speaker, committee portfolios would be changed, with significant influence from the Queens and Bronx Democratic county organizations, which gave Johnson the backing he needed to ascend to what is arguably the second-most powerful position in city government behind the mayor.
Kallos, who multiple sources say wanted to keep chairing the committee, was among a small number of members left out in the cold. His committee chair position went to another member, Council Member Fernando Cabrera of the Bronx, and Kallos was instead assigned to lead the Subcommittee on Planning, Dispositions, and Concessions, which falls under the land use committee. He was named as a member of the governmental operations committee, among others.
Kallos declined multiple requests to comment for this article.
The Committee on Governmental Operations has a broad purview, overseeing several city agencies including the Department of Citywide Administrative Services, the Campaign Finance Board, the city Board of Elections, the Office of Administrative Trials and Hearings, and the Law Department, among others. The committee also has oversight of the city's 59 community boards.
Government reform groups generally praise Kallos' leadership of the committee. "He raised a lot of good government issues that otherwise wouldn't have seen the light of day, and he raised them on the merits," said Alex Camarda, senior policy advisor at Reinvent Albany, in a phone interview. "Maybe that miffed people at times but they were important issues to be raised and I don't think that warrants removal from the chairmanship."
As chair, one of Kallos' priorities was to reduce patronage hires at city agencies, particularly the Board of Elections, a bipartisan body where positions are filled by the county organizations for both parties. Patronage, Kallos said, invariably leads to conflicts of interests and the appointment of subpar employees. The BOE's ten commissioners -- one from each party in each borough -- are nominated by the county committees and confirmed by the Council. The commissioners play a crucial role in deciding who gets to be on the ballot in elections and in interpreting state election law.
In 2016, Kallos was among those members who rankled the Bronx Democratic County Committee, led by Assemblymember Marcos Crespo, by insisting that a nominee for Democratic commissioner from the Bronx be required to give up her registration as a lobbyist in order to be confirmed as an elections commissioner. The nominee, Rosanna Vargas, initially refused but later relented. Vargas is now the president of the Board of Elections.
"The Queens and Bronx county committees felt that Council Member Kallos wasn't a team player with regards to BOE appointments," said one source with knowledge of internal county party dynamics, when asked about Kallos losing his committee chairmanship, and speaking only on the condition of anonymity.
Council Member Cabrera told Gotham Gazette that while he did not push to chair the governmental operations committee, he was "excited" to be offered it. "There were different options that were being put forth, but as soon as it was presented to me, I said that I was very eager to do so," he said at City Hall recently. Cabrera did not serve on the committee in the last term but was co-sponsor of a few bills under its purview.
Cabrera said he would pursue legislation to improve the city's campaign finance system, which is centered around public matching of low-dollar contributions and is held up as a national model, and would look to expand voter engagement in a city known for low turnout in the last few elections. "I'm a team player," he said, insisting he will approach legislation and oversight collaboratively with his colleagues, "and so this is not a solo dance that we're going to be doing here. Working with the administration as well, we want collaboration."
He said he sees "eye-to-eye" with Kallos. Asked if Kallos was punished for opposing the Bronx County's BOE pick in 2016, Cabrera pleaded ignorance. "To be honest with you, I have no knowledge, I don't even know what you're really referring to, honestly," he said.
"I do know he did well," Cabrera added. "I have to tell you he got, and I spoke to him, he got a very good committee. It's a committee you can do a whole lot with. Anything related to finance. It's one that has influence and can bring systemic change."
The subcommittee Kallos now chairs feeds the land use committee now being chaired by Council Member Rafael Salamanca of the Bronx, an appointment by Johnson perhaps most indicative of the rewards provided to the county for its support of his speaker bid.
Kallos was a known supporter of Council Member Mark Levine's bid for the speakership of the Council. Levine was among the frontrunners for the post, but was unsuccessful after the Bronx and Queens County Democrats coalesced around Johnson, who gained the backing of those vote-rich counties in part because he had also secured individual support from about ten other Council members, according to Johnson.
"A land use subcommittee is as important or more important than a lot of full committees, honestly," Levine told Gotham Gazette at City Hall earlier this month. He refused to speculate on why Kallos lost his chair position but said that Kallos was "amazing" as chair of the committee. "I think reshuffling of committees is a standard practice in any new term. Very few people continued in the same committee...the movement is natural." he said. "I'll tell you this about Ben Kallos, he's going to be a leader in this body, no matter what portfolio he's handed. He's one of the smartest and most effective legislators I know. So he's going to be impactful without a doubt in the next four years."
Asked about the decision to give the chair position to Cabrera, Council communications director Robin Levine referred Gotham Gazette to Johnson's remarks at a January 11 news conference immediately after the new committee chairs were voted on by the full Council. She did not address a question about whether Crespo wanted Kallos removed from the position.
At the news conference, in response to a question from Gotham Gazette, Johnson emphasized that the committee appointments were a complicated task. "Every decision that was made...when you moved one piece around, it affected the rest of the matrix," he said. "So that's why we spent the whole weekend here. That's why I met with every individual member. That's why we were in conversations, of course, with the county leaders."
"The process was a consultative process that, number one, involved the members," he continued. "Number two, involved of course having conversations with the county leaders, with the mayor -- he wanted to understand who would be chairing certain committees -- with certain labor unions who played a role in this process, with members of Congress, with members of the Assembly, with members of the state Senate. There were over a hundred people who were calling every day for a week wanting to try and ensure that certain people got certain things."
"I was really trying to make everyone as happy as I could, by being as flexible as I could, by being as creative as I could and to try and give different people avenues for leadership and avenues to work on issues that matter to them," Johnson said.
In a statement through a spokesperson, Crespo did not directly respond to a question on whether he pushed for Kallos' ouster. "As it has been in the past, City Council committee chairs frequently change at the start of new legislative terms," Crespo said. "Our focus is to always advocate for our members in the Bronx delegation of the City Council and in doing so, providing the city and our constituents sound and steady leadership. The primary focus should be on the fact that an important committee now continues to have strong leadership with Bronx Councilman Fernando Cabrera as chair."
One Council member, who asked to remain anonymous to speak freely about the committee appointments, said Kallos was a victim of a combination of factors. "I think it was an accumulation of the running into the counties on BOE, running up against Corey in the speaker's race, and he's also got some very complicated land use stuff in his district as well. Probably didn't help this matter either, he's seen as very anti-development," the Council member said.
But, the Council member added, "He could have fared worse." Indeed, some other Council members who opposed Johnson's bid or supported his opponents appeared to come away with less. Among those were Council Members Brad Lander and Jumaane Williams, neither of whom was given a committee chair position after having led the rules committee and the housing and buildings committee, respectively, in the last term. Lander did retain his position as Deputy Leader for Policy.
"Is everyone 100 percent happy? No. Are some people happier than others? Yes," Johnson said at the January 11 hearing where the new committee chairs were confirmed. "I did my best...There was no level of vindictiveness towards any member of this body from me, there was no level of vindictiveness, there was no score-settling, there was no keeping track of what happened during the Speaker's race."