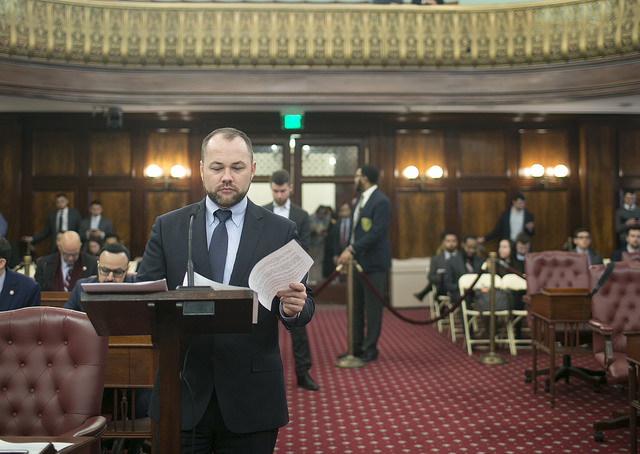 Speaker Johnson (photo: William Alatriste/City Council)
---
After weeks of mostly procedural activity to start its new four-year term, the New York City Council convened Wednesday afternoon for its first legislation-focused 2018 meeting, which included discussion and reintroduction of bills from the previous session that had not passed, as well as the introduction of new bills.
Some of the 408 pieces of legislation reintroduced deal with tenant protection, zoning and scaffolding regulations, and a bill to prohibit people who have been found guilty of a specific set of felonies from holding office.
Following roughly five minutes of formalities, new City Council Speaker Corey Johnson announced that immigration activist Ravi Ragbir, who a federal judge ruled had been wrongfully detained by ICE on January 11, was in the chamber. Johnson called his detention "brutal" and "unjust;" Ragbir was greeted with a standing ovation from the majority of those in attendance. Earlier, activists and Council members gathered to support him at a press conference on the City Council steps. Two Council members, Ydanis Rodriguez and Jumaane Williams, had been arrested protesting Ragbir's detainment.
Johnson then led the Council through its vote on legislation that had moved through committee, mostly land use items, outlining two Manhattan locations to be given property tax exemptions, one on West 28th Street, located in District 3, which he represents. "It's going to create 37 units of supportive housing, which I am really happy about," he said.
The other building proposed to be granted a property tax exemption is in District 1, represented by Council Member Margaret Chin, which aims to preserve 198 units of affordable housing in the Two Bridges neighborhood. In addition, Johnson briefly mentioned a rezoning along Bedford Avenue.
Council Member Ben Kallos of Manhattan's Upper East Side re-introduced a pair of bills, Intro. 85 and 86, aimed at ensuring people who have had cases heard in housing court do not face discrimination from landlords. "[The bill] would require tenant screening companies who make these so-called "tenant blacklists" to provide fair and complete information. Landlords would no longer be able to discriminate against tenants," he said. "No one should face homelessness suddenly because they've been to housing court."
In a similar vein, Chin introduced a tenant protection measure of her own, Intro. 30. This bill, she said, would mandate that landlords, in the event that residents needed to be vacated, could not put relocation expenses on the city's dime. "We need to continue holding bad landlords accountable for their actions," she said. "Or in this case, inaction."

Kallos, who announced his wife is imminently due to give birth and that he is slated to begin paid parental leave until March, spoke about the importance of fathers taking their paid leave and re-introduced a bill designed to limit how long scaffolding could remain in place. "Some scaffolding is almost old enough to vote," he quipped.
While not discussed during the session, one notable bill reintroduced this week was Intro. 374, which was sparked by former State Senator and former City Council Member Hiram Monserrate, who was convicted for domestic violence, launched an ultimately unsuccessful bid for City Council last summer, which was met with condemnation from elected officeholders and many others.
Asked about the scaffolding bill at a press conference after the Council session, Johnson said he is receptive to the idea of reducing the amount of time scaffolding remains in place, though he did not explicitly state his position on it. "We have to make sure the public is safe, while at the same time not allowing scaffolding to remain up longer than needs to," he said.
"I don't know enough about the nitty gritty on the bill itself, but there was an issue yesterday, I believe the Republican House did something to invalidate our scaffolding laws" he added, presumably referencing H.R. 3808, the Infrastructure Expansion Act, designed to undermine New York's "Scaffold Law," which is meant to protect workers by placing legal responsibility on property owners when they incur injuries. He went on to label scaffolding a "blight" and "eyesore."
Johnson was asked about allegations related to Mayor de Blasio allowing a pay-to-play climate to fester in his government. "Every New Yorker, regardless of if you gave money to an elected official or you're a random person that calls someone's office or shows up outside City Hall, your local elected official should be responsive to you," Johnson said.
Asked if mayor de Blasio acts in this spirit, Johnson said, "He says he does that."

He added, "I don't know what it's like for any New Yorker who stops him on the street, but you have to make sure that government is responsive to everyone."
Johnson was also asked to comment on NYCHA, which has come under fire in recent months for issues ranging from lead paint to malfunctioning boilers, the topic of a hearing set for Tuesday, February 6.
"I'm going to be there the whole time," he said of the hearing. "Four hours, five hours, however long the meeting goes."
The speaker had harsh words for management of the authority, but stopped short of calling for the chair, Shola Olatoye, to step down. The problems at NYCHA, he said, could not be blamed solely on Olatoye. "If she left tomorrow, the issues would still exist," said Johnson.
"This is a long-term issue. It's taken a lot of time for the neglect that NYCHA has faced to get in this situation," he explained. "We're not going to get all the money overnight, we're not going to fix the developments overnight."
To that end, Johnson vowed to use the city budget process to ensure NYCHA receives more funding.