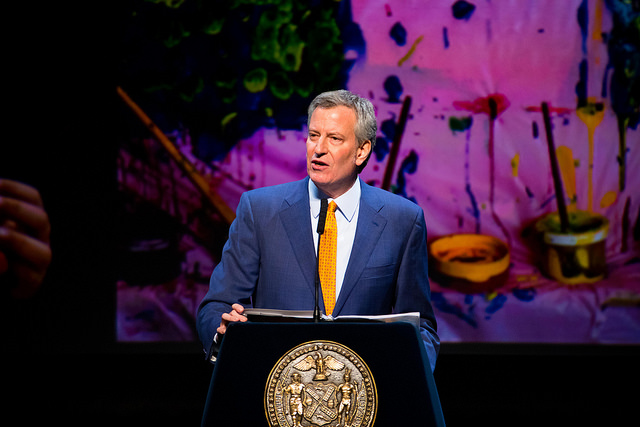 Mayor de Blasio (photo: Benjamin Kanter/Mayor's Office)
---
Last week, Mayor Bill de Blasio announced in his State of the City speech that he would convene a commission to consider changes to the city charter, New York City's seminal governing document. De Blasio said the charter revision commission would undertake the significant task of reducing the impact of "big money" on local elections and to engage voters in a democracy that has suffered from their apathy. The mayor is hoping the commission members, whom he has yet to name, will prepare recommendations in time for voters to approve or reject the commission's ideas on Election Day this November through one or more ballot questions.
De Blasio is ready to utilize a power available to him, though some are already questioning why he isn't pursuing his desired changes through legislation at the City Council, while others are criticizing the mayor for pre-determining the panel's outcomes. But, de Blasio will do as several predecessors have done and call a commission. How exactly does it work?
The mayor has the power to call a Charter Revision Commission under Section 36 of the state's municipal home rule law. A commission can be composed of between 9 and 15 members, who would all have to be residents of the city. The mayor simply has to file the names of his chosen members, who can include current public officials, with the City Clerk's office. There is no public vetting process, but de Blasio has conceded that he is open to input from concerned elected officials about who should serve on the body.
"I'm going to act in the manner stipulated in the City Charter," the mayor said at an unrelated news conference on Feb 14, when asked by Gotham Gazette if he'd let other elected officials choose members for the commission, as some were calling for even before de Blasio's announcement. "So, I'll be naming the commission. I'm happy to talk to my colleagues in government about people they think would be right to serve, but I will name the commission just as previous mayors did."
De Blasio said in his State of the City speech that he would "give [the Commission] the mandate to propose a plan for deep public financing of local elections." Despite being elected with maximum contributions from wealthy donors (the limit is $4,950 per person to a mayoral candidate), the mayor has been a frequent critic of the influence of big money in elections. He also established multiple extra-governmental fundraising entities that took in hundreds of thousands of dollars from entities with city business and led to new city laws restricting such groups.
De Blasio has directly spoken out against the Supreme Court's Citizens United decision, which opened the floodgates to untold amounts of unaccountable election spending, and has repeatedly called for broader campaign finance reforms to be enacted by the state.
"I will also charge the Charter Revision Commission to propose a plan to empower the city government," de Blasio continued during his State of the City, insisting that the city should be able to take on duties he believes are currently mishandled by the New York City Board of Elections, a quasi-state agency.
However, the mayor cannot technically charge the Commission, which is meant to be independent, with exploring any specific agenda item. A commission could take up any issue its members deem appropriate and recommend changes to the charter that even the mayor could not reject. Final recommendations would have to be approved by a voter referendum.
"The mayor I think has made it clear he has certain questions in mind, which seem to be well intended," said Joseph Viteritti, a professor at Hunter College who served as research director for the 2010 Charter Revision Commission created by former Mayor Michael Bloomberg (Viteritti also recently wrote a book about de Blasio). "That said, once a commission is appointed, it can go where it chooses."
The 2010 commission held public hearings in each of the five boroughs and, based on feedback from the public and from elected officials, examined five broad subjects: voter participation, public integrity, government structure, term limits for elected officials, and land use. In its final report, the commission made several recommendations which ultimately formed the basis for two ballot questions that were both approved by 52 percent of voters.
The first question reduced the number of terms that city elected officials can serve from three to two for those elected in 2010 and after, and prohibited the City Council from changing term limits for incumbents. The second question dealt more widely with elections and government administration. Among other things, it required the disclosure of independent expenditures in city elections; reduced the number of ballot petition signatures that candidates need to run for office; tasked the city's Campaign Finance Board with voter assistance functions; established mandatory conflicts of interest trainings for all public servants, while also increasing fines for violations.
"I would assume they'll have public hearings and when you do that...people can introduce things that may or may not be on the agenda," Viteritti said. "Any commission opens up the entire charter to review potentially. There's no constraints once it's appointed."
Notably, the 2010 Commission did not propose a ballot question on nonpartisan primary elections, a change that Bloomberg had made clear in the past that he wanted to see happen and that would allow any registered voter to vote in one party primary of their choosing. The Commission debated the issue extensively -- although Bloomberg did not raise it again that year -- but it did not include it in its final recommendations. "We decided not to propose that because we didn't think we had enough time to consider the potential consequences of such a major change," Viteritti said. "What that should tell anybody is that the mayor can express his priorities, but that doesn't necessarily mean they'll be reflected in the final deliberations of the commission."
The last time the city's charter was thoroughly reviewed was by the 1989 Commission, on which Viteritti served as a consultant. That commission radically changed the structure of city government by eliminating the Board of Estimate -- a body made up of the citywide electeds and borough-wide officials who together exercised complete control over the city's budget and land use -- and by assigning its roles to the City Council, which saw its number of seats increase from 35 to 51.
Doug Muzzio, political science professor at Baruch College's School of Public and International Affairs, praised the mayor's announcement but said his priorities should be broader. "It's gotta be far more extensive and it's gotta be funded appropriately," said Muzzio, who was on an expert panel on government structure that testified before the 2010 Commission.
Muzzio pointed to an alternate proposal put forward in legislation by Public Advocate Letitia James and Manhattan Borough President Gale Brewer, both second-term Democrats like de Blasio. The proposed bill would create a charter review commission composed of representatives appointed by the mayor, who would get a plurality of appointees, the speaker of the City Council, the borough presidents, the public advocate and the comptroller. "In terms of greater diversity of views on something as important as the charter, I would prefer the Brewer-James proposal," Muzzio said.
"Charter revision is important and needed," Brewer tweeted on Tuesday, "but appointments should come from many electeds and the issues to be discussed should come from the group."
In a New York Daily News editorial in December, Brewer and James called for a revamp of the city's charter, noting that "the last real overhaul" was in 1989. Citing a new world and new challenges, a charter revision commission, they said, could give communities a stronger voice in the city's land use processes, provide City Council members with greater say over the city's budget, and streamline agencies with shared responsibilities. "Our goal is simple: empower a panel of genuine experts to do a top-to-bottom review of how our government could work better, and put their recommendations up for public discussion and a vote," they said.
Time will likely be a constraint on de Blasio's commission and if they are to be ready to make recommendations by November, they will have to move quickly. The 2010 commission was convened in March and had issued its final report by August.
Both Muzzio and Viteritti also pointed out that many of the improvements to campaign financing and election laws that the mayor wants to accomplish are held back by inaction by the state Legislature and Citizens United.
Although the mayor may not drastically change how New York City's massive municipal government works, he has nonetheless set the stage for a broader discussion of voting laws, election funding, and the city's waning democracy, Viteritti insisted.
"To me the most important thing to come out of this is to raise the consciousness of people to how broken and troubled the democratic process is," he said. "The more public discussion we have about these issues the better...We have to start the conversation somewhere. It's not starting in Albany. It's not starting in Washington, D.C., that's for sure."
Note - This article noted earlier that the 2010 Charter Revision Commission did not take up the issue of nonpartisan primary elections. The Commission, in fact, debated the issue but did not include it in their final recommendations. The article has been updated.