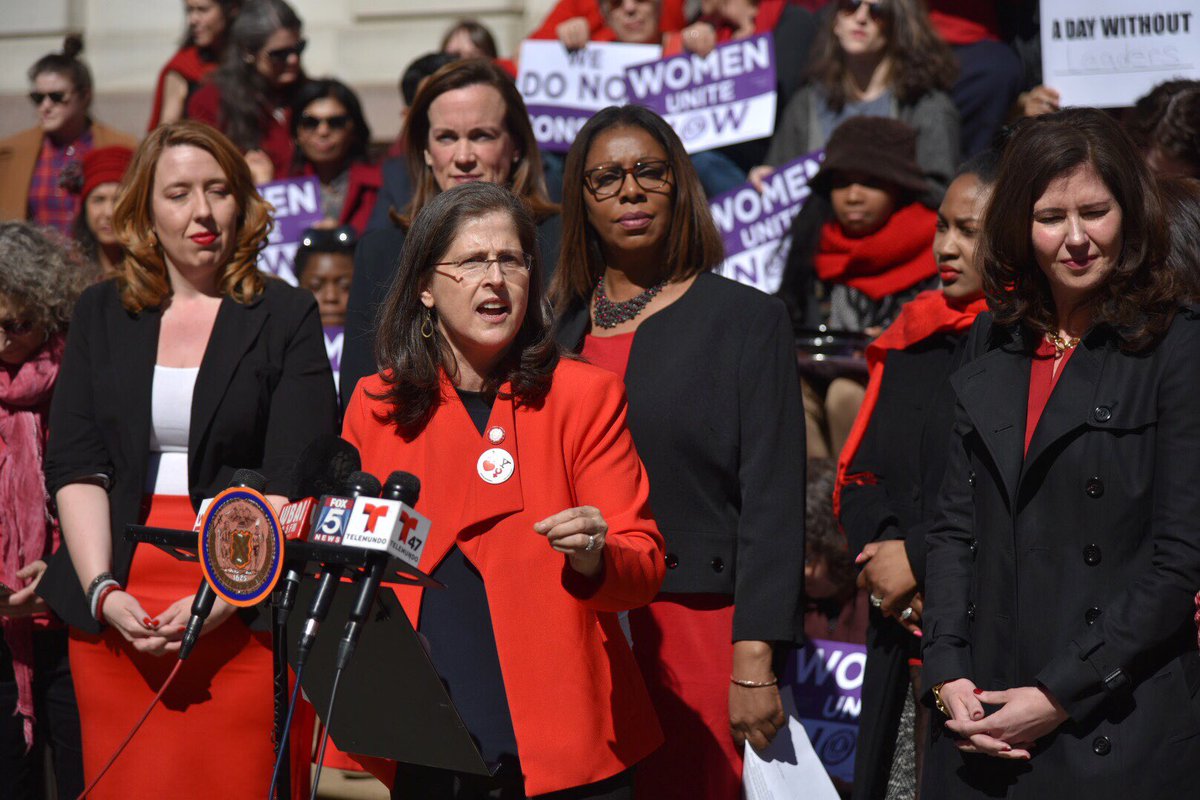 Council Member Rosenthal and others (photo: John McCarten/City Council)
---
As the nation grapples with how to confront sexual misconduct, the New York City Council is addressing the issue in its oversight and legislative capacities. On Wednesday, Council members held a press conference and subsequent hearing on "best practices" for preventing sexual harassment, identifying current city government protocols, and considering a slate of new legislation.
The 45-minute press conference outside City Hall featured about a dozen Council members, along with advocates, promoting the action being taken by the Council. It was led by Council Member Helen Rosenthal, a Manhattan Democrat who chairs the Committee on Women and ran the hearing that was held jointly with the Committee on Civil and Human Rights. During the hearing, members formally introduced the Stop Sexual Harassment in NYC Act, a package of 11 bills aimed at preventing and punishing sexual harassment in much of city government and the private sector.
"Countless women and men have raised their voices and built the #MeToo movement," Rosenthal said at the press conference. "The courage and the grace of these survivors has made a reckoning inevitable, not just for the powerful individuals finally brought to account, but for our society as a whole. We owe them a great deal of gratitude--and more to the point, we owe them action."
"Because although we have strong sexual harassment protections on the books," she said, "we know that reality has not caught up with the law. Harassers are still too often able to operate with impunity."
Among the Council proposals is a bill requiring city agencies to administer anti-sexual harassment training twice per year. The lead sponsor of the bill is Council Speaker Corey Johnson. Another bill, introduced by Council Member Mark Levine, would require the dozens of city agencies to produce a yearly report of sexual harassment incidents. Additionally, Rosenthal introduced a bill mandating that the city's Commission on Human Rights distribute a "climate survey" to city agencies to "assess the general awareness and knowledge of workplace sexual harassment policies and prevention" in them, according to the bill's summary.
In a similar vein, Council Member Adrienne Adams proposed a bill requiring the Commission on Human Rights to join forces with the Department of Citywide Administrative Services (DCAS) to deliver an "assessment of risk factors associated with sexual harassment within city agencies" to the mayor and speaker. Notably, this assortment of legislation applies only to mayoral agencies, including the mayor's office, but not the City Council itself, according to a spokesperson for Rosenthal. The bills do not apply to the Borough Presidents' offices, the Comptroller's office, the Public Advocate's office, or other non-mayoral government entities, either.
At Wednesday's hearing, representatives from DCAS presented a new citywide employee handbook that outlines guidance for many examples of inappropriate workplace behavior and what to do when an employee feels harassed.
Council Member Jimmy Van Bramer submitted legislation that would require businesses contracting with the city to include sexual harassment policies and procedures in their division of labor services employment reports.
The array of proposals also addresses private businesses throughout the city. For example, Council Member Laurie Combo and Public Advocate Letitia James put forward legislation requiring businesses with more than 14 employees to conduct sexual harassment prevention training. Along similar lines, Council Member Keith Powers' bill on the matter would amend the city's Human Rights Law related to sexual harassment to apply to businesses employing any number of people, rather than the current threshold of businesses with more than four employees.
Council Member Robert Cornegy, for his part, introduced a bill that would mandate that employers inform workers of their rights vis-à-vis sexual harassment with an office poster and a bill introduced by Council Member Alicka Ampry-Samuel would direct the Commission on Human Rights to provide resources regarding sexual harassment on its website.
Council Member Carlina Rivera has legislation classifying sexual harassment as a form of discrimination under the city's Human Rights Law. In an interview prior to the hearing, Rivera explained the goals of the effort. "What we're looking for is clearly to show everyone that as a city we're going to set the model for others, whether it's the public or private sector," she said. "What we're looking for are best practices."
The Council wants to ensure "every workplace is free from sexual harassment," Rivera added.
"When it comes to private businesses," Rivera said, "one of the things that is incredibly challenging is transparency." The legislation pertaining to private businesses, Rivera said, needed to not just be symbolic, but must clearly codify what is and is not acceptable workplace conduct.
"We're doing this to open that door for all to come forward and say, 'Hey, this is what's happening to me in my own business," she continued, "and we're going to be able to challenge them on their own set of practices in terms of protecting their employees."
Former City Comptroller and Congressional Representative Liz Holtzman, who participated in both the press conference and hearing, echoed Council Member Rosenthal. She noted that though there have been previous efforts to address seuxual harassment, not enough has been done to follow through once the problem had been identified.
The Council bills may be amended before either another hearing to discuss them or committee votes to move them through. Bills passed by committee are then voted on by the full 51-member City Council. Mayor Bill de Blasio would then be asked to sign any bills passed by the overwhelmingly Democratic Council. The Democratic mayor has indicated he is supportive of taking new legislative action on this front, and representatives of his administration appeared supportive of the Council's proposals at the Wednesday hearing.
Public Advocate James contended that as high-profile instances of sexual harassment make headlines, it is also a common occurrence in daily life of too many everyday New Yorkers. "We all have our own individual, personal Harvey Weinstein's that we know," she said.