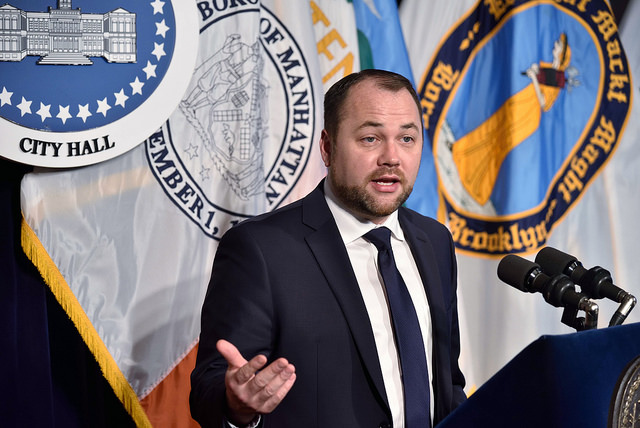 Council Speaker Johnon (photos: John McCarten/City Council)
---
City Council members pressed budget officials from Mayor Bill de Blasio's administration for more transparency and a better accounting of spending and revenue plans at a Monday hearing on the mayor's $88.67 billion proposed preliminary budget for the 2019 fiscal year, which begins July 1. It was the first hearing of what will be weeks of public discussions, and the first under the new City Council speaker and new Council finance committee chair.
"I want to focus on what will be a recurring theme of these hearings -- ensuring that the City budget is fair, transparent, and accountable to New Yorkers," said Council Speaker Corey Johnson, in his opening statement, kicking off the series of hearings at which agency heads and top city officials will present to the Council their funding priorities for the next fiscal year while defending their programs and practices.
"For too long, administration after administration has presented the budget to the Council in a manner that makes it difficult for us to do our Charter-mandated duty of budget oversight and review," Johnson said, decrying the "frequent usage of vague and over-inclusive units of appropriation" that make city spending hard to track, and the lack of measurable connections between budgeting and results.
Johnson also expressed concern about the ballooning of the city budget under de Blasio, noting that the city expects to spend as much as $95.2 billion by the 2022 fiscal year, and promised a "renewed focus" on the city's capital budget. Johnson has created a special capital budget subcommittee for that purpose.
Over the course of several hours, the Council heard testimony Monday from representatives of the Office of Management and Budget and the Department of Finance, Comptroller Scott Stringer, and representatives of the Independent Budget Office. The hearing saw a few testy exchanges between Council members and new OMB Director Melanie Hartzog, indicative of the increased independence that Johnson has promised under his leadership. Members pushed hard when Hartzog gave them answers that they believed lacked sufficient detail and Hartzog, in turn, seemed to dig in when faced with repeated critical questions.
Council Member Daniel Dromm, the new chair of the finance committee, emphasized in his opening statement that the Council would have a clear eye on "accountability, performance and efficiency" in the upcoming budget hearings. "Even within an $88 billion budget, resources are scarce and our city's needs are great," he said. "With so many competing, worthy priorities, we owe it to our constituents to honestly evaluate all levels of the budget."
Although Dromm noted that de Blasio had proposed little in the way of new spending -- $393.5 million in additional spending for the current fiscal year and $364 million for the next -- he said particular items called for increased oversight.
Among those are spending on homelessness, which has increased by $2.8 billion under de Blasio, including a $150 million baseline increase in the preliminary budget for shelters. "Obviously, the Council supports spending money in order to combat homelessness and to provide everyone in the shelter system with a safe and permanent home," Dromm said. "But that does not mean that we will authorize the administration to spend carte blanche." He said the Council had yet to hear a "clearly articulated strategy" on homelessness from the administration.
Dromm also questioned whether the mayor's Citywide Savings Program (CSP), a voluntary program for city agencies, was finding "real efficiencies" and pushed for reporting by the administration on the CSP's implementation in the annual Mayor's Management Report.
"Our emphasis in the preliminary budget is caution," OMB Director Hartzog told the Council, stressing that the $750 million in new spending across the two years in the budget was offset by $900 million in savings. Hartzog took over her portfolio two months ago after her predecessor Dean Fuleihan was appointed first deputy mayor by de Blasio.
In her testimony, Hartzog warned of nearly $1 billion in fiscal threats the city faces from the state and federal budgets that will affect everything from education and public safety to affordable housing, health care, and transit funding. "Facing great risks from both Albany and Washington, we respond with caution by adhering to the same foundational principles of fiscal management that we have in the past," she said.
In keeping with past years, the city has set aside "strong reserves that serve as a buffer to the unexpected," Hartzog said. The preliminary budget includes $5.5 billion in reserves, including $1 billion in the general reserve, $250 million in the Capital Stabilization Reserve, and $4.25 billion in the Retiree Health Benefits Trust Fund.
Hartzog touted the city's "targeted, prudent investments" in the new budget, including the expansion of pre-kindergarten for more three-year-olds in the city, efforts to increase the city's affordable housing stock, funding to protect tenants from construction harassment, increased capital funding for the New York City Housing Authority, spending on mental health services and the full rollout of the NYPD's body camera program, among others.
Hartzog also said that funding for DemocracyNYC, a voter engagement program announced by the mayor in his State of the City speech last month, would be included in the executive budget which is released after the Council has held weeks of hearings and had an opportunity to respond to the preliminary spending plan.
It was clear early on that Johnson did not intend to take it easy on the administration, jumping straight into property tax reform as he questioned Hartzog. The mayor had promised action on property taxes in January but has yet to make any policy moves. Despite repeated pushing from Johnson, Hartzog was similarly noncommittal. "As the mayor said, you'll hear more from us very soon," she said, without providing a concrete timeline.
In several instances, when Council members expressed disappointment with the funds allocated to certain programs and agencies, Hartzog promised to have ongoing conversations with them. But, at Dromm's urging, Council members avoided going deeper into agency-specific questions, a break from previous years when members grilled top budget officials on various aspects of city government. There will be specific agency budget hearings beginning Tuesday.
One issue that several members returned to, however, was the city's spending on housing homeless New Yorkers in cluster sites and emergency hotel shelters. Hartzog repeatedly told members the city could not delineate that spending, owing to constant updates and reestimates of costs related to homelessness spending. Johnson noted that the preliminary budget included a $169 million increase in baseline funding for shelters, but with few results to show for it.
"It's concerning to the Council that we keep adding hundreds of millions of dollars on an annual basis but we haven't seen a significant decrease in the homeless population," Johnson said to Hartzog at one point.
Johnson also failed to get a commitment from Hartzog on providing more units of appropriations in the budgets for city agencies that lack detail and transparency. He noted, for instance, that the Department of Corrections has one budget line for jail operations, despite running several jails across the city. Hartzog said she could not commit then and there to creating more units but promised to work with the Council on its concerns.
Other members followed Johnson's lead, some forcefully pushing their priorities that included funding for the summer youth employment program, increased contracting for minority- and women-owned businesses, senior services, health coverage, and more.
Council Member Rory Lancman, a vocal critic of the de Blasio administration, raised the issue of funding for the ailing MTA and scandal-ridden NYCHA. "They are two areas where the mayor has to some degree or another, I won't say abdicated, that's too judgmental, but has offered the view that they are either not his problem or the origin of the problems lie elsewhere," Lancman said.
Hartzog tried to float arguments that de Blasio has put forward -- that the state should fund the MTA and new MTA revenue streams should include "lockboxes" to keep the money in the city, and that the administration had made unprecedented investments in NYCHA in the absence of federal and state funds. Lancman, though, cut Hartzog off and insisted she focus on the budget before them.
Although tensions did not boil over, it was obvious that the Council was not pulling its punches. Johnson acknowledged as much at the end of his round of questioning. "It's never personal," he told Hartzog. "It's just doing our job."
Comptroller Scott Stringer, who testified in the afternoon, praised the mayor's budget proposal for including more funding for the expansion of 3-K for All, capital funds to repair and replace NYCHA heating systems, and for closing the first jail on Rikers Island.
But Stringer had a warning for the Council and the administration. "I am concerned that we are beginning to see warning signs of a slowing economy," he said, emphasizing as he has done for years that the city needs to set aside more rainy day funds. "More than ever, our spending decisions must be data-driven and evidence-based. We must ensure that no dollar is going to waste," he added. Two signs he pointed to were significant job losses in the last quarter of 2017, after years of sustained employment growth, and a reduction in the city's cash balance -- from $5.4 billion in fiscal year 2017 to only $1 billion in the current fiscal year -- from slowing growth of non-property tax revenue.
Stringer had clear prescriptions for the city. He has called for a "budget cushion" between 12 and 18 percent of the city's operational budget, while the city's reserves currently stand at only 9 percent or $8.5 billion.
"A more robust savings program is critical to building up our reserves and reducing the likelihood of cutting city services down the line," he said. "But it is not enough to find a few efficiencies here and there. It's time to start applying a much more rigorous test to our spending – are we getting real results for our investments?"
He also reiterated that he would be closely examining the budgets and expenditure of city agencies on his "watch list" -- the Department of Homeless Services, the Department of Education,2 and the Department of Correction. "Let me be very clear here in saying that I wholly agree with, and share, the mayor's goals of reducing homelessness, improving our public schools, and closing Rikers," he said. "But we must ensure that we are working toward these goals as efficiently and effectively as possible. Because as things stand now, I'm concerned that we are in a weaker position than we should be."