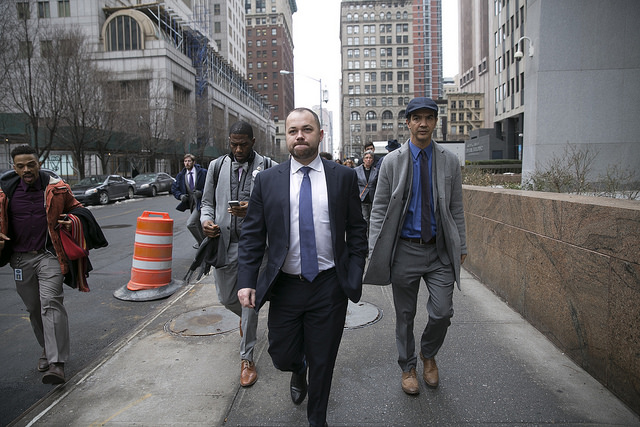 Speaker Johnson, center, & CM Rodriguez, right (photo: William Alatriste)
---
City Council Speaker Corey Johnson said Thursday that the elected Council members of the body he leads will get "deference" but "no veto" on land use matters.
Even before he was officially elected the new speaker of the Council, Johnson had already begun to define how he would approach the job. In clear breaks from his predecessor, Melissa Mark-Viverito, Johnson promised greater independence from the mayor, expanded oversight over city agencies, and a more active role in land use decisions, which is one of the most significant roles played by the 51-member legislative body.
Promising to bolster the Council's land use division with more resources and staff, Johnson seemed to want a heavier hand in local development projects, or land use applications, where the previous speaker tended to almost completely defer to the local Council member's sentiments and negotiations. Johnson, however, has implied that he won't allow the same kind of leeway that Mark-Viverito gave to members to oppose or reject proposals in their districts, which, under Mayor Bill de Blasio, include a number of neighborhood rezonings that can shape the landscape and character of neighborhoods for generations.
At an event Thursday, hosted by the Center for Community and Ethnic Media at the CUNY Graduate School of Journalism, Johnson explained his approach, saying that he would involve himself in land use applications if a local Council member requested it, but at the same time, would not allow any single member to act as an obstacle to a worthwhile project with benefits for a community.
When asked about the ongoing land use process for a proposed rezoning in Inwood in Uptown Manhattan, Johnson first admitted that he knew little about the ins-and-outs of the particular plan. "On the Inwood rezoning, this is not me in any way shirking, but I honestly, I haven't been briefed on it," he said, when panellist Debralee Santos from the Manhattan Times asked him about his general approach to land use issues and specifically two rezonings, a recently completed one in the Jerome Avenue corridor in the Bronx and the ongoing one in Inwood in Council Member Ydanis Rodriguez's district.
"I've been so crazy dealing with so many other things across the city," Johnson added. "I see people tweet at me about it, and I've read some articles about it, but I have not had the opportunity to sit down with Councilman Rodriguez or the other elected officials and have a conversation about it."
In the past few years, the City Council and the de Blasio administration have come face-to-face with the fact that even with rezonings that invest hundreds of millions of dollars in a neighborhood, that have gone through months of negotiations and received hundreds of hours of testimony and feedback from communities, there are inevitably those who remain dissatisfied. In some cases, Council members capitulate to community backlash, killing a project, but often they do not.
For instance, in 2015 East New York became home to the administration's first successful neighborhood rezoning. Despite Council Member Rafael Espinal negotiating commitments of more than $260 million in investments from the city as well as a slew of other community benefits -- besides the affordable housing and economic development that undergirded the rezoning -- a segment of housing advocates argued that the rezoning would continue, and exacerbate, the nascent gentrification of the district. (The advocates even threatened to organize a challenge to Espinal's 2017 reelection bid but did not follow through.) Espinal approved the project in the end, claiming advocates did not recognize the quality of the deal coming to the long-ignored community.
But, in 2016, owing to vocal community resentment, Council Member Rodriguez announced his opposition to a proposed development, also in Inwood, the day before it was scheduled to be voted on by the Council's land use committee. The project was unanimously rejected by the committee based on Rodriguez's verdict.
It was different, however, for Council Member Laurie Cumbo, who faced widespread criticism for vacillating on the proposed redevelopment of the Bedford Union Armory in Crown Heights. Eventually, faced with angry residents and a strong primary challenger, Cumbo rejected the proposal before her, which forced the city to amend its plans to later have them approved.
On Thursday at CUNY, Santos pointed to the Inwood Library as one controversial aspect of the larger rezoning, where residents of the neighborhood have called for an entirely separate land-use application for the building. "That's a local institution that people believe should merit its own process altogether, its own ULURP [Uniform Land Use Review Procedure]," Santos pointed out.
"So I don't know anything about it," Johnson conceded. "But I'm happy to work with the stakeholders involved and find a solution. My general principle is, unless the rezoning or the land use action that's proposed is totally off-the-wall and doesn't make any sense or if there is no community buy-in, which it may be this case in Inwood from what I'm seeing, I try to get to a place of 'yes.'"
Johnson recounted his own experience with the rezoning of Pier 40 in his Manhattan district in 2016, where in the end, he managed to extract $100 million worth of investments from the city while creating affordable housing and senior housing. "I worked on it for two-and-a-half years. There were many places where I wanted to walk away from that rezoning, it was frustrating me so much that I didn't think I'd be able to close the deal. But in the end, I always work to get to a place of 'yes,'" he said.
Would he get similarly involved in the Inwood rezoning, Santos asked.
"If I'm asked by the local elected official," Johnson said. It's unclear to what extent Johnson will assert himself if asked by other parties in a negotiation, such as the mayor's office or real estate developers.
And though he noted that most rezonings go through a negotiated process, and most of them are approved, he said he will not allow a local Council member to determine the fate of any single land-use process that he deems worthy. "One thing I said is, is there member deference involved? Of course, there's member deference involved," he said. "But there's no veto. No one gets a veto. There's a difference between deference and a veto. If someone is opposing a project or asking for things that are totally unreasonable, someone needs to step in and say, 'that doesn't make any sense.'"
Though Johnson said he was not up to speed on the Inwood rezoning, in a statement to Gotham Gazette, Council Member Rodriguez indicated he is pleased with the speaker's support thus far in the process.
"Speaker Johnson and the Land Use Committee staff have been very supportive throughout the rezoning," Rodriguez said. "Land Use has taken the time to understand the needs of the community the council members share. They understand council members have the best knowledge of the whole population in their districts and are seeking an optimal outcome."