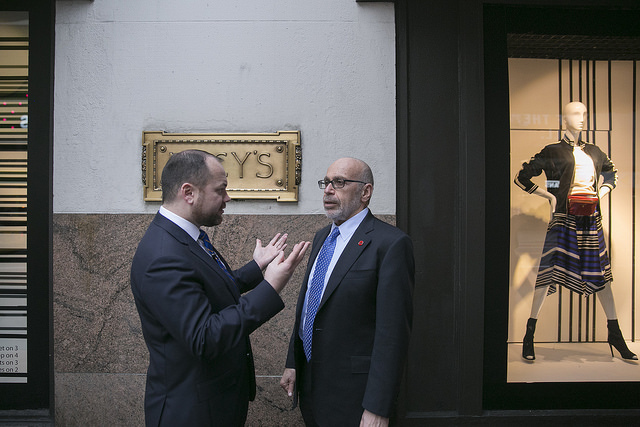 Above: Speaker Johnson and Stuart Applebaum (photos: William Alatriste/City Council)
---
Political action committees affiliated with prominent unions in the city invested heavily in the 2017 municipal election cycle, contributing to candidates in races for City Council, borough-wide and citywide positions. And that giving continued after the election was over, with many of the same unions having another opportunity to donate to elected officials. The new City Council Speaker Corey Johnson was one of the beneficiaries of that giving, taking in maximum-allowable donations from several union-linked PACs for his transition and inauguration committee.
During the January 22-31 period, which came after Johnson was formally elected to lead the Council, the new speaker's transition and inauguration entity (TIE) took in $31,500 in 14 donations from political action committees, according to disclosures filed with the New York City Campaign Finance Board. Ten of the donations were for the maximum amount of $2,750 that donors can give to City Council candidates.
The committee spent $31,254 on Johnson's inauguration, which was hosted at the Fashion Institute of Technology in Midtown Manhattan. Johnson was sworn in by U.S. Senator Charles Schumer of New York, with several prominent Democratic elected officials and party leaders in attendance including members of Congress, Mayor Bill de Blasio, Assembly Speaker Carl Heastie, Comptroller Scott Stringer, Bronx Borough President Ruben Diaz Jr., and dozens of Council members.
Most of the maximum donations to Johnson's TIE came from groups that had already maxed out to his reelection campaign -- during which he faced no significant competition but generously moved money to colleagues' campaigns as he sought their support for his speaker bid -- effectively meaning that they gave him $5,500 in total.
Those PACs, many associated with major labor unions, include the 32BJ United American Dream Fund, New York Hotel Trades Council's PAC, the Local 6 Committee on Political Education, the Doctors Council SEIU COPE, the Mason Tenders' District Council PAC, and the United Federation of Teachers.
A few PACs didn't donate to Johnson's reelection committee but did so for his transition, after his election as speaker, while others gave larger donations to his transition after giving to his reelection. The Retail Wholesale and Department Store Union PAC, for instance, gave Johnson's transition committee $2,750 after only a $1,000 donation to his reelection effort, while the Building and Constructions Trades Council PAC gave $2,750 to the transition after foregoing a contribution to his reelection. Others like the Council of School Supervisors PAC gave lower contributions to the transition committee after having already donated to his reelection.
"We want the new Speaker to be successful, and we wanted to support his transition efforts and his agenda for working New Yorkers," said Stuart Appelbaum, President of the Retail, Wholesale and Department Store Union, in a statement. "We have contributed to him in the past for both of his elections to the city council; and we would expect to contribute to him again in the future. When he first ran for city council, his campaign operation was located in our offices."
Johnson's transition fundraising is barely a drop in the bucket compared with his own campaign, which raised more than $505,000 and spent about $416,000. But the contributions are a window into the groups, many of them with business before the city, seeking to curry favor with the leader of the city's legislative body.
The Hotel Trades Council, the largest hotel workers union in the country, whose PAC donated generously to Johnson, has been pushing for stronger regulations against home-sharing services such as Airbnb. Metropolitan Public Strategies, a political consulting group with ties to HTC, also helped Johnson in his bid for the speakership. Just last month, Johnson, who has long-running ties to HTC, promised a strong crackdown on illegal hotels and illegal Airbnb listings.
The Patrolmen's Benevolent Association PAC, affiliated with the largest uniformed police officers union in the city, also gave to Johnson, both for his reelection and his transition. The PBA stepped up its involvement in local races in the 2017 election cycle, hoping to increase the sway it holds over members of a body that has, in the last few years, proposed and passed a slew of policing reforms.
In December, three weeks before the speaker vote, Johnson was among the majority of Council Members who voted to pass a controversial police reform package known as the Right to Know Act. One of the two bills in the final package, sponsored by Council Member Ritchie Torres, was roundly criticized, both by police reform advocates for being watered down at the behest of the mayor and the NYPD, and by the PBA for being a cumbersome burden on police officers. Chris Coffey, a consultant at Tusk Strategies, represents the PBA and is also a close advisor to Johnson, having worked on his speaker bid.
Many labor unions have exercised strong influence over legislation under the previous class of the City Council and through de Blasio's first term. One notable example is 32BJ SEIU, the building-service workers union, which played an active role in shaping a package of legislation related to non-unionized fast-food workers, down to the very bill language, according to a Politico New York report.
Neither a spokesperson for Johnson's campaign nor a spokesperson for Johnson's City Council office returned a request for comment for this article.
This year wasn't the first time Johnson created a transition committee. After the 2013 cycle, when he was first elected to the Council, he raised $35,147 and spent $34,831 on his inauguration. Of the 22 donations he received that year, however, only five came from PACs.
Along with Johnson, several other elected officials also created TIEs. Save for Mayor de Blasio, -- who raised about $78,000 and spent about $77,000 on his transition -- Johnson outspent all the others including Comptroller Stringer and Public Advocate Letitia James.
Note - This article has been updated to note that RWDSU donated $1,000 to Corey Johnson's reelection effort.