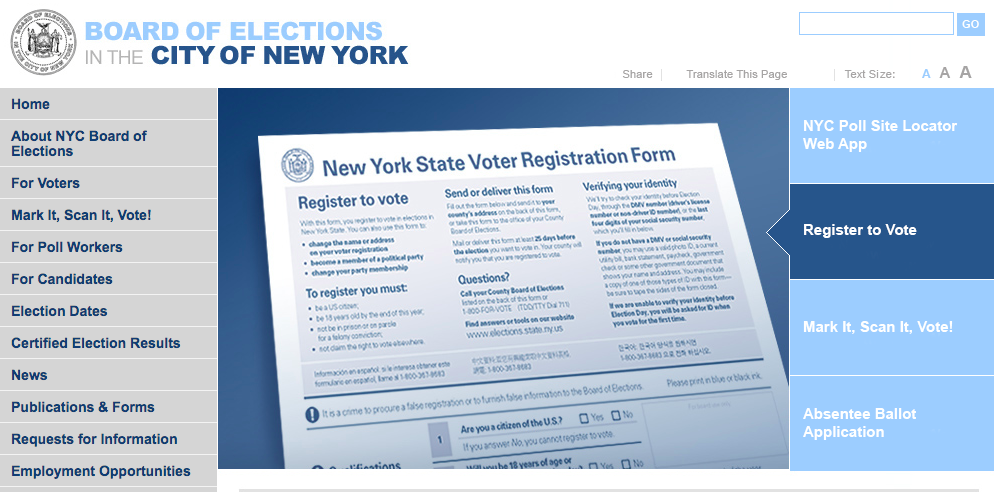 (NYC BOE website)
---
New York's voting and registration laws have long been derided as onerous and needlessly restrictive, falling far behind most other states that have implemented modern methods to register and cast a vote. While significant changes to state election laws are being debated in Albany ahead of a new state budget, the New York City Board of Elections may improve, albeit incrementally, people's access to the ballot by soon providing digital aid to register to vote.
The Board of Elections, a quasi-state agency funded by the city, is set to roll out a new website in the coming months which will provide New Yorkers with an "electronically assisted way" to fill out a voter registration form and an absentee ballot application, according to BOE Executive Director Michael Ryan, who testified at a budget hearing of the City Council's Committee on Governmental Operations on Monday. The two electronic forms would still have to be printed and either mailed to the BOE or delivered in person, in accordance with current state law.
The City Council last year passed a law mandating that the BOE implement online voter registration and, in mid-2016, mandated that the BOE create an online voter information portal where New Yorkers can track their absentee ballots, check their registration status and voting history, as well as access other voting and election resources. Both bills were sponsored by Council Member Ben Kallos, chair of the governmental operations committee last Council session.
The BOE has often been reluctant to abide by local laws, since it is governed by the state, and has either implemented common-sense measures that do not necessarily require legislation or has been pushed to do so by litigation. Ryan reiterated that fact Monday, setting aside the "mandate-no mandate argument" and laying out the BOE's plans for this year. He also explained why the BOE had been slow to implement those measures, when Council Member Kallos sought answers about the delay.
"Simply put, 2016 happened," Ryan said, referring to the 2016 presidential election, during which the BOE faced widespread criticism for mishandling of election operations and settled a federal lawsuit arising from a voter purge in Brooklyn. "We had the issues, painful as it is for me to resurrect, we had the voter registration issues in Brooklyn, followed shortly after that by the cybersecurity issues that arose just prior to the presidential election."
The BOE was poised to launch a new website prior to the 2016 election, Ryan said, but was discouraged by its cybersecurity team, which warned that the new platform would require more "robust testing" before going public. The federal lawsuit also required the BOE to overhaul it's software for processing election results.
Ryan anticipates the launch of the new website in the second quarter of this calendar year, with the voter-registration assistance being mandated by the federal government. He also said the BOE's voter information portal was "pretty far along" in development.
The implementation delay did, however, fortuitously save the Board some effort, Ryan said. In that time, the United States Postal Service launched its own absentee ballot tracking service which they could now implement. "I would envision that since the postal service has already done it, assuming it works, and we've been told that it does, that we will help to advertise that so that the folks who really want to track their ballot can do it in a way that the post office can guarantee," he said.
Ryan's promise of the new website came out of larger testimony about the BOE's budget for the 2019 fiscal year, during the hearing led by Council Member Fernando Cabrera, chair of the governmental operations committee.
As with the last few years, Mayor Bill de Blasio's preliminary budget underfunds the BOE at $95.1 million. Ryan projected the Board would need at least $137.6 million to fund its operations, which include conducting two citywide elections -- the state primary in September and the general election in November (June congressional primaries will fall in the current fiscal year, which ends June 30). De Blasio has repeatedly denied employing the "budget dance" practice that agencies had to go through under previous mayors but has continued to use that tactic for the BOE and a few others. In each year under his administration, the BOE receives full funding by the time the budget is adopted.
De Blasio has had a contentious relationship with the BOE, and has been very critical of the board's operations and management, calling for sweeping reforms to its structure and practices. While most reforms can only result from state legislation, de Blasio has had an ongoing offer of $20 million in additional funds for the BOE in exchange for several reforms to its operations. In his State of the City speech in February, de Blasio reiterated that criticism while announcing that he'd convene a Charter Revision Commission that could, among other things, "empower the city government" to handle some responsibilities of the BOE, including voter outreach.
At Monday's hearing, Ryan pressed a number of different needs for the agency, including more funds for cybersecurity and higher pay for poll workers, which must be approved by the state or through executive order of the mayor. He also pressed the need for electronic poll books, which 34 other states and the District of Columbia have already implemented. Without electronic poll books, Ryan said same-day voter registration is "absolutely impossible" and early voting would be "difficult to implement," at the least. Both reforms have been considered in Albany for years with little success but leading Democrats, including Mayor de Blasio and Governor Andrew Cuomo, have reiterated their support for the proposals this year.
Cuomo, who is currently leading state budget negotiations, put $7 million for early voting in the amendments to his executive budget plan earlier this year.