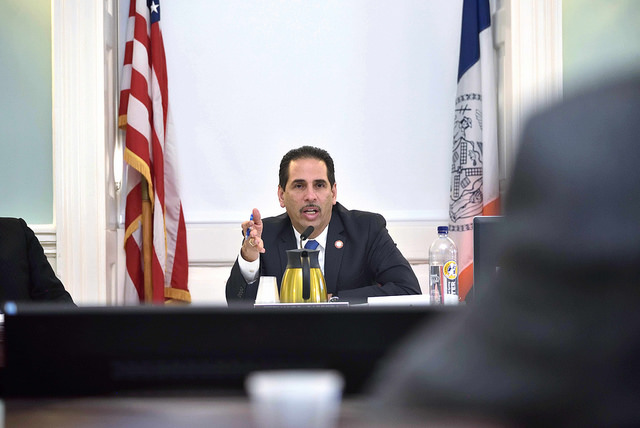 Council Member Cabrera (photo: John McCarten)
---
Amid a preliminary budget hearing where the City Council's Committee on Governmental Operations heard testimony from several city agencies and other entities under its purview, representatives from the Office of Administrative Trials and Hearings, or OATH, did not ask for massive new resources, but explained the impact of an increased budget and an increased caseload, while also asking for more personnel.
The committee chair, Council Member Fernando Cabrera, leveled effusive praise towards OATH Commissioner Fidel Del Valle, whom he said had created a fairer and more objective OATH than had existed before the onset of the de Blasio administration.
"You do a superb job," Cabrera said. "A superb job. You have taken your agency to a level of fairness and objectivity and impartiality like I have never seen of OATH before."
Del Valle was appointed by Mayor Bill de Blasio as OATH commissioner and Chief Administrative Law Judge in October 2014. Since then, OATH's budget has grown substantially, from approximately $31.3 million in Fiscal Year 2014 to approximately $48.9 million in the mayor's proposed 2019 preliminary budget, which would represent an increase of 55%. A new city budget is due by the July 1 start to the fiscal year.
The number of OATH summonses has also increased significantly of late, from about 594,000 in 2013 to 844,000 last year. The reason for this growth is an expansion of OATH's jurisdiction. OATH adjudicates summonses issued from 19 city agencies, from the Department of Buildings to the NYPD; in 2016, the Department of Consumer Affairs was added to OATH's docket. Also in 2016, the City Council passed and Mayor Bill de Blasio signed the Criminal Justice Reform Act, which redirected summonses for many nonviolent, minor offenses such as public urination and public drinking from criminal court to OATH.
Of the 844,000 OATH summonses issued last year, 298,000 ended up in a hearing. The rest were either paid up front without a hearing, or were not responded to and resulted in a default ruling.
Being the agency with jurisdiction over noncriminal summonses, OATH collects far more in fines, amounting to $139 million, than the size of its budget. But Del Valle noted that, being a part of the office of the mayor, the funds collected through fees belong to the city and not to OATH.
"An entity such as ours cannot be connected with revenue generation," Del Valle said, noting that once it became a concern, the agency could no longer be truly neutral in the cases it was adjudicating. "The role of justice is not to make money. The role is justice," he said.
OATH has 315 full-time employees. However, many of the adjudicators in the hearings division, known as hearing officers, have day jobs as attorneys who are paid per diem to administer the hearings. Del Valle is requesting $123,000 in new funds for additional hearing officers.
"Frankly, hearing officers are not sitting around at home in their jammies waiting for me to give them a call saying 'come on down, I've got more cases on the calendar today,'" Del Valle said. "They're lawyers with their own calendars and their own court appearances. And they have to know well in advance of having to come in."
Del Valle noted that a "squad" of permanent hearing officers would be ideal, but that OATH was not "getting that." If there's significant backlog, hearing officers often might not be able to render decisions immediately.
On average, Del Valle said that respondents receive a decision within 10 days.
The rate of summons dismissal varies significantly between agencies, largely dependent on whether the agency sends a prosecutor to the hearing. The lowest rate of dismissal comes from FDNY summonses, as the FDNY normally sends a prosecutor and the violations that receive summons are typically "deadly serious," according to Del Valle. A similar situation exists with the Sanitation Department, which, according to The New York Times, accounts for nearly half of all the summonses OATH receives. Del Valle says that, despite the volume of Sanitation summonses, they do not put a strain on the agency as they can be routinely dismissed.
On the other hand, Del Valle says the agency with the highest rate of dismissal is the NYPD, where summonses are often more frivolous. The NYPD doesn't typically send a prosecutor to OATH.
Del Valle also noted that a point of strain is summonses from the Department of Buildings.
"They all require the presence of a Buildings Department prosecutor and/or inspector to prosecute the summons," Del Valle said. "And the strain comes from the fact that, based on what resources Buildings has, they make their summonses returnable basically one day a week in each borough." He noted that, "on a particular Monday" at 8:30 a.m., the Brooklyn OATH office might see up to 800 Buildings Department summonses at once, leading to heavy strain.