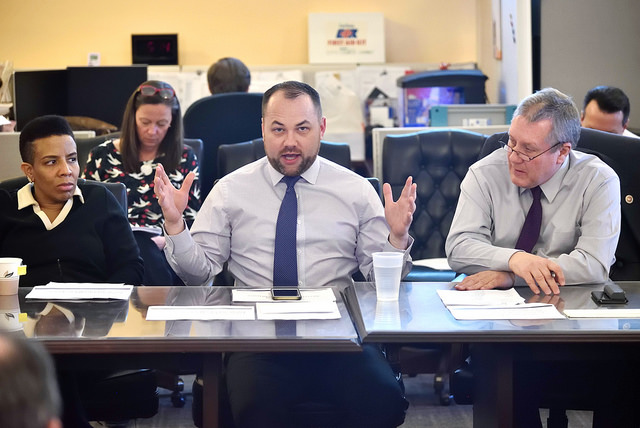 Council Members Cumbo, Johnson & Dromm (l-r) (photo: John McCarten)
---
The City Council's Committee on Finance voted on Thursday to increase the Council's operating budget to $81.3 million, an increase of nearly 27 percent from the current fiscal year's budget of $64 million, following through on Speaker Corey Johnson's promise to increase internal resources and produce a stronger role for the legislative body in areas such as land use and oversight.
The City Charter allows the Council to decide its own budget, with no required oversight and without any interference from the mayor. After the budget is approved, the Council can insert its spending plan into the mayor's executive budget, which follows after preliminary budget hearings have concluded and the Council issues its response to the mayor. A new city budget is due by the July 1 start to fiscal year 2019.
As the city's budget has increased dramatically over the last few years, the Council's spending has followed suit, though at a different scale. In the previous four-year session, the Council inherited a $51.5 million budget in 2014, with $38.6 million for Personal Services (PS), a budget line that covers salaries for Council members, aides, and committee staffers. The rest covered Other Than Personal Services (OTPS), expenses such as rent and office supplies.
By the current fiscal year, ending June 30, the Council's budget had grown to $64 million, an increase of 24 percent over four years under former Speaker Melissa Mark-Viverito. Spending on salaries and staff pay increased significantly to $49.2 million, owing to a pay raise that Council members voted themselves in 2016, increasing their annual salaries 32 percent from $112,500 to $148,500 (while also banning most forms of outside income and removing bonuses for leadership positions). That same year, Mark-Viverito also allocated an additional $25,000 to each Council member to boost staff member salaries.
Johnson came into office vowing greater independence from the mayor and increased oversight of city agencies. Among his top priorities were beefing up the Council's land use division, to ensure, among other things, that Council members could play a more proactive role in the administration's many proposed neighborhood rezonings across the city.
"I am fulfilling a promise I made during the Speaker's race to enable the Council to fulfill its mission as the legislative body of New York. I have always been clear that doing that would mean an increase in staff and resources," Johnson said in a statement to Gotham Gazette. "This budget reflects that. For example, two core functions of the Council are to legislate bills and negotiate the city budget, and this budget increases staffing and adds resources to the Legislative and Finance divisions. I've added staffing for the Charter Commission and Oversight and Investigation Unit, which I promised during the Speaker's race. And we have also added to Land Use, another core function of the Council. I am excited to see what a fully empowered City Council will do moving forward."
"I think that we need to do a better job about having the resources in our land use division so that we are fully staffed up to be more proactive," Johnson told reporters in January. On a number of occasions Johnson compared the small Council land use staff to the much larger City Planning Commission. "Since we're the final arbiter when it comes to land use matters, we should have a large land use division that can do some of the work up front, even before our community boards give a recommendation," Johnson said.
He also committed to stronger oversight of city agencies, with a newly empowered Committee on Oversight and investigations led by Council Member Ritchie Torres. The Committee is setting up its own investigative unit with former prosecutors, professional investigators, and former journalists.
"The Council's taking on a whole lot of new...responsibilities to a certain extent in terms of oversight and investigations and other areas of the budget, I think which is going to make the Council a more equal partner with the mayor," said Council Member Daniel Dromm, chair of the finance committee, after Thursday's hearing. "And I think in order to be able to do that, that's why we needed the increase in the operating budget for the City Council."
Much of the new funding, about $9 million, is for 111 new committee staff hires, increasing the total headcount of committee staff from 147 to 258. Another $2.9 million is being doled out equally to Council members so they can increase their staff pay or hire more staff for their district offices. The OTPS funding increased by about $4.1 million.
Most of the major divisions of the Council will see a significant increase in funding to account for additional staffing. The new Oversight and Investigation unit will be comprised of 20 staffers with a budget of $1.5 million. The finance division will see its headcount increase to 66 positions, up from 39, with a budget of $5.2 million, up from $3.1 million. The land use division, which budgeted for 14 staffers last year, will have 21 staffers with a $1.8 million budget, up from $1.25 million.
Most of the divisions will see a headcount increase, save for a "Policy and Innovations" division that is being eliminated entirely.
The Council also included placeholder funding to staff a potential Charter Revision Commission, which the Council is hoping to create through legislation independently of Mayor de Blasio's recently announced commission. The budget line, which simply reads "Charter," funds 20 committee staffers with $1.7 million.
"It's clear the Speaker wants the City Council to take on a more aggressive role and that may require beefing up analytic capacity and staffing," said Maria Doulis, vice president of Citizens Budget Commission, an independent fiscal watchdog. "But just like with other city agencies, that increase should be justified...the Council has to articulate clearly the goals and what it hopes to accomplish, and demonstrate that it's still keeping its operations lean and demonstrate to the taxpayer that it's delivering results for the investment."
Doulis said it was "reasonable" for the Council to want to enhance capacity in key areas, including land use. But insisted it should be "within limits." She also agreed that the Council's budget should undergo public oversight as well. At Thursday's hearing, as is usual with the Council's budget, there was little discussion and the vote concluded in less than five minutes. The detailed outline of the budget had yet to be uploaded to the Council's website, where the committee hearing agenda is posted in advance.
"They review everything else," Doulis said. "There should be a review of their own spending."
"There's been plenty of discussion around it as far as I know," Council Member Dromm said, when asked by Gotham Gazette if the Council should hold an oversight hearing of its own budget. He pointed to the speaker race -- in which each candidate, including Johnson, indicated that they would increase the Council's budget -- and news coverage of the Council's enhanced responsibilities. "I think there's been a lot of opportunity to discuss this."