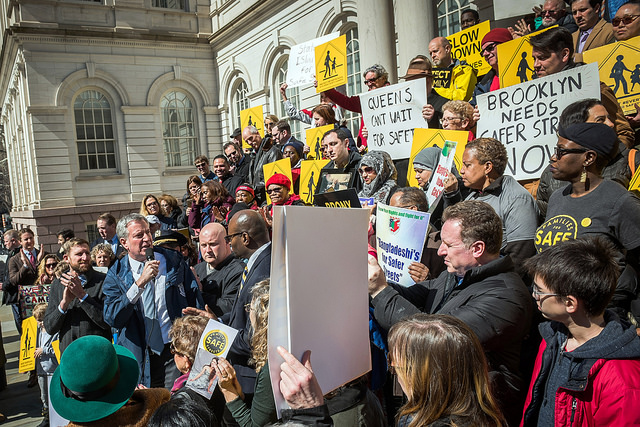 De Blasio at a rally for speed cameras (photo: Ed Reed/Mayor's Office)
---
The Legislature's passage of a $168.3 billion state budget over the weekend came with a few rewards for New York City, but also setbacks for Mayor Bill de Blasio, who saw several of his priorities either approved with caveats or ignored in final negotiations between legislative leaders and Governor Andrew Cuomo. Now, with three months remaining in the legislative session in Albany, de Blasio will have a number of agenda items that he is likely to pursue.
The mayor has had an extensive agenda that he was hoping to see approved by the Legislature and Cuomo, including increased funding for the Metropolitan Transportation Authority (MTA), the New York City Housing Authority, and schools. He was also hoping for more funds for affordable and supportive housing development, expansion of a speed camera program around city schools, repeal of a state law precluding the disclosure of police officer disciplinary records, passage of design-build authority for New York City to use in major construction projects, and a slew of voting and electoral reforms as part of his "Democracy NYC" agenda.
But de Blasio has few allies in Albany, save for Assembly Speaker Carl Heastie, a Democrat from the Bronx. Over the years, the mayor has repeatedly clashed with Cuomo, though both are Democrats, and the two administrations exchanged open barbs in the lead up to the budget's passage over everything from the MTA to NYCHA to education funding.
De Blasio has also been unpopular with Republicans who control the state Senate after he attempted to orchestrate a Democratic takeover of the chamber in 2014. The mayor does have somewhat cordial ties with members of the Independent Democratic Conference (IDC), a breakaway group of eight Senators who prop up the GOP's hold on the chamber, but has been unable to leverage those relationships to get a number of priorities passed or funded. Recently, he has repeatedly called on the group to rejoin the mainline Democratic conference, a move that may be in the offing post-budget.
The state budget presented what the mayor called a "mixed bag" for the city, in his weekly appearance on NY1's Inside City Hall on Monday night. An increase in school aid was approved, but with expanded oversight over how New York City schools utilizes it. Through the state budget, the city is being forced to bear more costs for subway repairs, and additional NYCHA funding is conditional upon an independent outside monitor for the ailing city agency. A relatively small stream of long-term funding for the MTA also passed, through a fee on for-hire vehicle and taxi rides in a designated quadrant of Manhattan, rather than through a tax on the highest-income New Yorkers as de Blasio had hoped. Design-build was approved for select repair work: at NYCHA, to build jail space to replace that of Rikers Island, and for a large project on the Brooklyn-Queens Expressway.
That leaves a few key items on the table.
De Blasio's administration has touted the success of a speed camera program in helping reduce traffic fatalities around city schools under the Vision Zero initiative. The mayor has been fighting for the program to be extended to 750 school zones, up from 140 currently, and requires the state legislature's approval to do so. As with last year, the state Senate refused to pass the measure, leaving it unresolved when the budget passed.
On NY1, de Blasio predicted that speed cameras would be one of the more contentious issues he will put his weight behind in the remaining legislative session. "[T]here's gonna be a fight in that session," the mayor told host Josh Robin. "Look I would've loved to have seen the speed cameras in the budget. I think that would've been the right thing to do because it's urgent, it's a matter of safety. We just lost two children in the horrible tragedy in Park Slope, we lost another child before that earlier in the year. I don't know how many kids, how many kids have to die before the legislators in Albany can say 'Hey, OK, of course we want cameras to stop speeding around schools.'"
The mayor urged legislators, particularly the state Senate, to "put the politics aside, think about human life and protecting people. I think this should be a huge fight in the legislative session."
The mayor also promised last year that he would pursue greater transparency for the city's police force, in particular by calling for the repeal of Section 50-a of the state civil rights law, which currently forbids the personnel records of police officers from being made public, according to de Blasio and city officials. It was de Blasio's administration that chose to reinterpret the law to hide disciplinary records -- claiming that successive administrations had misread and violated the statute for decades by releasing records -- the mayor nonetheless has said it is among his top priorities.
Under his democracy initiative, de Blasio pledged to pursue common-sense reforms to the state's archaic election and voting laws. The proposals were in line with the Cuomo's own "Democracy Agenda," including proposals such as campaign finance reforms, early voting, no-excuse absentee ballots, electronic poll books, among other measures. But Republicans in the Senate have been averse to most, if not all, of those reforms, which advocates have long said would increase voter participation and engagement across the state. (De Blasio promised a similar push for reforms last year but did little to follow through.) With none of the reforms having passed, de Blasio promised Monday that he would take them up again.
The state budget also moved the needle on the administration's plan to close the troubled Rikers Island jail complex by authorizing the city to use design-build, a streamlined procurement process, to build or expand borough-based jails. But de Blasio was also pushing for accompanying criminal justice reforms -- such as eliminating cash bail and implementing speedy trial reform -- which he says are essential to reducing the city's jail population to below 5,000, which he says is a requisite for the overall effort to close Rikers. Those reforms were left out in the state budget, but not forgotten by de Blasio.
"I think there'll be other big fights in the legislative session. Electoral reform, which I'm going to fight for very hard, 50-a reform and criminal justice reform, speedy trial, bail reform, there's so many pieces that we wanna win in the legislative session," de Blasio said on NY1. "I think a lot'll be on the table but speed cameras would be I think the thing with most intense feeling because it's about saving the lives of our children."