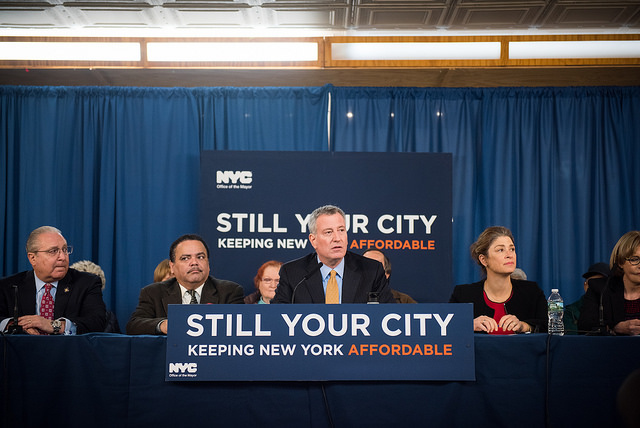 Mayor de Blasio (photo: Edwin J. Torres/Mayor's Office)
---
In October, Mayor Bill de Blasio announced that his ambitious affordable housing plan was two years ahead of schedule, prompting him to expand his target of creating and preserving 200,000 affordable units by 2024 to 300,000 units by 2026. At the same time, the mayor said his administration would undertake efforts to increase the involvement of non-profit developers in keeping housing affordable, likely a response to critics who said the administration was relying too heavily on the for-profit real estate industry.
As part of the enhanced and recalibrated plan, the New York City Department of Housing Preservation and Development (HPD) will take the first step on Thursday in launching its latest initiative. HPD will start seeking out developers who are interested in, and able to, purchase rent-regulated housing and maintain its affordability. The agency will then connect that list of developers -- including for-profit and non-profit entities -- with sellers.
HPD will issue a Request for Qualifications (RFQ) to create that list of developers, judging applicants based on "acquisition and development experience, portfolio management history, financial capacity, and the quality of their identified property manager."
Additionally, the non-profit developers that qualify for the list will be eligible for the administration's "Neighborhood Pillars" program, a $275 million public-private fund intended to provide financial assistance to mission-based organizations, minority- and women-owned business enterprises and community-based organizations to buy and preserve unregulated and rent-stabilized housing for the long term. HPD estimates the program, which is expected to launch by next fiscal year, starting July 1, could help fund the purchase of 7,500 units within eight years.
"As we accelerate and expand our work through Housing New York 2.0, we are taking a more targeted, data-driven approach to preserving affordability and protecting residents from the threat of predatory investment," said HPD Commissioner Maria Torres-Springer, in a statement. The program, she said, would "help safeguard the affordability of our city for generations to come."
Sam Marks, executive director of Local Initiatives Support Corporation NYC, which worked with HPD on the creation of Neighborhood Pillars, said in a statement that rent-regulated multi-family homes are a "key resource" for maintaining affordability for low- and moderate-income New Yorkers.
"[W]e applaud the City for creating a dedicated program to enable mission-driven developers to acquire and steward these assets," he said. "The Neighborhood Pillars Program has the potential to protect these buildings from predatory purchasers and speculators. We are hopeful that the HPD will prioritize locally-based, mission driven developers, such as community development corporations, that would commit to long-term affordability even beyond what the public financing regulatory agreements require."
The effort is intended, in part, as an answer to the rampant housing speculation across the city, which housing advocates say has been triggered in some cases by the administration's proposals to comprehensively revise land use rules in low-income communities to spur affordable housing creation. The mayor pushed back against that notion when he first announced Neighborhood Pillars in October, when a reporter asked if the new program was an acknowledgement that the city may have exacerbated housing speculation.
"It's an acknowledgement that speculation was already a problem," he said. "I've said this a thousand times...the speculation problem is separate from any question [about] rezoning. We've seen massive speculation in Bed-Stuy, in Bushwick, in places that never had a rezoning, as well as places that had a rezoning coming. It's unfortunately ubiquitous. So we have to approach it with new tools."
Along those lines, the administration has taken measures, in conjunction with the New York City Council, to prevent developers from driving out rent-regulated tenants and raising rents at astronomical rates. The most recent of those is the "Predatory Equity" bill, sponsored by Council Member Ritchie Torres from the Bronx and passed by the City Council in December. The bill mandated the creation of a publicly available "Speculation Watch List" of rent-regulated buildings which have been recently sold and where the tenants could face displacement pressures. The administration will publish the list this fall.