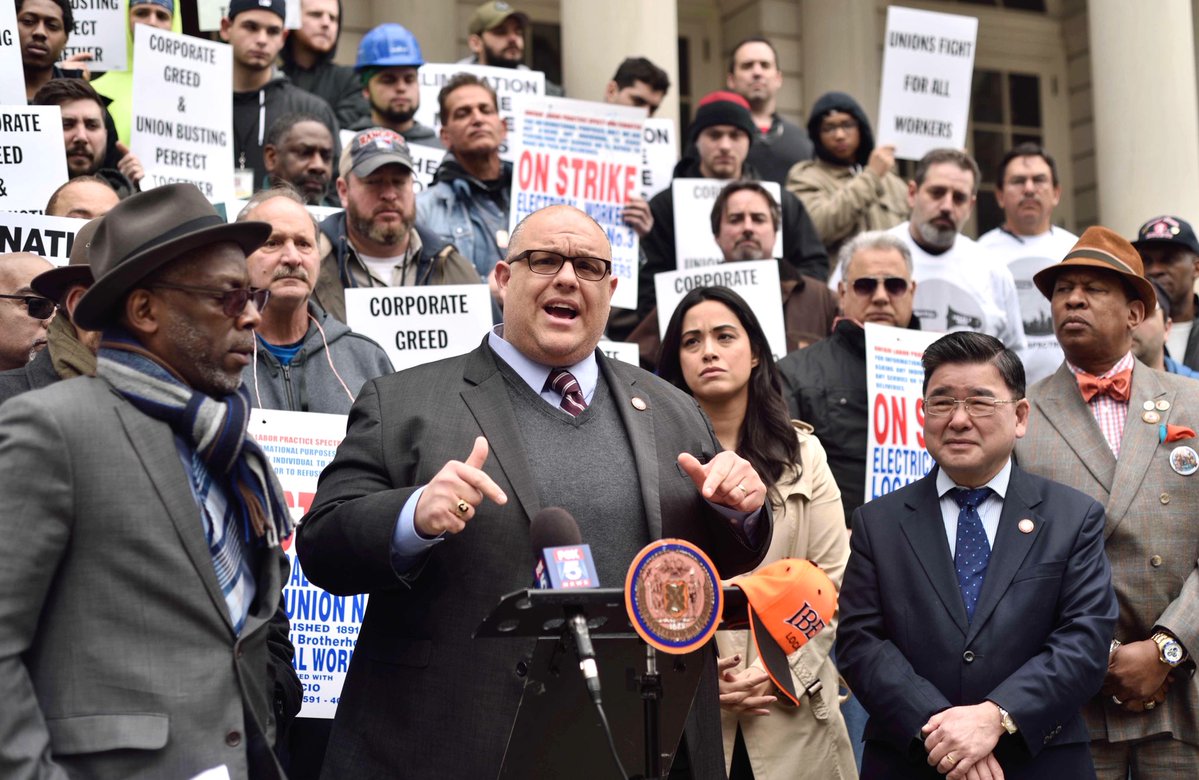 Council Member Justin Brannan (photo: John McCarten/City Council)
---
City Council Member Justin Brannan is everywhere.
He's at the governor's mansion discussing the state's efforts to empower women- and minority-owned businesses. He's meeting with the president of the Building and Construction Trades Council about the city's construction industry. He's at the Chinese-American Planning Council's 53rd anniversary celebration, posing for photos with Congressional Rep. Grace Meng, state Assembly members Peter Abbate Jr. and Yuh-line Niou, and fellow Council members. He's talking police-community relations with NYPD Commissioner James O'Neill. He's speaking with the Brooklyn Chamber of Commerce. He's at union rallies, nonprofit galas, senior centers, PTA meetings and parades.
He's being interviewed on television and photographed at City Hall, and he's developing more and more of a social media presence, showcasing both his travels around the city but also his focus on constituent services in his district, praising his colleagues, chronicling his subway struggles, and sharing song lyrics. And, he's campaigning for Congressional Rep. Joe Crowley, the Queens Democratic Party leader with outsized influence in other parts of government.
All that in the last two months, part of a frenetic start for a Council Member who has only been on the job since January, though he has been involved in city politics for much longer. And those activities haven't gone unnoticed as Brannan, a Brooklyn Democrat, is emerging very early on as a potential contender to be the next Speaker of the City Council.
The Council Speaker, arguably the second-most powerful elected official in the city, is chosen internally by members every four years, in a process that is less-public facing and more backroom-dealing. In 2021, the next city election year, 36 Council members will be term-limited, portending a sea change in the 51-member legislative body and giving incumbents, who usually sail to reelection, a leg up in the speaker race. Brannan seems to be following the playbook of current Speaker Corey Johnson, who started making moves for the speakership early in his first four-year term.
It is, of course, far too early to tell what the field of candidates will look like, which is why Council sources are reluctant to speak openly. But the buzz around the Council threw up the same names over and over. Besides Brannan, other potential contenders -- all of them Democrats -- include Bronx Council Member Rafael Salamanca, Queens Council Members Francisco Moya and Adrienne Adams, Manhattan Council Member Carlina Rivera, and Brooklyn Council Member Alicka Ampry-Samuel. The list, save for Brannan, who seems to be the most active, is the same as that reported by City & State earlier this year. Some seem to have better odds, given their prominence on the Council and their relationships with the powerful Queens and Bronx Democratic county committees.
Brannan represents District 43 in Brooklyn, covering Bay Ridge, Dyker Heights, Bensonhurst and Bath Beach. He has a deep well of experience, as a former chief of staff to his predecessor, Council Member Vincent Gentile, and as intergovernmental affairs director at the Department of Education. He founded the Bay Ridge Democrats and served as its president. He's also been a professional musician.
"You can see that he's been out there, in other Council members' districts and all over the city, so he might be taking a cue card from Corey Johnson's playbook," said a Council source who wished to remain unnamed. The source noted that though it will be an "open field" of candidates in 2021, the names that are popping up early are because of their relationships with county committees. "I think people are trying to get a sense of how to play the game...so it's early to put money on a particular candidate."
Another source with knowledge of Brannan's moves noted that he has the advantage of being one of the few members who will be returning to the Council. "The fact that there's only a handful of members coming back in four years sort of narrows the pool because...unless people would be OK with another two-term speaker, the next speaker is going to be one of the people that's coming back," the source said. Brannan, if reelected, would be serving his second and final term, as would the other contenders previously mentioned.
The source also noted that Brannan has made relationships over the last few years that will be beneficial down the line. "I think Justin's always had, whether it was through the Bay Ridge Democrats or whether through campaign work he did, he's always had those relationships," the source said. "When he goes to the boroughs, it's not like he's introducing himself for the first time."
Those relationships, including with Crowley and labor union leaders, will largely determine how the speaker race shakes out. The other members on the list of contenders have their own strengths and connections as well, and the speaker race often comes down to powerful stakeholders compromising in support of one candidate, taking into account a wide variety of factors.
Council Member Salamanca chairs the powerful land use committee and is a product of the Bronx Democratic County Committee. Salamanca's office did not respond to a request for comment.
Council Members Moya and Adams are closely aligned with the Queens Democratic County Committee and its powerful boss, Rep. Crowley, who played kingmaker in the election of Johnson as speaker, in partnership with others, especially state Assemblymember Marcos Crespo, who heads the Bronx Democrats. Moya has the added bonus of having worked in the Assembly with Crespo.
"I'm sure this makes for great debate among all the political junkies out there, but the speakership is more than three years away," Moya said in a statement. He insisted his focus is on his community, particularly on affordable housing, reduced-price MetroCards for low-income New Yorkers, and protections for workers in the building industry. "There will be a time and place to talk about the speakership but that's a long ways away," he said, not denying interest.
Stacey Yearwood, a spokesperson for Adams said the Council Member would not comment on being a speaker contender "as it is premature."
None of the six potential candidates denied an interest in being the next speaker of the Council.
Council Members Rivera and Ampry-Samuel are viewed as rising stars in the Council and have have both been given prominent committees to lead -- hospitals and public housing, respectively. Rivera also received considerable support from Johnson in her election to the Council; they represent neighboring districts. Rivera declined to comment. Ampry-Samuels said in a statement, "My focus right now are the constituents of the 41st District and the residents of public housing."
There's no one predictable path to the speakership. "I think it's hard because there's been so few speakers that to go back and look historically how a speaker gets made, it's different every time," said the second Council source. "There's the wisdom that Queens and the Bronx never make their own person the speaker, that would mean that Salamanca and Moya wouldn't be the speaker. But who knows? There's a lot of dynamics. There's also the demographic dynamics. If we have a white mayor, chances are Justin's not gonna be the speaker. If we have a black mayor, maybe there's a chance there."
In this last speaker's election, there was vocal indignation that yet another white man was going be elected to a powerful seat in city government -- both Mayor Bill de Blasio and City Comptroller Scott Stringer are white men, Public Advocate Letitia James is a black woman. There were calls for electing a speaker of color, including from black and Latino Council members who were running for the seat themselves. All that could change, as the source noted, if the citywide seats aren't occupied four years from now by mostly white men.
Brannan is coy about his plans, even if they seem transparent to others. "It's April 2018!," he said with a jovial laugh, when asked outside City Hall whether he was making an early move for the speakership. "It's barely four months into my first term and I'm just laser-focused on being a good Council member for my district. Having succeeded a guy that was in office for a long time, I've got a lot to prove. So that's my number one focus."
He added, "It's fun and flattering to be mentioned in that circle [of speaker potentials]. I think this new crop of my colleagues are all very talented and very smart. To be mentioned with this class is great."
He conceded that maybe another white man may not be the way the Council will look to go and that diverse representation is sorely lacking in the legislative body. "Bottom line is that it's gotta be someone that's qualified for the job...I've already said in my Council seat, I would love nothing more than to be succeeded by a woman. So those things are important to me too. I'm certainly not blind to those dynamics but it's just so far away."