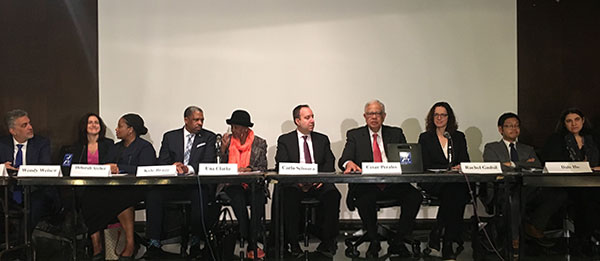 Charter Revision Commission (photo: Samar Khurshid)
---
A commission created by Mayor Bill de Blasio to review the City Charter and propose reforms to how city government functions kicked off its work on Thursday with its first public meeting in Downtown Manhattan.
Huddled elbow-to-elbow at tables stretching across an auditorium stage, the members of the Charter Revision Commission -- former public servants, law professors and attorneys, union leaders and community activists -- introduced themselves to the 20-odd members of the public in attendance (and whoever might have been watching the live-stream).
Over roughly an hour, Commission Chair Cesar Perales did most of the talking at what was billed as an initial organizing meeting, discussing the law, rationale, and guiding principles behind the creation of the commission.
"[W]e've attempted in forming this commission to cover the geography of all of the boroughs of the city, the ethnicities, and to have everybody represented...We've also called up people with tremendous government experience, enormous experience in voting rights, even a [former] member of the City Council," Perales said. "So I think we are very well represented but in order for us to do our work, we're gonna need the participation of the people of this city. We want them to learn as much as possible about what is in the City Charter and to come to us with ideas about revising the City Charter, making it better."
Any Charter Revision Commission is, under the law, an independent body and has the authority to examine the entire charter, though past commissions have been convened by mayors with limited interests in mind, a fact that Perales acknowledged Thursday. De Blasio too charged his commission -- though he cannot control their agenda -- with looking at the city's campaign finance laws and ways to improve voter participation and access.
"This mayor, much to my delight, is interested in improving democracy and improving the way we elect our leaders," Perales said. The commission would focus on elections, he insisted, but would also "be looking at the entire City Charter" and the issues presented to them at hearings over the next few months.
Perales also pledged a thoroughly transparent process -- before he spoke, he made sure to check that the hearing was indeed being live-streamed -- that would include ample testimony from the public. "We're gonna hear from more people than anyone ever imagined," he said.
Among the first acts of the commission was the nomination and appointment of Matt Gewolb, former legislative director at the New York City Council, as its executive director and Christine Billy, a lawyer from the Department of Sanitation, as general counsel. Candice Cho, deputy chief of staff at the Law Department, will serve as the commission's chief of staff.
Much of the commission's staff, which will work out of the David Dinkins Municipal Building, will be borrowed full-time from city agencies, Perales said, though the commission can request funding from the mayor and already has a budget that will allow it to hire consultants. "We'll have all we need but we're not gonna be spending a fortune on getting it," he said.
The commission will hold its first borough hearing on Staten Island, though the full schedule has yet to be decided. At Thursday's meeting, the commissioners did agree on a few broad ground rules for public outreach: holding multiple hearings in each borough at different times of the day to ensure maximum participation; preventing any barriers to access for immigrants; a robust social media presence and a marketing campaign.
"I think it's especially important because some of these boroughs are very large," said Commissioner Angela Fernandez, executive director and supervising attorney of Northern Manhattan Coalition for Immigrant Rights. "For example, folks in East New York or in Washington Heights are unlikely to go to more centrally located...area of the borough."
"I wanted us to take a look at the demographics of the city because things are changing, and a sense of who is where is going to be important in decisions that we make for our deliberations," added Commissioner Una Clarke, the former City Council Member from Brooklyn.
In particular, Clarke warned of how the national political scene and the federal government's policies could depress immigrant input. "I think we ought to be very sensitive to the new immigrant communities. Because of what's happening in Washington, many people will not come out and speak with us, and we have to be able to bring them out because whatever we do is going to affect their lives," she said.
Fernandez suggested a "simple but creative marketing campaign" to invite the public into the process.
As the commission does its work, examining the city charter and city government and taking pubic testimony, it will prepare recommendations that then go to voters for approval or disapproval.
Thursday's meeting marked the latest start for any Charter Revision Commission convened in the recent past, and Perales conceded that they will have to work hard and fast to meet the September 7 deadline to have their recommendations included on the general election ballot in November. "We've got some really serious time constraints," he admitted, though he said he was "optimistic" about getting the work done.
What wasn't raised at the meeting was the parallel Charter Revision Commission being created by the City Council through legislation that passed last week. The Council's commission will include appointees of all the city's top elected officials and will work through this year into the next, to present ballot proposals for the 2019 general election. De Blasio, who appointed all the members of his commission, will have four appointees to the Council-led commission.