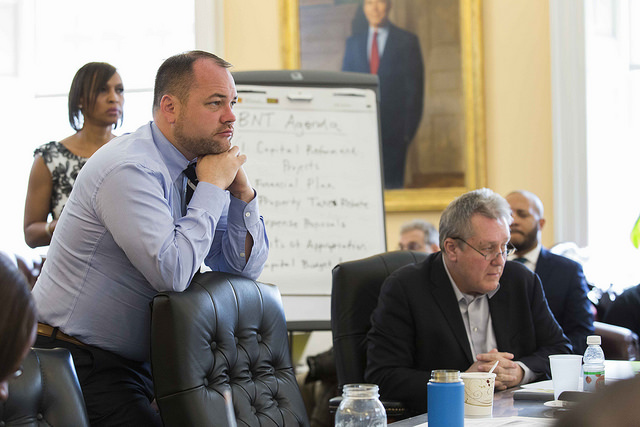 Speaker Johnson, center, CM Dromm, and Finance Director McKinney, background (photo: Emil Cohen/City Council)
---
Last month, before the New York City Council issued its budget demands for next fiscal year to Mayor Bill de Blasio and before the mayor eventually ignored nearly all of them in his Executive Budget plan, the Council called in administration budget officials to testify on a modification to the current year's budget.
In past years, budget modifications have been subject to the same perfunctory hearing. Budget officials present a quick overview of proposed mid-year changes in spending and revenue estimates, and the Council briefly reviews and approves them, allowing the administration to divert additional resources to agencies that need them and to cut back in other areas. More often than not, the modification is presented to the Council as a fait accompli.
This year, City Council Speaker Corey Johnson and finance committee chair Council Member Daniel Dromm took a different tack. Officials from the Office of Management and Budget sat as several Council members took them to task, critiquing everything from the substantial uptick in spending on homelessness to their consistently low projections of the city's revenues. And instead of voting on the modification there and then, the Council held another hearing the next day to approve it, with no changes.
What seemed to be mostly a performative power play, however, was a preview of things to come. In the vein of increased independence from the administration and a refusal to rubberstamp the mayor's budget dictates, the Council speaker made clear he was establishing a new status quo.
Going forward, a spokesperson for Johnson explained, the Council will take a stronger stance on proposed budget modifications, pressing the administration ahead of time on anticipated and proposed changes to see if the Council should even move forward with receiving a modification request. Hearings on budget modifications will no longer be cursory, the spokesperson said, and the administration will have to work harder to justify requests.
"This is about budget transparency, which is what I promised before becoming speaker and which remains a priority," Johnson said in a statement to Gotham Gazette. "This is taxpayer money, and it's important that we know as much as possible so we can make the right decisions when it comes to funding, and so we can keep the public informed."
The new approach comes as the administration and Council are amid negotiations on the budget for the next fiscal year, which begins July 1, with the Council pushing harder for cuts to spending, increased reserves, and more transparency by way of adding additional units of appropriation to break up large lump-sum pots of money. "The Council has made its position clear. More units of appropriation will help us make more informed decisions when it comes to funding, and will give the public the ability to see where their money is going," Johnson said in a separate statement.
Freddi Goldstein, a mayoral spokesperson on budget matters, noted that the administration gives the Council enough time to review the budget modifications, which usually accompany the preliminary budget for the next fiscal year. The most significant budget modification takes place in November, four months into the fiscal year. The budget itself is subject to weeks of hearings where the Council hears testimony from budget officials and agency heads, affording them the opportunity to examine modifications as well.
"OMB is focused on transparency, which is why we already provide the City Council with any budget modifications with ample time for review and have always welcomed any and all questions the Council may have," Goldstein said in an email.
Last week, in presenting his $89 billion Executive Budget proposal, de Blasio also insisted that negotiations with the Council have been "collegial and productive" and that the administration was working on adding the transparency that the Council has requested. "We're going to work with the Council," he said, when Gotham Gazette inquired about units of appropriation being added to the budget, though indicating none had been added in this new round of updates. "We have, over the years, been adding. We're open to adding more. That's an ongoing discussion, which we've had again today with the Council. Stay tuned."
For budget watchdogs, the Council's new strategy is promising, if not limited.
"It's clear the Council is trying to assert itself in budgeting," said Maria Doulis, vice president of Citizens Budget Commission, an independent fiscal watchdog. "But nothing they do is going to change the fact that it is an executive-centered budget process. It's driven by the mayor."
Indeed, since de Blasio took office, the budget has steadily risen by billions each year. The Council has repeatedly called for more agency efficiencies and savings but has largely capitulated as they also advocate for funding their own priorities worth hundreds of millions, which is happening again this year, highlighted by Johnson's push for both Metrocard subsidies for low-income New Yorkers and property tax rebates for middle-class homeowners (while de Blasio has been resistant to both).
"It's good that the Council wants to increase its scrutiny of the budget," Doulis added. "But it should remain focused on the big picture issues and topics that affect the long-term fiscal health of the city."