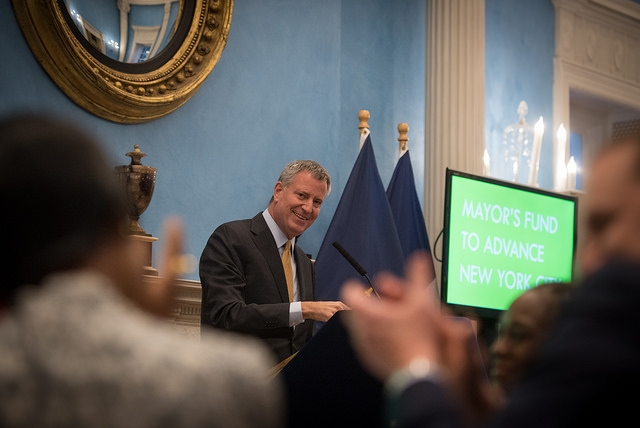 Mayor de Blasio & the Mayor's Fund (photo: Edwin J. Torres/Mayoral Photo Office)
---
A government reform group is urging Mayor Bill de Blasio's Charter Revision Commission to explore stronger restrictions on donations to nonprofits affiliated with city agencies, building on a raft of laws passed through the New York City Council and signed by the mayor in 2016, which are set to go into effect next year.
Reinvent Albany, an organization focused on government transparency and accountability, is advocating for greater disclosure requirements and lower limits for donations made to city-affiliated nonprofits by entities and individuals who have contracts and other business with the city and appear on its "doing business" database. One of the most prominent examples of a city nonprofit is the Mayor's Fund to Advance New York City, which carries out programming through public-private partnerships and raises millions in private funding to do so every year, and is currently chaired by de Blasio's wife, First Lady Chirlane McCray.
Reinvent Albany will present its recommendations at a public hearing of the mayor's Charter Revision Commission in Queens on Thursday.
The recommendations are an outgrowth of controversy involving several top elected officials and organizations, most recently in de Blasio's first term, when he formed a nonprofit called the Campaign for One New York to help promote his political agenda, particularly his push for universal pre-kindergarten and a tax increase to fund it. The group accepted large donations from many wealthy donors and special interests, including labor unions and real estate developers, many of whom had business with the city and had also been backers of the mayor's electoral campaign. At the time, electoral campaigns were far more restricted in donations they could accept from entities with city business -- no such limits applied to elected official-affiliated nonprofits.
Though it wasn't required, the mayor disclosed the group's donors voluntarily every six months. But, the entire scheme invited criticism, and its efforts helped trigger a federal investigation of the mayor and his associates. The investigation eventually closed without charges being filed, but de Blasio and his team were criticized by federal prosecutors as well as the city's Campaign Finance Board.
In response, the City Council passed a bill to rein in donations to nonprofits affiliated with elected officials, bringing "doing business" donation limits in line with those that apply to electoral campaigns -- just $400 for mayoral candidates -- and putting those nonprofits under the jurisdiction of the Conflicts of Interest Board. In 2019, the COIB will start to issue detailed reports of such nonprofits, including their donors and how much they contributed. The bill, spearheaded by then-Council Speaker Melissa Mark-Viverito, was signed by de Blasio, who called it the right thing to do despite claiming he had done nothing illegal or unethical with the Campaign for One New York.
But the new rules do not cover nonprofits affiliated with city agencies, which, Reinvent Albany points out, number in the hundreds and currently have no "doing business" restrictions.
"We're increasingly concerned about nonprofits that have existed for years affiliated with city agencies, and donors giving to these nonprofits and having business with those same city agencies," said Alex Camarda, Reinvent Albany's senior policy advisor, in a phone interview. The lack of regulation could create the "perception of undue influence, if not actual conflict," he said. With the mayor having formed a Charter Revision Commission with the express mandate to look at campaign finance reform, the issue appears to be right up the commission's alley, if not necessarily something de Blasio had in mind.
To close several holes, Reinvent Albany recommends that all donations to nonprofits affiliated with elected officials be capped. The law currently only applies the $400 doing-business cap to those nonprofits that spend more than 10 percent of their budget on public-facing communications featuring the elected official. Camarda said the limit could be higher, though he did not suggest a specific amount.
Further, as Camarda mentioned, the group is calling for expanding donation restrictions to all city agencies, public benefit corporations, public authorities, and local development corporations. "A company that does business with the city could give millions" toward a city agency under the current law, Camarda said. "That's where we feel the [Council's law] doesn't go far enough.
The COIB requires that agencies report any private donations above $5,000 made either to the agency or to an affiliated nonprofit. Those donations are reported in broad ranges that obscure how much an agency has received. For instance, The Fund for Public Schools, a nonprofit tied to the Department of Education, reported more than $4 million in donations from May through September 2017, per the latest disclosures available, including exact donations though it was not required. Reinvent Albany is also pushing for disclosure of all donations in their exact amounts, and on the city's Open Data portal to allow for easy data analysis.
Finally, the group is calling for the city's ethics laws to apply to volunteers who are involved in major policy work and senior appointments and that are also fundraising for nonprofits affiliated with electeds. Though their testimony does not say so, the recommendation clearly alludes to First Lady McCray, who has played an increasingly prominent role in de Blasio's administration, appearing with the mayor at major personnel announcements and continuing to roll out aspects of her main policy and program initiatives. In late 2016, amid investigations into the mayor's administration, Politico New York reported that the Mayor's Fund to Advance New York City was more thoroughly vetting donors to avoid potential conflicts. McCray recently told Gotham Gazette and City Limits that she does not worry much about conflicts given that lawyers handle those issues. The Fund provides assistance for programs at 30 city agencies and has played a prominent role in the administration's ThriveNYC mental health initiative, which was spearheaded by McCray.
"We do not oppose per diem or unpaid volunteers serving on city boards, task forces and commissions, much like the members of this commission," the Reinvent Albany testimony reads. "But they should not also be fundraising simultaneously for nonprofits affiliated with elected officials."
The group acknowledged that there were nonetheless nonprofit organizations that may not be covered by any changes they recommend, such as organizations that receive large sums in city funding and whose board members are donors to city elected officials.
"Many of these nonprofits do important work that helps the city," Camarda said. "We don't want them to become avenues for companies and wealthy donors to circumvent the campaign finance system."