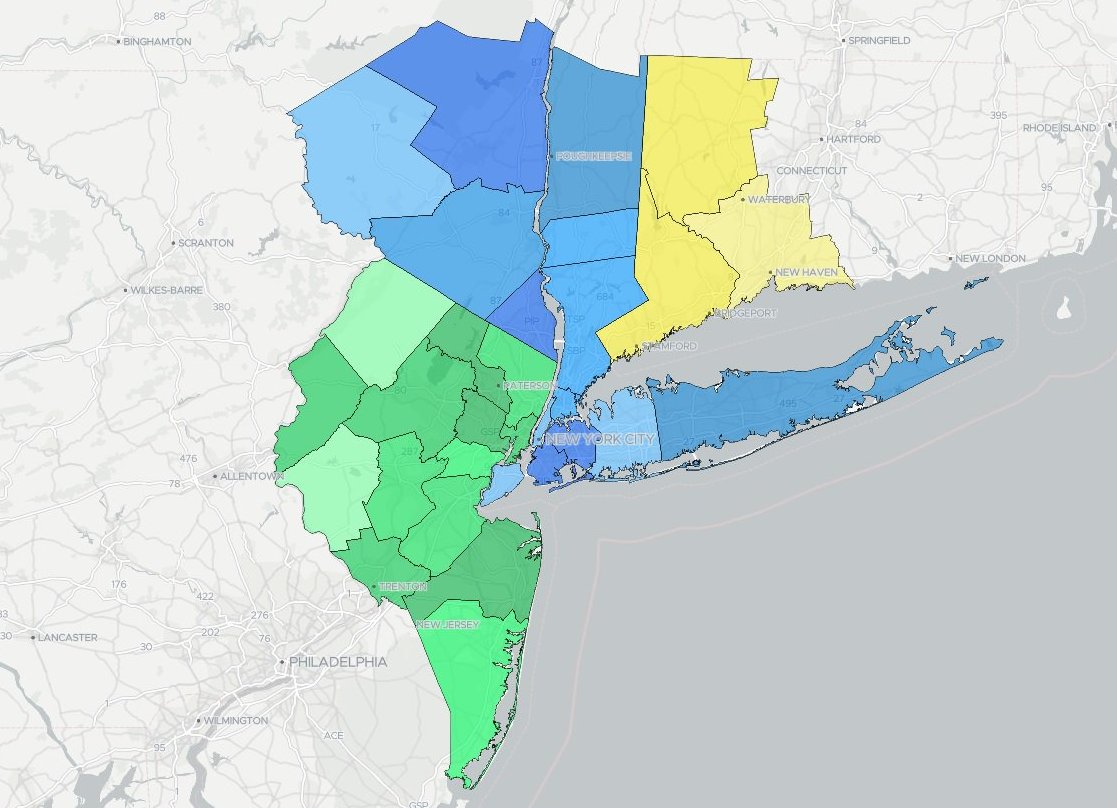 The NYC Metro Area (image via DCP presentation)
---
New York City has seen rapid post-recession population and job growth, while housing development has not kept pace, and while areas in the metropolitan area surrounding the city have also seen growth, it has been at a slower pace than the city's. Still, there are 1 million commuters into the city who account for 28 percent of the city labor force, and as job opportunities in the five boroughs continue to grow, housing options in the areas just outside the city are troublingly stagnant. Meanwhile, out-migration from the city to other parts of the area and other parts of the country has slowed in recent years.
These are a few of the key findings presented on Tuesday morning by Carolyn Grossman Meagher, director of regional planning at the New York City Department of City Planning, at an event hosted by the Association for a Better New York, a business group.
The regional planning division of DCP, formed just two years ago from a recommendation from Mayor de Blasio's OneNYC plan, has produced a trove of regional data and is beginning to take its work public, evidenced by Grossman Meagher's presentation, which also included the launch of City Planning's Metro Region Explorer, an interactive online tool created by DCP's Planning Labs unit that allows public access to regional economic, housing, and population data and trends. The region is home to 23 million people in 9 million households, Grossman Meagher's presentation showed, with 10.3 million jobs and productivity that accounts for 10 percent of gross domestic product (GDP).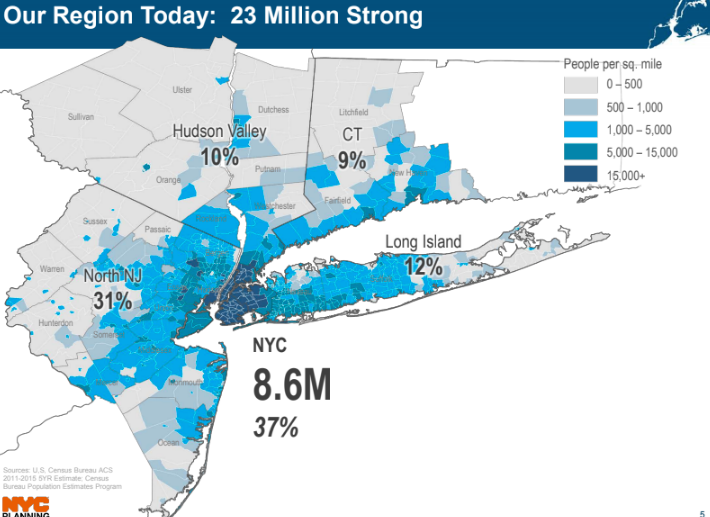 The explorer application shows changes since 2000, with a focus on the 2008-2017 timeframe, putting things in "a regional context" to help show that New York City "has, and is dependent on, a regional ecosystem."
On Tuesday morning, Grossman Meagher highlighted her unit's early work through a slideshow of maps, graphs, data, and key takeaways; stressed the need to think regionally about growth and development; and presented research that both acknowledges major challenges, like the region's housing crisis, but also stopped short of pinpointing concrete solutions beyond a vague need for development outside and within the city.
The research, which tracks trends across 31 counties -- including New York City's five -- and over 900 municipalities in parts of the tri-state area of New York, New Jersey, and Connecticut, found large imbalances between housing production and employment change in New York City, suburban areas north and east of the city, inner New Jersey, and portions of southern Connecticut, disparities that can potentially impact the way the city thinks about infrastructure demand and development in the coming years. In areas like Long Island and Westchester, where communities have experienced employment gain but relatively little new housing, imbalances affect commuting patterns, transit infrastructure, and planning needs.
"The balance between the city and the suburbs is shifting," is one of the key takeaways of the data as presented by Grossman Meagher, given that fewer households are leaving the five boroughs for surrounding areas, likely in part due to the lack of housing available.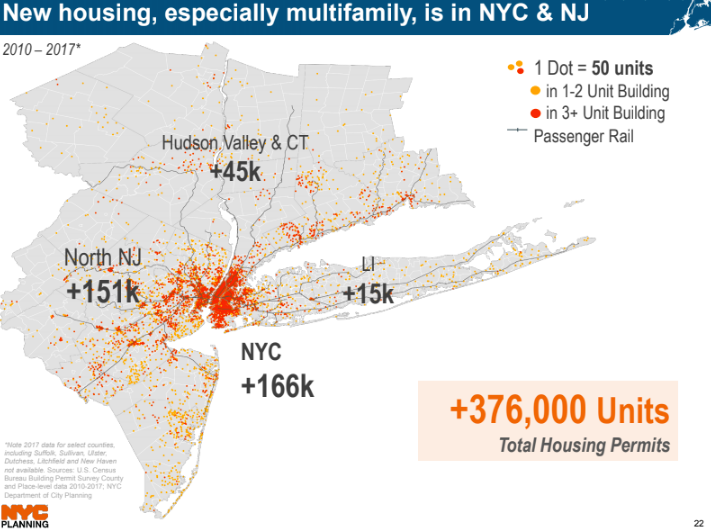 In the era after the onset of the most recent economic recession hit, roughly 2008-2016, New York City rebounded the quickest in terms of employment gains. Currently, the city is experiencing its highest levels of employment and an annual job growth rate of about 2 percent, while the rest of the region experienced an annual job growth rate of 0.3 percent in the period from 2008 to 2016. At the same time, New York City has also added 180,000 more jobs than housing units in the post-recession period, while areas such as inner New Jersey increasingly become more housing-oriented.
The regional forecasts expect housing demands to reach a level of 1.6 million new households by 2050, or an approximate average of about 40,000 new households per year. While that annual mark of added households has been met so far, it is mainly concentrated in New York City, with 142,000 units added in the period between 2010 and 2016, and New Jersey, with 95,000 units.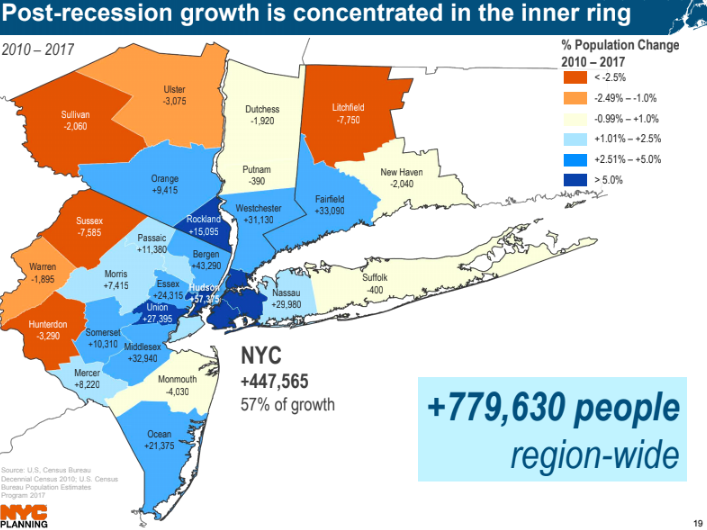 "We don't think that can continue forever," Grossman Meagher said at the event. "And there's a real question as to whether or not other parts of the suburbs will find their way back to performing at these levels when they're underperforming by about half."
As the imbalance between job growth and housing development continues region-wide, many are looking towards New York City for employment opportunities, a trend that has significant impact on commuter patterns and infrastructure demand.
"The demand that we might experience for infrastructure really changes if you imagine a city that continues to recentralize as we currently are," said Grossman Meagher.
The research also found that rent affordability is yet another challenge that the entire region faces as the relationship between the city and the suburbs substantially changes. Traditionally, suburbs have acted as a sort of "relief valve" to the city's housing supply.
"We're net exporters of people to the suburbs," said Grossman Meagher. "Historically, New York City has been the engine that primes the pump of regional population. People come to New York City from all across the globe and then some – today it's one in three – leave our city for our backyard as they look for different, maybe cheaper, ways to live in proximity to New York City's jobs, our communities, our resources." In return, the housing that these migrants leave allows the city to open up availability for a portion of its housing supply.
However, given the lack of housing elsewhere and with employment increasingly centralized towards the core of the region, fewer people are leaving the city and of those who are leaving, fewer are moving into the suburbs rather than into other metropolitan areas in the U.S.
"In other words, as a New Yorker, it is becoming less of an opportunity for me to avail myself to economic resources outside the city because the job growth just isn't there," said Grossman Meagher.
Grossman Meagher also presented other findings, including that about one-third of private sector jobs in the region are office-based and that New York City holds 40 percent of the total private employment in the region.
She stressed that the city can now offer essential data to other government entities in the region and begin more collaborative conversation than has occurred in the past.
Ultimately, the research poses daunting challenges for DCP, its Regional Planning Division, the city, the region, planners, elected and appointed officials, and other stakeholders, like residents and business owners. The plan is that the Metro Region Explorer will help people, including planners, understand how New York City is inevitably entwined with the surrounding regional network and to confront what this dynamic relationship means for the future.
"We really rise and fall together," said Grossman Meagher. "And, yet, as planners, the city really hasn't focused for a long time on our relationship to the region."
[Related: New York City Doesn't Have a Comprehensive Plan; Does It Need One?]
***
by Chelsey Sanchez @GothamGazette