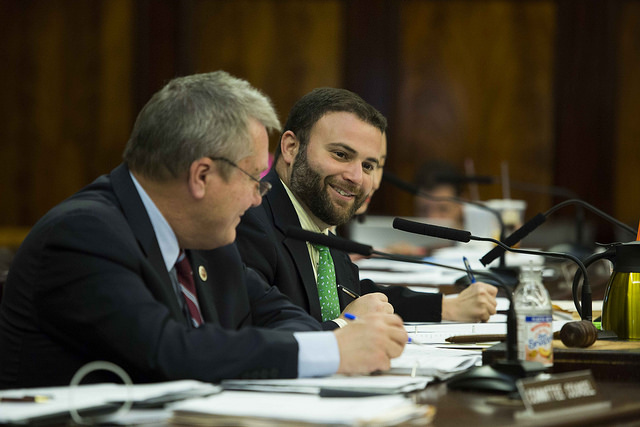 Council Member Borelli (photo: Emil Cohen/City Council)
---
The general election debates in last year's mayoral race largely lacked substance and order, as Mayor Bill de Blasio twice faced off against two challengers -- Republican Assembly Member Nicole Malliotakis and independent candidate Bo Dietl. Perhaps in part because de Blasio was not seen as vulnerable to defeat in an overwhelmingly Democratic city, the debates also lacked a wide audience. But there was another issue at play, for those debates and others mandated as part of the city's campaign finance system: public accessibility to view them.
City Council Member Joe Borelli and his colleagues seek to expand access to televised city election debates -- which can be held for the three citywide positions in party primaries and general elections -- through a bill passed by the Council on Wednesday.
Borelli's bill requires that all mandatory debates hosted by the New York City Campaign Finance Board, in partnership with numerous local news organizations, be publicly broadcast at no charge on a city-owned or operated television channel to reach the widest possible audience. This would be in addition to broadcast by any selected network as the CFB typically chooses a lead TV station for each debate.
The bill was prompted largely because some of the debates, including the first general election mayoral debate and the lone general election debates in the 2017 races for comptroller and public advocate, were broadcast on television on NY1 and accessible only to those with cable television packages that include the channel. (NY1 did choose to air its debates live for free on its website and social media, as did other debate sponsors, and archived footage is easily available on the Campaign Finance Board website.)
"This may not be priority one and we're likely three years away from any city-wide debates, but the fact that we spend so much public money to increase voter turnout to then only allow a small percentage of city residents to see the debate seemed counter-productive," Borelli said, in a statement after the passage of the bill. "I can't believe this would have even been allowed in the first place and I'm glad I'm changing the rules."
He said that more than half of the city's residents did not have access to certain debates because they either could not afford or refused to subscribe to Spectrum, NY1's parent company. In the 2017 election cycle, the debates not televised by NY1 were broadcast on TV by CBS-2 New York, a network typically part of all basic television packages. This included the second of two general election mayoral debates.
A press release from Borelli's office said the bill is expected to be signed by the mayor. Seth Stein, a mayoral spokesperson said in a statement, "We look forward to reviewing the final version of this bill that was passed by the Council. The Mayor supports measures to make our democratic process more open and accessible to New Yorkers."
The bill has general support from government reform groups. At an April 26 hearing of the Committee on Governmental Operations, Alex Camarda, senior policy advisor at Reinvent Albany, said, "Generally speaking, we encourage civic participation in our democracy through the use of modern technology."
Camarda also urged the committee to consider webcasting debates on one or several city government-run sites. "We think that that's advantageous, not only because it's less expensive, it allows for archiving at much lower costs, and it can be watched on smart phones which, more and more, is what people watch their content on these days," Camarda said. Those proposals weren't reflected in the final legislation.
In a phone interview Wednesday, Camarda said, "It can't hurt to expand the TV channels that debates are on but we would prefer webcasting and more modern modes of delivery be mandated."
"Access to information is essential to make elections fair for everyone," said Assembly Member Malliotakis, in a statement supporting the bill's passage. "The more widespread debate coverage is, the more prepared voters will be to make an informed decision of who they want to represent them in government."
The CFB also came out in support of the bill. Executive Director Amy Loprest said in a statement to Gotham Gazette that the agency is "committed to getting voters the information they need to cast an informed ballot on Election Day."
"These efforts include helping all New Yorkers view the official citywide debates to learn more about candidates seeking elected office," she added. "Today's passage of Int. No. 14-A, requiring these debates to be simulcast on a city-owned or operated television channel, will help ensure that as many New Yorkers as possible have live access to the debates."