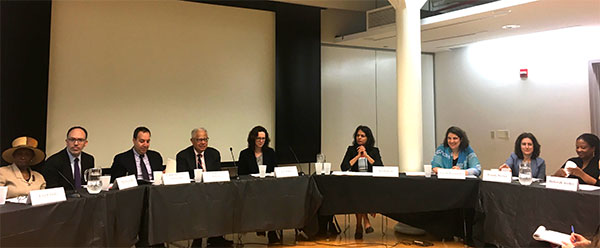 The charter revision commission meets (photo: Samar Khurshid/Gotham Gazette)
---
Mayor Bill de Blasio's charter revision commission announced its initial areas of focus on Thursday, hewing closely to the mayor's mandate that the members look at campaign finance and electoral reforms as they review the city's governing document.
The commission homed in on its preliminary agenda after public hearings across the city in the last two months where the commissioners heard from elected officials, various advocacy groups, and members of the public in each borough. They also sought insight from city officials and heads of agencies.
In a resolution passed at Thursday's meeting, the commission decided to delve deeper into a few broad areas: voter participation and measures to improve elections, including instant runoff voting; reforms to the city's campaign finance system; fair representation in city government, particularly through independent redistricting of City Council districts; and strengthening civic engagement, including through exploring the role of community boards.
Over the next month, the commission plans to convene three hearings with subject matter experts to testify and participate in panel discussions on the preliminary agenda, even as it continues to drill down on the hundreds of recommendations made in the last few weeks to find areas of broader public interest.
Commission Chair Cesar Perales acknowledged early on in the Thursday meeting, held at the Pratt Institute in Manhattan, that the commission has a tight deadline for its work since its proposals are to go to the voters on the ballot in November, meaning they must be in to the Board of Elections in early September. He speculated that the commission may have to hold a fourth issue-focused hearing.
"Maybe on further analysis, we might find that there's another issue that we ought to be focusing on, because the comments keep coming," he said.
Matt Gewolb, executive director of the commission, echoed that sentiment. He said the initial agenda had been derived from more than 400 recommendations made by more than 100 people at the various hearings, on social media, through phone calls, and even snail mail to the commission's office. But he noted that the agenda was not just limited to the issues approved on Thursday. "While these themes have emerged as most central, we continue to systematically review and consider each and every comment received by the commission," he said.
In particular, Gewolb said the commission is still analyzing testimony around land use issues, which he said has emerged as an area of interest both in public testimony and for particular commissioners. For instance, at some hearings, people have recommended that community boards should have a greater voice in the city's land use review procedure and that their role in those decisions should be more than just advisory.
"As neighborhoods are fighting back against gentrification, is this part of the impetus for wanting to review land use?," wondered Commissioner Una Clarke, a former City Council Member from Brooklyn.
Perales agreed that it was an important aspect of the conversation. "I take that as a recommendation that when we, and I think we should but we haven't made that decision yet, when we make land use part of our expert analysis and discussion, that we include not just facilitating development or building but that we also look at the issue of gentrification," he said.
Wendy Weiser, another commissioner, suggested that land use be discussed in the same vein as the role of community boards and fostering civic engagement, "because that will be one of the main issues that people will want to get involved in in their communities that might bring them to participate."
Land use also seemed to be a priority for Carlo Scissura, secretary of the commission, who is also president and CEO of the New York Building Congress. He emphasized that the commission should do "something separate on it," possibly at one of the expert panels in June.
Commissioners raised various other questions and issues. Scissura brought up nonpartisan elections, which Gewolb said needs more review. Commissioner Kyle Bragg, secretary-treasurer of labor union 32BJ SEIU, said the commission could also look at representation in community boards and, separately, the structure and functions of the Civilian Complaint Review Board, which examines complaints about police misconduct.
"I'm scared to death of having 42 expert hearings," Perales said as he prepared to close the hearing. "I'm going to force staff to see if they can do this in a manageable way so that we can get expert counsel and advice on as many issues as possible. And If they have to eliminate some issues, it'll have to be those that were not raised very often. We have to be guided by what the community said they were interested in."
The first subject matter hearing is set for June 14. Following those hearings, the commission will release a report of its preliminary recommendations and will again put those to the public with another round of hearings in all the boroughs.
The commission's final recommendations are due by September 7.