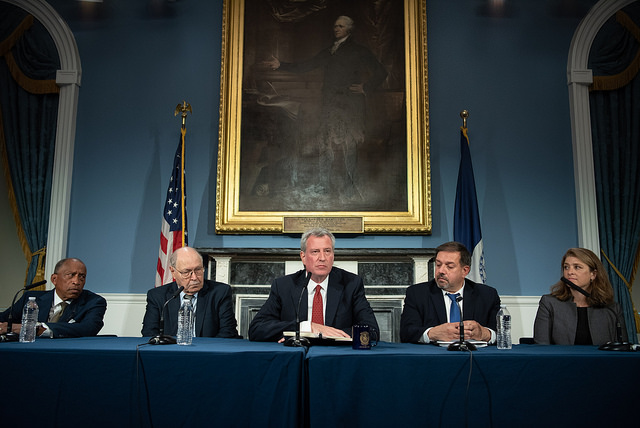 (Photo: Michael Appleton/Mayoral Photography Office)
---
New York City government will funnel $2.2 billion in new funding over several years for repairs at the New York City Housing Authority (NYCHA) and submit to a federal monitor for the struggling agency under the terms of a settlement between Mayor Bill de Blasio's administration and federal prosecutors.
The disastrous living conditions at the public housing authority, which is home to more than 400,000 New Yorkers, had been the subject of a federal investigation dating back to 2016. In a civil complaint filed in Manhattan on Monday, U.S. Attorney for the Southern District of New York Geoff Berman charged NYCHA with widespread failure to comply with federal housing and environmental regulations.
"Children have been harmed as a result of NYCHA's failures," the complaint states, asserting that NYCHA workers failed to inspect or remediate lead paint hazards in public housing for years, dating back to the administration of Mayor Michael Bloomberg. "Between 2010 and 2016, at least 19 lead-poisoned children were found to have been exposed to deteriorated lead paint in their NYCHA apartments, and thousands more were put at risk."
The complaint excoriated other subpar living conditions in public housing developments, from issues related to mold and inadequate heat during the winter to rodent infestations and faulty elevators.
The 80-page complaint, accompanied by a consent decree in which NYCHA agreed to the conditions of the settlement, also noted that NYCHA officials had repeatedly deceived inspectors from the federal Department of Housing and Urban Development and made misleading statements to the public about the scope of problems and efforts to fix them.
"These violations will no longer be tolerated," U.S. Attorney Berman said at a news conference on Monday afternoon. "As is so often the case, where there are violations, there is a coverup."
Under the consent decree, which will still have to be approved by a federal judge, NYCHA agreed to a federal monitor who will oversee repairs, procurement and, where necessary, managerial and structural reforms. The de Blasio administration also agreed to have the city provide $1.2 billion in capital funding to the agency over the next five years and conceded to payments of another $200 million annually after that until the conditions of the consent decree are fully met. De Blasio will be termed out of office at the end of 2021.
While NYCHA is a public authority with its own board, a creation of federal and state law, the mayor appoints its leadership and is broadly seen as responsible for its management. NYCHA funding has historically come mostly from the federal government, with some city and state monies, and the authority relies on rent payments and other resident fees. While the federal government has been disinvesting from NYCHA for decades and de Blasio has provided more funds and attention to NYCHA than his predecessors, he has also overseen major crises at the housing authority, which were laid bare in the federal complaint.
At a news conference on Monday at City Hall, as he has done in the past, de Blasio largely deflected blame for NYCHA's troubles, which he pegged to decades of federal, state and city disinvestment and institutional failures by past administrations. He repeatedly credited his administration for turning around the agency's operational finances, reducing crime and repair backlogs, and funding the agency to the tune of billions though the city is not required to do so, even as he accepted partial responsibility for missteps in the last few years. "[W]e can't hold ourselves blameless either," he said. "This administration also has made mistakes. There are too many times that things happened on our watch that we didn't know about, but that's still our responsibility."
At times appearing defensive in response to questions from reporters, de Blasio pointedly refused to concede the many allegations highlighted in the federal complaint, saying they were being reviewed. "When I saw the federal complaint it made me angry as all hell to know that there were some people in NYCHA who withheld information to to try to deceive the federal government and NYCHA's own leadership. It disgusted me, it's unacceptable," de Blasio said although, promising "serious consequences" for those in NYCHA leadership who might be guilty of misconduct.
Though they did not speak, de Blasio was flanked by recently installed leadership at NYCHA, including temporary chair Stan Brezenoff and general manager Vito Mustaciuolo. Shola Olatoye was de Blasio's first and only NYCHA chair and CEO until she resigned in April.
The mayor made it a point to rebut any notion that he was forced into the consent decree, saying he chose to collaborate with federal authorities on a mutually agreed upon path to fix NYCHA, because, he repeatedly said, he believed it is "the right thing to do." He noted that federal authorities agreed not to strip any funding from the agency, which already has capital needs estimated at more than $25 billion, and speculated that the agreement will also lead to some regulatory relief and the release of hundreds of millions in funds budgeted for NYCHA by the state.
"The way forward involves recognizing the extent of the problems and being resolute in acting upon them," he said.
Note - this article has been updated.