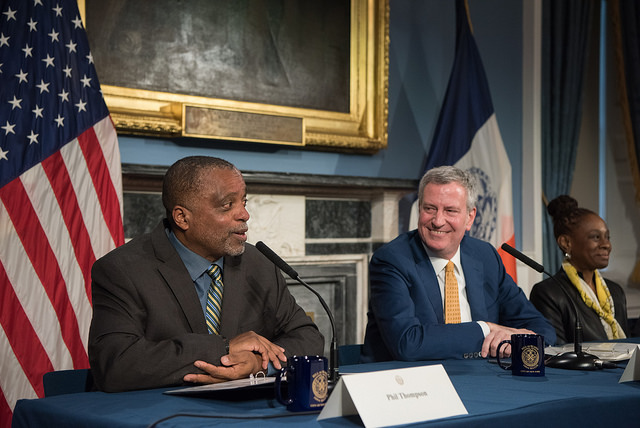 Thompson, with the Mayor and First Lady (photo: Michael Appleton/Mayor's Office)
---
Bill de Blasio and Phil Thompson go back decades, working together in the administration of Mayor David Dinkins, but they spent many years apart before rejoining the same team earlier this year, when de Blasio announced the appointment of Thompson as the new Deputy Mayor for Strategic Policy Initiatives.
Replacing Richard Buery in the role, Thompson begins his tenure in the de Blasio administration for the start of the Democratic mayor's second and final term, and after nearly two decades teaching at MIT, writing books and essays, and working on a wide variety of projects as a consultant. He returns to city government with recent experience around the world, including in Brooklyn and South America, where he has helped coordinate community and economic development programming, environmental sustainability efforts, and other projects.
"When the mayor offered me this job I was teaching a course in the Amazon and I was working with community groups in a city that had been devastated by an avalanche of boulders. following an unprecedented weather event," Thompson told Gotham Gazette and Citizens Budget Commission during a recent appearance on the "What's the [Data] Point?" podcast.
"The mayor called me and said, 'Have you ever thought about coming back into government?' and I said, 'Hell no…I'm in the Amazon, I'm not thinking about New York!'" Thompson said, laughingly, before turning serious about the "divisiveness and narrow-mindedness" that he thinks is permeating the country under President Donald Trump.
"To be honest with you, I really am worried about this country," he said. "The opportunity to serve and make a difference…Everybody who can do something ought to do what they can do…I never really thought of myself as a patriot, per say, but I really feel that's what it is. I need to do something for the country."
And much of what Thompson believes he can do is to contribute to significant advances for New York City, providing models for elsewhere, and help advance a new era of urbanism and Democratic politics. During the podcast discussion, Thompson made clear he is someone who thinks about large trends and how to harness or respond to them, and that he wants the de Blasio administration to pursue new, big ideas to advance social, economic, and environmental justice before the mayor is forced from office due to term limits. He said workforce development would be a major focus for him, and explained how it ties in with racial and environmental factors.
"I actually want to drill down...into workforce and where the economy is going and then aligning our business development, which his under me -- small business development, MWBEs, and workforce programs -- with where things are going and where I think things are going," Thompson said. "I think we're on the verge of three major changes in the city, but also in the country, that are going to be the most dramatic changes in the history of this country."
The first, Thompson says, is climate change. He believes retrofitting city buildings, including schools and NYCHA complexes, to make the facilities more energy efficient should be a priority for the city, which already has a plan, announced by de Blasio in 2014, to retrofit approximately 3,000 buildings before 2025. De Blasio has also announced a proposal to see private building owners forced to retrofit. Thompson wants to see these efforts integrated with jobs programs for New Yorkers, especially in underserved communities.
"We know that the biggest danger in New York is probably heat in Manhattan...and we know there are going to be rising oceans," he said. "My own view is: if your problem is heat, you don't build walls to keep the ocean out, you figure out a way to bring the water in. Does that mean Manhattan becomes Venice? Maybe."
The second major challenge facing the city and beyond, Thompson believes, is the digital revolution, namely the rise of artificial intelligence (AI) and automated jobs, and he wants government to invest money to pursue innovation. "There are two types of jobs for the future: One, where you tell robots and computers what they're going to do, and the second, where robots and computers tell you what you're going to do...so how do we make sure our kids are telling computers and robots what to do?" he said.
"In my opinion the government should be developing infrastructure around AI," he said. "We're going to have smart cars soon, which are going to be guided by traffic managers who exist in a cloud, which are going to be AI traffic managers. That infrastructure ought to be designed and owned by government because if it's owned by a private company they're going to own everything."
The third issue facing society as a whole, Thompson says, is an growing bloc of voters who will change the way politics and government happen across America. "Eighty percent of American cities are majority of color now, and if you look at young white people in cities, 80 percent of them voted for [President Barack] Obama twice. If you put those two facts together, that was the coalition that elected Bill de Blasio -- people of color, young white folks, and progressives. That coalition can be replicated across the country and I think that's the coalition that will turn the tide in this country. It's very promising and it's never happened before."
"[It will] turn the tide on American politics and governance, period," Thompson said, as the hosts interjected a note about the Electoral College.
A large potion of Thompson's vision involves educating young people so they will have the tools to thrive in this vastly changed world. He hopes to align education and training programs with summer camps and innovation areas to "actually develop and train young people for what's coming, and not for what's going to disappear in five years." He argued for project-based experiential learning, particularly in economic growth areas. And he agrees that changes in education should extend all the way through schooling.
"For example, there's an immense investment now in DNA research -- future prescription drugs are going to be for your particular DNA -- and it requires skill in what's called computational biology," he said. "That's the future, so working backwards...we're trying to say, 'how will we integrate the summer youth job experience with computational biology exposures?'"
When asked, Thompson used his own personal story of opportunity to express support for de Blasio's recently announced plan to integrate the city's elite specialized high schools, by moving away from a single test determining entry.
For the 18 years prior to joining the de Blasio administration, Thompson has worked as an Associate Professor of Political Science and Urban Planning at the Massachusetts Institute of Technology (MIT). He's on loan to the city for two years from MIT, a leave that can be extended another two years if the sides agree, according to a City Hall spokesperson.
Thompson has spent time in New Orleans, Peru, and Haiti on post-disaster planning, he said, and he's worked in Columbia on post-conflict building, and, for the last four years, he's been working on a community health initiative called Vital Brooklyn -- a $1.4 billion plan designed by Governor Andrew Cuomo's administration to revitalize Central Brooklyn that includes a $700 million investment in healthcare, the area that Thompson has helped inform.
In the early 1990s Dinkins era, Thompson oversaw housing coordination and became the Deputy General Manager for Operations and Development at the New York City Housing Authority (NYCHA).
In returning to city government he said he has an "understanding" of what de Blasio is trying to achieve in New York City, and that the mayor's "been the same" for as long as they've known each other. "We all started out together like, 'how do we actually make change for people who are suffering?' That's really what it's about," Thompson said of how he and de Blasio see the work of government.
It's unclear if Thompson will be roped into helping NYCHA recover from scandal and implement the terms of a consent decree with federal prosecutors announced on Monday (several days after Thompson appeared on the podcast). It is clear that he is approaching his job as one that stretches across virtually all city agencies, overlapping at times with other deputy mayors, and that allows him leeway to think in systems and at large scale.
Having only been in his new job a couple of months, Thompson was mostly able to speak broadly to his portfolio, which includes certain policies and programs launched under Buery, like the expansion of pre-kindergarten to all three-year-olds, but also new areas, like the administration's democracy agenda to increase civic participation. He is tasked by de Blasio will coordinating the city's effort to ensure an accurate Census count in 2020. Part of that work, he said, will be convincing traditionally undercounted populations, such as immigrant communities and African-American communities, to participate in full.
Thompson outlined several concrete ideas he is interested in pursuing, such as for creating jobs in the city to address not only unemployment, but also to improve health outcomes and strengthen communities in areas such as Brooklyn and the Bronx.
"When you look at what leads to coronary heart disease, of which there's a lot of in these places, it's stress mainly due to poverty and unemployment. [There's] stress due to lack of stable housing, and then there's bad food habits - it's expensive to get healthy food," he said on the podcast.
It's a sentiment similar to that in a 2016 paper, in which Thompson and his co-authors argued racial discrimination felt by children of color at schools, and in legal and health systems, can trigger a physiological stress response that leads to additional health problems in these demographics. By addressing the source of this stress by reducing discrimination, increasing employment, and reducing poverty, Thompson thinks the overworked health system will be somewhat relieved, too.
"Addressing something like our exorbitant expenses in healthcare ultimately means keeping people out of hospitals but that means really addressing unemployment," Thompson said.
A starting point, he said, could be using some of the city's massive procurement budget to build local furniture to service hospitals and schools. "One of the things we're really interested in is maybe a furniture factory to make furniture for hospitals, and the hospitals are really interested in that," he said. "They buy a lot of furniture, as do our schools. Why not make it locally? Why not have a company that's locally owned or worker owned, or a co-op?"
Thompson's seen success in this first-hand, and believes it can be replicated across New York City. He was involved in a 2013 paper that analyzed the merits of a 2005 case study, in which University Hospitals (UH) in Cleveland, Ohio, constructed five major medical facilities, as well as expand a number of existing facilities, with the goal of boosting community wealth in the process.
Working with the mayor's office, as well as local building trade unions, UH vowed that 80 percent of contracts would go to businesses that were regionally owned in Northeast Ohio, with five percent of contracts going to female-owned businesses and 15 percent to minority-owned businesses. Beyond 2010, all purchases from UH over $20,000 now require at least one bid from a local, minority-owned firm -- UH spends at least $800 million to contractors each year.
Thompson and his co-authors called the Cleveland case study "pathbreaking" in the 2013 paper, and touted it as a "powerful model for how a place-based institution can...better the long-term welfare of the community in which it is located."
Another example, Thompson said on the podcast, of different departments coming together to deliver comprehensive change to the city is the Healthy Buildings Project in the Bronx. The project saw 50 buildings retrofitted with the goal of removing mold, roaches, and rodents to reduce repeat asthma cases. At the same time, the apartments were retrofitted to increase energy efficiency and the savings this caused -- in reducing energy bills, and in selling power back to the grid -- helped pay for the asthma retrofit.
"That takes bringing together a bunch of different city departments and state and funding streams and figuring out the financing, which is all complicated. But that's the kind of thing we need to do in order to really address the health disparity crisis," Thompson said, adding the "silo approach" so often seen in government is "not very strategic and not very smart."
"It's definitely a challenge, it's always been a challenge," Thompson said of bureaucracy and government silos, especially in a government the size of New York City's. "That's a lot of what I've been doing in my prior life, before coming here, is trying to break through those silos."
"I wrote a book about the Dinkins experience and about black mayors and the point of the book was really to explain the problematic of trying to use City Hall to change policies on behalf of low-income people when they're all sorts of entrenched interests that basically push in the other direction," he added.
Going forward, Thompson is eager to see the de Blasio administration take on the big issues like climate change, technology, and education in a way far different from the "narrow-mindedness" of the Trump administration. Asked if part of his job is to help de Blasio become less risk averse and get more creative, Thompson said has been bold in pursuing universal pre-kindergarten, which he called "4-K," and the broad mental health program being led by First Lady Chirlane McCray.
"I don't think the mayor is risk averse. I don't think the mayor had any idea 4K would work when he first started it - I think that was just a bold thing and ThriveNYC was a bold thing," Thompson said. "I also don't think the government's role is risk averse...I came from 18 years at MIT, I got to tell you, computers and the internet came from 20 years of consistent funding from government, which took the risk out of it. You could screw up a thousand times, which they did, but the government said 'it's real strategic for us to develop these systems,' No venture capitalist would have put the money in over a 20-year period not knowing what was going to happen."
"The government's role is exactly to socialize risk," Thompson continued. "The government's role is to say, 'this is something, as a city or as a country, we have to do so we're going to invest.'"