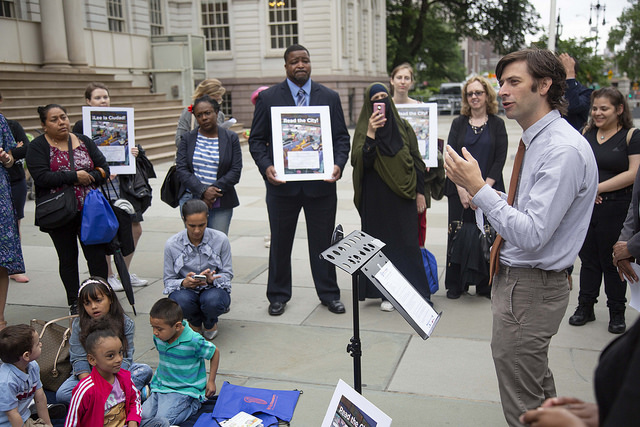 Council Member Levin (photo: John McCarten/City Council)
---
The new city budget does not do enough to address the tremendous backlog of city contracts with nonprofit groups that have been left languishing by city agencies, the groups say. This comes after a recent report from the city comptroller that shows 81 percent of new and renewed contracts were registered retroactively, meaning after their start date, last fiscal year. Human services were the most affected, with more than 90 percent of contracts in this category submitted retroactively to the comptroller's office by city agencies, half of them late by six months or more.
Mayor Bill de Blasio and the City Council recently agreed to a $89.2 billion operating budget for the fiscal year beginning July 1. Though it continues to increase spending at various city agencies that rely on human services nonprofits, there is no accompanying deal to address the rampant contracting delays across city agencies.
The problem of contract delays affects cash flow and services to the public, and also compounds other issues, such as contracts not accounting enough for overhead expenses, that together contribute to a financial crisis for many organizations that the city contracts with to provide vital services from homeless shelters to after school programs.
"It needs to be a priority of this administration to fix the backlog in contract registration and also the significant amount of contract amendments that are pending from investments the city made last year: money that was announced on July 1 of 2017 that providers still have not gotten in June of 2018," said Michelle Jackson, spokesperson for the Human Services Advancement Strategy Group (HSASG), in an interview last week. The group, which consists of nine associations and represents some 2,000 human services provider organizations in New York City, will be testifying at a City Council oversight hearing on the issue at City Hall this Thursday, June 21. "There really needs to be a focus on getting all of those amendments and registrations up to date," Jackson added.
The delay in the city's procurement process means vendors -- predominately nonprofits in the human services sector -- are forced to either fund their own work while they wait for the city to register and approve their contracts, or delay starting operations entirely. For providers waiting to have their contracts renewed, Jackson said, "they have to just keep operating the service because you don't just send all the kids home, you don't kick everyone out of the shelter. It's not like a construction project where you can just wait to get all your documents signed…Nonprofits are taking a real fiscal and legal liability by waiting for these contracts."
It's a system in "dire need of reform," according to Comptroller Scott Stringer's report. In a statement to Gotham Gazette last week, Stringer's spokesperson added: "One of city government's most important jobs is delivering services to New Yorkers in need – that's why fixing the city procurement process is urgent and essential. Providing services to our most vulnerable residents depends on our ability to execute social service contracts expediently."
The next step in addressing the issue is this week's hearing of the City Council Committees on Contracts and General Welfare at City Hall, which will be co-chaired by Brooklyn Council Members Justin Brannan and Stephen Levin, the respective chairs of those committees. The "process has to be sped up," Levin said.
"These providers are operating at significant deficit and often we engage with providers that are doing a lot of the work that we would like to see providers do, and they are doing it on their own fundraising," Levin told Gotham Gazette.
The backlog is also putting pressure on the city's Returnable Grant Fund, a revolving fund providing interest-free loans to nonprofits. February testimony from Acting Chair of the Mayor's Office of Contract Services, Dan Symon, to the City Council was referenced in the comptroller's report, claiming the Fund processed 751 loans for nonprofits in fiscal year 2017 as a "direct result of delayed contract awards." The combined total of these loans was $149.9 million.
"We need to make sure we are providing services equitably across the board," Levin said. "That when you go to shelter you're not just lucking out in getting into a good provider or a provider that's has the ability to raise significant money versus a provider that can't. That's not an equitable system."
Mayor de Blasio and his administration were widely criticized following the release of Stringer's report, with questions raised about the progressive mayor's commitment to human services organizations and their clients. The issues raised by the comptroller's report are longstanding and nonprofits groups and their supporters have been lobbying city government to improve the process for sometime.
In a statement to Gotham Gazette last week, a City Hall spokesperson said the mayor's office has been working to reduce contracting backlogs and that model budgets -- a system introduced this year designed to increase rates for providers funded below what is considered the 'model' to deliver appropriate service -- will help these departments fulfil their administrative duties to outside contractors.
"We've invested more than a quarter-billion new dollars annually in our shelter provider partners to address decades of disinvestment and reform outdated rates they were paid for many years," the spokesperson said. "We have also been working closely with these vital partners to resolve inherited contracting backlogs, implement model budgets for the first time ever, and address any outstanding challenges they may have to ensure they can deliver the services our neighbors in need deserve as they get back on their feet."
Due to this work in resolving contracting issues, the City Hall spokesperson said this year is the first time in recent memory that providers will be operating with registered current contracts. As of May 2018, 97 percent of fiscal year 2018 contracts are registered and active, with only one contract still at the comptroller's office and another contract pending provider budget submission.
According to the comptroller's report, the seven city agencies that contract for the majority of human service programs are: the Administration for Children's Services (ACS), Department of Education (DOE), Department of Youth & Community Development (DYCD), Department for the Aging (DFTA), Department of Homeless Services (DHS), Human Resources Administration (HRA), and Department of Health and Mental Hygiene (DOHMH).
All of these departments submitted more than half of their registration and renewal contracts retroactively to the comptroller's office last year. DHS and HRA submitted 100 percent of these contracts retroactively, and the DOE was at 99.8 percent of registration and renewal contracts submitted after their start date. In HRA's case, more than 60 percent of retroactive contracts were submitted to the comptroller's office more than six months after the contract was due to start.
Despite the backlog, some departments are set to receive less funding in fiscal year 2019 than in the current, soon-to-end fiscal year, according to the city budget that was released on Monday June 12.
DYCD, for example, is receiving about $121 million less in funding via the city budget this financial year, yet of 859 registered or renewed contracts it received last year, 795 (92.5 percent) were submitted retroactively, according to the comptroller's report. Similarly, DOHMH is allocated $112 million less in fiscal 2019 than it was in 2018, and of 314 new and renewed contracts it handled last fiscal year, 265 (or 84.4 percent) were submitted after their start date.
When asked if the budget has allocated enough resources to these city agencies that are struggling with contracting, Council Member Brannan said: "This is something we intend to discuss at the hearing on the 21st, both from the administration side as well as what the providers think. I am committed to working with the Speaker, Administration, as well as the Comptroller, to ensure we are processing contracts in as swift a manner as possible so that vital services are not being jeopardized due to procedural snafus that can be remedied."
"I hope that through our hearing we can shed light on the administration's progress implementing model budgeting across different agencies as well as seeing how the providers are faring with model budgeting," Brannan added.
DHS and the DOE, which respectively submitted 100 percent and 99.8 percent of contracts retroactively to the comptroller's office last year, are both receiving an increase in funding for the upcoming fiscal year. According to the city's preliminary budget, DHS is receiving more than $183 million in additional funding compared to the current fiscal year and DOE is budgeted an additional $1.2 billion.
Speaking to Gotham Gazette, Council Member Levin said the Council's preliminary budget hearing with DHS dealt largely with where the increased funding is going and he is confident the additional funding will help the agency in improving contract delays.
"In our preliminary budget hearing with DHS, we did talk a lot about where a lot of the increased funding is going and they spoke a lot about the model budget contract," Levin said. "So we're expecting that it should be able to be covered in the significant increases in budget year-over-year in DHS. I have every expectation that they'll be able to be covered it for sure. And if they're not, there's opportunities to do budget modifications."
"We need a system that's set up that can afford the services that we need to provide for over 60,000 people in shelter ..." Levin continued. "We need to make sure that the providers are funded enough so that they can provide adequate services."
Comptroller Stringer's report makes two recommendations for improving the processing of contracts within city agencies: to stipulate deadlines for every agency that handles contract applications and to implement a transparent tracking system for vendors to follow their applications through the process. But the report also describes an extremely cumbersome system, weighed down in bureaucracy, in which up to five departments sometimes will handle a contract before it reaches the comptroller's office -- the only agency with a deadline, which is 30 days -- where it is ultimately approved or kicked back to city agencies for more processing.
"What we're looking at now is 100 percent late registration [from some departments] and what's going to happen today and tomorrow to get that fixed?" Jackson, of the Human Services Advancement Strategy Group, said, adding that while she "absolutely agrees" with the comptroller's recommendations, "a tracking system and a timeline are not going to fix the backlog" already in existence.
The HSASG is calling for a "SWAT Team" to immediately help clear the backlog, as well as allocation and recognition of this in the budget. Jackson said the group is asking for an additional $200 million to human services, not only to fix the contracting delays, but to also go to areas such as benefits, insurance, and occupancy costs.
"A lot of these contracts don't have cost escalators, and obviously in New York City rent goes up every year (a lot of expenses go up), and there's not a way to capture that," Jackson said. "Of course we were disappointed to not see further investment in the sector but we appreciate it's a long-term investment that needs to be made."
Brannan said he "supports the recommendations" laid out in the comptroller's report and that he is "working with the Comptroller's office to come up with potential legislative fixes that would provide for agencies to process city contracts within a much more reasonable period of time." He said he's spoken to the Mayor's Office of Contract Services about next phases in rolling out the city's Procurement and Sourcing Solutions Portal (PASSPort), saying it "in theory should significantly reduce procurement delays."
The spokesperson from City Hall also said the planned updates to PASSport will "make it easier for agencies to order and pay for goods off centralized contracts." The system, which was initially launched in August 2017, will be updated with "phase two" in 2019 and "phase three" will launch approximately one year later to "enable online bidding and invoice management for all agencies," the spokesperson said.
New York City isn't the first city to require urgent and comprehensive procurement reform. A 2005 report by the San Francisco Bay Area Planning and Urban Research Association (SPUR) on fixing that city's similarly "slow and burdensome" contracting system provided the administration with a range of recommendations that might be applicable in New York City today. These included, not only fixed deadlines for every department and a transparent tracking system, but also recommendations to increase public information and awareness of the city's contracting system; allow simultaneous review by agencies; develop clear and explicit procedures for fast-tracking contracts; and use a post-audit approach to test compliance by departments, instead of every single contract moving through the comptroller's office.
There is no indication of any other measures being taken to address the contracting backlog in New York City, though the City Hall spokesperson said: "We are continuously looking to improve our practices to also realize timely procurement."
More ideas will likely be raised at Thursday's Council hearing, but for those in the nonprofit sector, the fiscal year 2019 budget was the perfect place for the city to demonstrate its understanding of, and commitment to solving, the problem. "We would have liked to see it in the budget, even if it was just a statement about how to get all this money out the door," Jackson said. "I think there needs to be a real recognition that this is a priority to fix the registration process and it needs to happen right away."