Ben Max, left, of Gotham Gazette, and Jarrett Murphy, right, of City Limits
---
June 25, 2018 - Max & Murphy Podcast: The Long Fight for New City Sexual Harassment Laws, with City Council Member Helen Rosenthal and former Comptroller, Brooklyn District Attorney and Congressional Rep. Liz Holtzman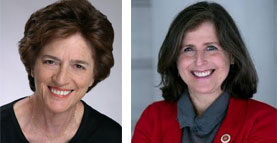 When Liz Holtzman was city Comptroller -- the first and only woman to hold that office -- she sought to determine city agency policies around sexual harassment and was met with resistance. Twenty-five years later amid the #MeToo movement, Holtzman wrote a Daily News op-ed in February of this year that recounted her experience and discussed the need to make public city policies and data on harassment complaints. That op-ed helped spur City Council Member Helen Rosenthal, chair of the Council's Committee on Women, to jumpstart an effort that led to an 11-bill package of legislation, now law, to prevent and punish sexual harassment, both in city government and the private sector.
Holtzman and Rosenthal joined the podcast to discuss their efforts, the details of the new laws, what comes next, and much more about fighting harassment, assault, and gender discrimination -- including Holtzman's work as the first woman elected to become one of the city's district attorneys.
Listen to the full conversation and let us know what you think -- we're on Twitter @TweetBenMax and @JarrettMurphy with @HelenRosenthal and Liz Holtzman. You can listen to the episode through the embedded audio below or download the episode wherever you get your podcasts.