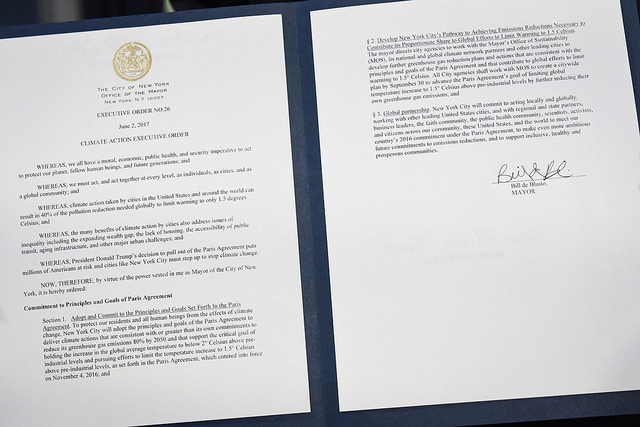 (photo via the Mayor's Office)
---
Mayor Bill de Blasio's charter revision commission, convened to examine the city's central governing laws, concluded the second leg of its public input process last week with a series of forums where they sought expert opinions on campaign finance reform, electoral access, civic engagement, redistricting of City Council boundaries, land use decision-making, and community boards. As the commission continues to narrow its tentative list of proposals to present to voters on the ballot in November, Commission Chair Cesar Perales, a former secretary of state of New York, said in a phone interview that commission members are not looking to "invent the wheel" but rather are focused on improving the functions and structure of city government where they can.
The mayor formed the commission with specific ideas in mind, that it explore ways to minimize the impact of money in elections and increase electoral participation in a city increasingly known for low voter turnout. "[O]ne of the things we're going to do in this city is we're going to present to the people in November a ballot initiative for public financing of elections to take our already very progressively public finance system for elections and build upon it even more deeply to get big money out of politics," de Blasio said in his weekly appearance on WNYC's The Brian Lehrer Show on Friday.
Though de Blasio made his priorities understood before naming the 15 members of the panel, any charter commission created by mayoral fiat has unlimited reign over its agenda and can consider all issues pertaining to what is essentially the city's constitution.
After a first round of open-ended public hearings, the commission homed in on four major areas on which subject-matter experts provided testimony: election administration, voter participation, and voting access; campaign finance; community boards and land use; civic engagement and independent redistricting. "I just had a series of conversations with individual commission members and I think there's a universal sense that we've identified the right issues," Perales said in the interview on Wednesday.
"We don't have to invent the wheel," he later added. "There are things going on out there...If it's a good idea, then it's something we as the members of the commission ought to be thinking about. Is it something that belongs in the charter? Is it something that ought to be done citywide?"
The mayor's announcement about the commission initially raised eyebrows, with City Council members and government reform groups questioning the rationale behind it. Changes to the campaign finance system are usually made legislatively through the City Council and are largely based on recommendations from the independent and nonpartisan New York City Campaign Finance Board, which issues a detailed report after each four-year election cycle.
Perales said the commission was justified in taking on that role. "You're saying the City Council could do this. The reality is, they haven't," he said. "The reality is that there may be political reasons why it's much more difficult for somebody who's concerned about reelection to become engaged in campaign financing. I'm not running for reelection. I listen to people and come to the conclusion as to what is fair, what would work better, how do we get money out of our elections."
Perales also cited the commission's focus on redistricting, a process in which experts insist that incumbent elected officials and those seeking office should be excluded. "There's another example where we can look objectively as to whether or not the way districts are being drawn today is the best way to do them," Perales said. "We don't have to worry about running on those lines. We can listen to, for example, the Asian community saying 'We are disadvantaged by the way lines have been drawn in the past and there must be a better way.'"
At the same time, the commission's creation has led some City Council members to hold off on legislation lest it become a part of the agenda. For instance, Council Member Brad Lander's proposal to create an Office of Civic Engagement -- for which he introduced a bill in the Council -- has been front and center in the commission's discussions and Lander has said that he will avoid pushing it forward if it is taken up by the commission. Lander testified at length at the commission's expert hearing on civic engagement.
Other bills at the Council on campaign finance have similarly been static as the commission could potentially propose the same or additional reforms. On campaign finance particularly, government reform groups have privately expressed concern that the commission could propose a drastic overhaul of the existing campaign finance program, which is considered a national model. "Clearly we're looking to use this opportunity to improve the way things work that need to be improved," Perales said. "Whether it's a major overhaul or a minor overhaul, we will ultimately find out and it'll be in the eyes of the beholder as to whether or not it is major overhaul."
On electoral access and participation, there's less latitude for the commission to make major improvements since those fall under state law, a factor the commission has kept well in mind. "Of course, we certainly don't want to do something that is going to run up against the state Board of Elections or violate the state constitution," Perales said. "We're doing a lot of talking to the lawyers as to what we can do and how far we can push the envelope...Anyone who's been at these hearings will know that lots of things that people want us to do are things that we don't have the power to do. And we're trying to figure out what it is we can do."
The commission is expected to again foray into the five boroughs to solicit opinions on the more narrower list of issues. Internally, Perales said, there is no final consensus on any one issue, nor is there major disagreement and no ideas have been rejected outright. The commission staff is currently preparing a preliminary report with the pros and cons of a number of proposals, he said, which will then be aired to the public.
Perales himself is "piqued" by Lander's OCE proposal while participatory budgeting received "universal praise" from members, he said, referring to the City Council's current program carried out in select districts and suggestions that it be expanded citywide. He was also impressed with Comptroller Scott Stringer's testimony before the commission on community boards, wherein Stringer recommended that each community board hire a professional urban planner and train members in issues related to land use.
There has been debate, of course. One idea that has overwhelming support among good government groups and also prominent elected officials is instant runoff voting, also known as ranked-choice voting, which helps avoid costly and laborious run-off elections with low turnout. Most believe it is a no-brainer. Perales disagrees.
"I don't know that it's a no-brainer," he said. "I think there are some people who still like the idea that everybody would get to vote for the two finalists," he said, speculating that in an instant runoff, voters choices might be invalidated completely if they fail to pick either of the top two vote getters. "So there are arguments. On the commission, there is not a total agreement on an issue as complicated as this," Perales said. "Just as there is no total agreement immediately on what the campaign limits ought to be in terms of contributions. This is a lot more complicated than people like to think."
It is widely expected that the commission will recommend lowering the maximum contribution amount allowed by an individual to a candidate. There are also expectations that the commission will propose an increase in public matching funds that candidates can earn.
An ironic aspect of the entire exercise is that even as the commission delves deep into suggestions around improving civic participation to get New Yorkers informed and engaged across the city, the commission hearings have received little attention in the media. "I've been around long enough to not be surprised by this," Perales said, expressing some disappointment. "Most people don't understand what the city charter is, how it gets changed and what it does...Obviously I would have preferred greater attention to it but I'm not surprised. It's certainly not going to affect the way I approach it, and I don't think it's going to affect the way any of the commission members approach this."
[Read Gotham Gazette's full coverage of the mayor's charter revision commission here]