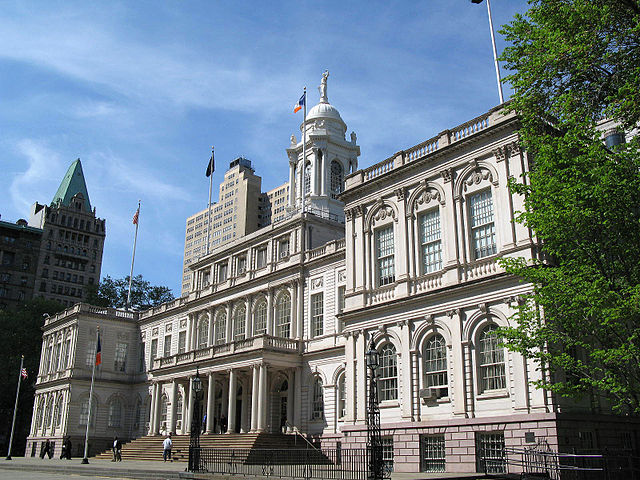 New York City Hall
---
What to watch for this week in New York politics:
As we move past the July Fourth holiday week and into the depths of summer, attention turns squarely to the state-level primary elections that will be voted on September 13. We're just over two months away from those votes, with especially interesting Democratic races for Governor, Lieutenant Governor, Attorney General, and a number of state legislative seats, especially in the state Senate, most notably the primary challenges to the senators who until April made up the Independent Democratic Conference. We'll know more soon about challengers' efforts to garner enough ballot petition signatures to appear on the September ballot, as those are due to the Board of Elections this week.
While Governor Andrew Cuomo, Lieutenant Governor Kathy Hochul and party designee for Attorney General Letitia James were all guaranteed ballot spots becaue of the party convention vote, candidates including Cynthia Nixon, Jumaane Williams, Zephyr Teachout, Leecia Eve, Sean Patrick Maloney, and others had to collect signatures to get their names on the ballot.
We'll also know more this week and into the following about how candidates are doing with raising money, as there is an important filing deadline this week.
Continuing this week are two major federal corruption trials involving state government. One is headlined by Alain Kaloyeros, former president of SUNY Polytechnic Institute, who Governor Cuomo empowered to run major economic development projects and is accused of rigging bids to favor Cuomo donors. The other is the retrial of former Senate Majority Leader Dean Skelos.
Mayor Bill de Blasio returns from a week of (mostly) vacation this week (he briefly flew home to attend a street renaming ceremony for a police officer, Miosotis Familia, killed in the line of duty last ear). There are two major land use decisions coming up that the administration is deeply invested in and worth watching as final negotiations unfold over the coming weeks: efforts to rezone part of Inwood and the rezoning plan to build a tech center in Union Square. Both proposals are still being negotiated with other stakeholders, especially the local City Council members, who will ultimately have significant say over the final details of deals that are reached or over the defeat of the proposals. There is a Tuesday Council hearing on each.
See the day-by-day rundown for the week below -- and check back as we update The Week Ahead from Sunday night through Monday night as additional events are publicized and advised by elected officials, candidates, advocacy groups, and others.
***Do you have events or topics for us to include in an upcoming Week Ahead in New York Politics?
e-mail Gotham Gazette editor Ben Max: This email address is being protected from spambots. You need JavaScript enabled to view it.***
The run of the week in detail:
Monday
This week's Max & Murphy podcast from Gotham Gazette and City Limits will be recorded and published Monday and will feature Democratic Attorney General candidate Zephyr Teachout.
On Monday at 10:30 a.m. in Jackson Heights, Democratic candidate for governor Cynthia Nixon and state Senate candidate Jessica Ramos will endorse each other. Nixon is attempting to defeat Governor Cuomo and Ramos is attempting to defeat Senator Jose Peralta, a former member of the Independent Democratic Conference (IDC, in the September Democratic primaries.
At 2 p.m. Monday, Governor Cuomo will make an announcement at Manny Cantor Center on the Lower East Side of Manhattan. Lieutenant Governor Kathy Hochul will be in attendance.
Mayor de Blasio will make his usual weekly appearance on NY1's Inside City Hall Monday in the 7 and 11 p.m. hours.
Tuesday
Governor Cuomo will hold two Tuesday rallies "to protect reproductive rights." One at 10 a.m. in Yonkers and one at 11:30 a.m. in New Hyde Park.
At 11 a.m. Tuesday outside Grand Central Terminal, leading transit advocacy groups will release the agenda they will urge state-level candidates to adopt this election season. "During a busy campaign season for the governor and state legislature, the city's leading transportation advocacy organizations will unveil for the first time a comprehensive state policy agenda. Highlighting the relationship between transportation and equity, the advocates will encourage candidates for state office to fund badly needed transit improvements with a fair, sustainable and sufficient source of revenue that it's up to state government officials to create. The advocates' 2018 state policy agenda includes funding and implementing the MTA's Fast Forward plan to fix the subway, redesign the bus network, and make transit accessible, adopting the state's Fix NYC panel proposal to raise transit funds by charging cars and trucks to drive in the Manhattan central business district, and enacting fully automated camera enforcement of traffic signals, speed and bus lane restrictions." Participants will include "Leaders and members of transit, environmental and disability rights organizations including the Riders Alliance, New York Lawyers for the Public Interest, New York League of Conservation Voters, Regional Plan Association, NYPIRG Straphangers Campaign, StreetsPAC, Transportation Alternatives, and Tri-State Transportation Campaign."
At 11:30 a.m. Tuesday, "Mayor de Blasio and Police Commissioner O'Neill will hold a media availability on crime statistics. This event is open press. There will be Q-and-A." The event will take place at the 40th Precinct in the Bronx.
"On Tuesday, the First Lady will attend the Gracie Mansion Board of Advisors meeting. This event is closed press."
At noon Tuesday there will be a rally in Foley Square opposing President Trump's Supreme Court nominee, Brett Kavanaugh. Public Advocate Letitia James will be among those speaking.
At the City Council on Tuesday: The Subcommittee on Zoning and Franchises will meet at 9:30 a.m. and at 1:30 p.m. The committee will hear testimony on the plan to rezone an area in Union Square during the morning meeting and on the plan for part of Inwood during the afternoon meeting. Manhattan Borough President Gale Brewer will testify at both hearings.
At noon on Tuesday, before the Inwood rezoning vote, "Upper Manhattan tenants, faith leaders, workers and small business owners will hold a rally outside City Hall as the New York City Council prepares to hold a hearing on the proposed Inwood NYC neighborhood rezoning. The rezoning has received considerable opposition from the community and local elected officials, with both Manhattan Community Board 12 and Manhattan Borough President Gale Brewer voting against the proposal at earlier stages in the land use process." Participants will include "Northern Manhattan Is Not For Sale, Riverside Edgecombe Neighborhood Association, Ft. Washington Collegiate Church, Uptown Community Democrats, Laborers Local 79, Northern Manhattan Community Land Trust, Save Inwood Library, the Inwood Small Business Coalition/Coalicion de Pequenas Empresas de Inwood, Metropolitan Council on Housing, Altagracia Faith & Justice Works, NY State Ironworkers District Council, NYC Community Alliance for Workers Justice, United Auto Merchants, Moving Forward Unidos, Lower Seaman Tenants Association and Inwood Preservation."
At 9 a.m. Tuesday, the New York City Board of Correction will hold a public meeting at 125 Worth Street in Manhattan.
At 10 a.m. Tuesday, Brooklyn Bridge Park's Pier 3 will be opened by Deputy Mayor Alicia Glen, Parks Commissioner Mitchell Silver, Brooklyn Borough President Eric Adams, U.S. Rep Nydia Velazquez, Assemblymember Jo Anne Simon, Senator Brian Kavanagh, City Council Member Stephen Levin, and Brooklyn Bridge Park President Eric Landau.
At 7 p.m. Tuesday, the Four Freedoms Democratic Club will host a forum on the state of the subway "and what can be done to remedy it." Speakers will include City Council Member Helen Rosenthal, Charles Komanoff of Transportation Alternatives, and Stephen Smith of Market Urbanism.
Wednesday
This week's What's The [Data] Point? podcast from Gotham Gazette and Citizens Budget Commission will be recorded and published on Wednesday and will feature city Health Commissioner Dr. Mary Bassett.
At 6:30 p.m. Wednesday, the Civilian Complaint Review Board will meet at the McKinley Community Center in Morrisania, Bronx.
At 7 p.m. Wednesday, Democratic candidates for Attorney General will participate in a forum hosted by seven Democratic clubs at the New York New Church in Murray Hill.
Thursday
At the City Council on Thursday: The Committees on Health, Immigration, and General Welfare will meet jointly at 2 p.m. for an oversight hearing regarding "the impacts of Trump administration family separation policy on New York City," and to discuss a resolution "calling on the U.S. Congress to pass, and the President to sign, the Keep Families Together Act (S. 3036), to immediately stop the Department of Homeland Security from taking children from their parents at the U.S. border, except with express directive from a child welfare expert, and for additional legislation that would end family detention as an unsafe and harmful alternative."
Friday and the weekend
Mayor de Blasio may make his usual appearance on WNYC's The Brian Lehrer Show on Friday at 10 a.m.
***
Have events or topics for us to include in an upcoming Week Ahead in New York Politics? E-mail Gotham Gazette executive editor Ben Max any time: This email address is being protected from spambots. You need JavaScript enabled to view it. (please use "For Week Ahead" as email subject).
***
by Ben Brachfeld and Ben Max
@GothamGazette