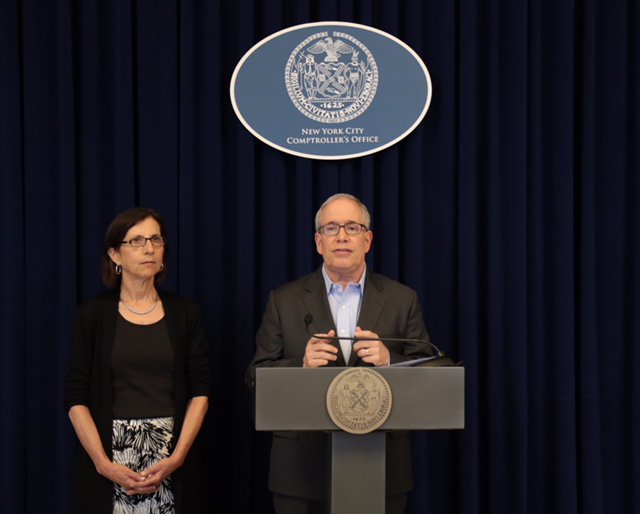 Comptroller Scott Stringer and Deputy Comptroller Marjorie Landau (photo: @NYCComptroller)
---
Comptroller Scott Stringer, the city's chief fiscal officer who placed three city agencies on a new "watch list" in February due to concerns about their escalating spending and questionable return on investment, said recently that his office will be holding public hearings to provide stronger oversight, better transparency, and more urgency for reforms.
"We need more robust public hearings to the agencies, we need to demand more accountability from our government, and if we're really going to be a progressive government, we need to ask whether the programs we're putting forth are meeting the needs of struggling New Yorkers," Stringer said during a recent appearance on the What's The [Data] Point? podcast from Gotham Gazette and Citizens Budget Commission. "I'm going to continue to think about ways the comptroller's office can hold these agencies accountable."
During the discussion, Stringer not only explained his watch list, but also repeatedly criticized Mayor Bill de Blasio over what Stringer sees as an insufficient affordable housing plan; explained his belief that New York City public housing needs a new management structure; and said that the city is not budgeting responsibly.
As part of his analysis of the city budget, Stringer singled out the Department of Homeless Services, Department of Education, and Department of Correction as agencies whose spending was of most concern, forming his initial "watch list," which includes a new web portal with detailed information about the three and plans for more robust examination of their spending and effectiveness.
In addition to public hearings, Stringer's office inspects agencies through audits, investigations, and reports. The comptroller's office is also responsible for approving contracts that city agencies enter with outside vendors. While Stringer mentioned on the podcast a general plan to hold his own public hearings on the watch list agencies, his office declined to provide more information in response to follow-up questions.
Stringer included the Department of Homeless Services on his watch list after determining that despite citywide spending for homelessness across all agencies more than doubling from $1.1 billion in 2013 to an anticipated $2.6 billion in 2019, the number of individuals living in shelters has grown from 49,000 in 2013 to more than 61,000 in early 2018.
Stringer said unravelling the homeless crisis in New York City starts with taking accountability for unnecessary expenditures.
"I think we have to look at changing policy and I think we have to look at making sure every dollar counts because if we continue to house people in commercial hotels that cost $100 million and if we continue to stuff people into these terribly conditioned homeless shelters, that's the core of what we believe in that has to change," Stringer said. "Budgets are priorities, but you have to be smart about expenditure and analyze whether that money is doing the right thing by the people."
While Mayor Bill de Blasio has put a variety of plans in place to combat homelessness, it has been one of the central struggles of his time in office. Stringer and de Blasio are both Democrats who were elected to their current positions in 2013 and reelected in 2017. They will both be term-limited out of office at the end of 2021; Stringer is widely expected to run for mayor in the upcoming election cycle.
When resetting his approach to homelessness a second time, in early 2017, de Blasio announced a plan to open 90 new shelters while leaving notoriously troubled cluster site shelter apartments and expensive commercial hotels. He also said the plan, which includes ongoing and enhanced mechanisms like rental subsidies and free lawyers for housing court, would result in a very modest decrease in the homeless population.
"What is the plan to really reduce homelessness?," Stringer said. "Do not even say to me that, well, 'our plan is to reduce homelessness by 2,500 in five years.' At the cost of $3 billion? You've got to be kidding me. I mean everybody wake up here."
As for the Department of Education, another "watch list" agency, Stringer's office has found that the DOE was spending inefficiently and he has questioned its ballooning central staff. In a trial test of eight schools, Comptroller audits found that one third of computer hardware was unaccounted for with no follow-up actions to implement basic controls. Stringer's staff also discovered that despite a $1 billion investment in high-speed broadband, one in three teachers are still displeased with the service. Moreover, in what Stinger's office called "a rampant waste and lack of accountability," $2.7 billion in no-bid contracts were doled out by DOE.
"I don't want to see a 24% increase in administrative costs at DOE," Stringer said on the podcast. "I want money to go into the classroom."
Stringer included the Department of Correction on his watch list in order to highlight increases in spending and violence despite a decrease in inmate populations at city jails. Since 2008, the average daily inmate population dropped from 13,850 to 9,500 in 2017 (and as of July 2, it was just about 8,200). However, the average annual cost to house an inmate more than doubled over that same period. Over the last decade, the number of violent incidents at city jails more than tripled.
"At Department of Correction, this is something amazing, population is going down, but violence is going up," Stringer said on the podcast. "And now we're spending $270,000 a year [per inmate] on holding 9,000 inmates on Rikers Island. OK, this is madness."
The agency watch list relates to overall budgeting by the mayor and the City Council, and to the effectiveness of spending on key city services, as well as how much the city is spending overall, its long-term financial commitments, and its reserves. Mayor de Blasio and the Council recently passed an $89.2 billion budget for fiscal year 2019, which began July 1. The size of the city budget has increased dramatically under de Blasio, and Stringer has been sounding alarm bells all along about the rate of spending, the lack of a recommended savings program that was used under Mayor Michael Bloomberg, and potentially insufficient reserves for the inevitable economic downturn.
On the podcast, Stringer said the city's projected "budget cushion" — reserves as a percentage of city operating expenses — must be bolstered.
"I do think that there's been a lost opportunity as it relates to putting more money aside for a rainy day," Stringer said. "And we have now a record budget of $89 billion...I think we are going down a road that could cost us or hurt in the long run."
The current budget reserves are about 9 percent of projected 2019 spending, about $8.5 billion in reserves, lower than what Stringer says is the optimal range of 12 to 18 percent. The "budget cushion" debate is a long-running one between the mayor and the comptroller. De Blasio has repeatedly stated that the city has "record" reserves, which is true in terms of absolute numbers, but as a percentage of spending, Stringer remains concerned.
Reserves are vital, Stringer explains, because when crisis inevitably hits the city, it often hurts the most vulnerable people, which was was the case after the terrorist attacks of September 11, 2001 and after Hurricane Sandy hit in 2012, he said. Stringer has called on de Blasio to compel his agency commissioner to "scrub" their departments for savings, recommending the type of program Bloomberg used where he insisted on commissioners identify a certain percentage of their budgets for slashing, even if the cuts were not followed through on. De Blasio has not required this of his agency heads, instead instituting a voluntary savings program.
"Well, let's go scrub the agencies for efficiencies," Stringer said on the podcast. "That's something that hasn't happened in four years. Lets go agency by agency. Say to commissioners, 'Look, there's new technology. You haven't looked at how to save money in an agency in four years.' Previous mayors used to scrub those budgets and say, 'Hold on with those expenses.' That's one way to do it. The city, the mayor's refused to do that, I disagree with him. Get in there, get those savings, put is aside for that rainy day."
As for de Blasio's affordable housing plan -- which seeks to build or preserve 300,000 rent-regulated units by 2026 -- Stringer had perhaps his harshest words.
"There's no real affordable housing plan to meet the needs the poorest New Yorkers," Stringer told podcast hosts Maria Doulis and Ben Max. "[W]e need a robust new housing plan," Stringer said.
"We need to think about a new subsidy program. Problem is, right now, for-profit developers is a lot of cases are, yes, they're building more density, and bigger projects in places in Brooklyn like East New York, but the reality is the affordable housing that they're proposing, the [affordability] is not reflective of the population of the community, so the affordability is not affordable in the community, and we are gentrifying people out of the communities they built," Stringer said.
And on the New York City Housing Authority, NYCHA, home to more than 400,000 residents of public housing that is falling apart and in need of more than $30 billion of repairs and upgrades, Stringer said it is time to change the governance model.
"That's why I said to all who would listen, that we need to change the management structure at NYCHA," Stringer said on the podcast. "It is abysmal. You've got a seven member board that doesn't know what's up. You've got a Chair, and then a [general] manager -- depending on the politics within NYCHA, one has power, the other one doesn't, vice versa. Even in this crisis, you know, we don't have a counsel, a chief financial officer in NYCHA, these positions are going unfilled, there's no capacity in NYCHA."
"I mean look, City Hall, wake up, do your part," Stringer said, to ensure there's "a structure in place" to oversee spending of billions of dollars and work with the federal monitor that will soon be hired based on a consent decree the city has entered with federal investigators. "But at the end of the day, the monitor doesn't run it, management runs it, so we need one Chair, one person in charge," Stringer continued. "Also, this is a time to get private industry involved, let's get the best in the business from around the city, from all walks of life to begin looking at this amazing challenge before NYCHA falls apart."
De Blasio's office declined to respond to the comptroller's criticisms and proposals.