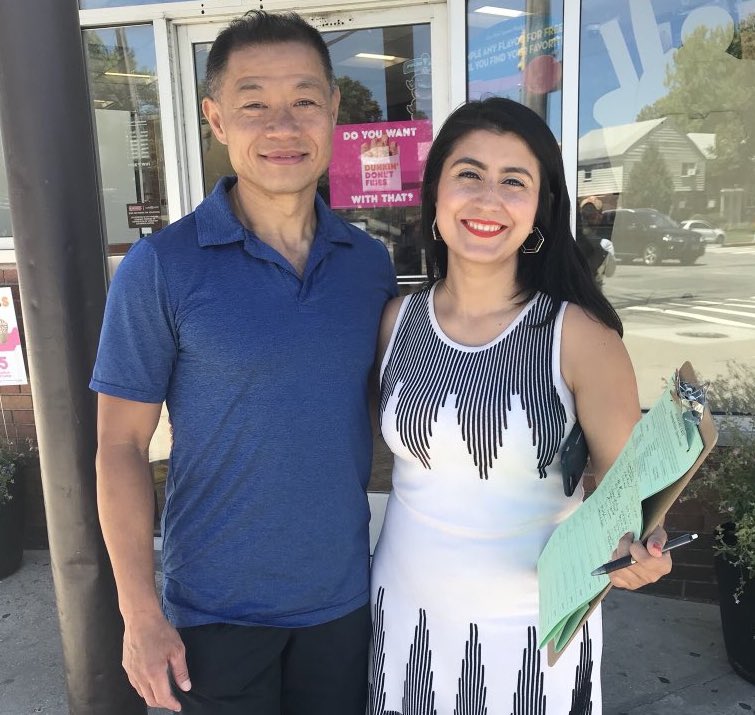 John Liu and Jessica Ramos (photo: @JessicaRamos)
---
The deadline for candidates for state office to file their latest campaign finance disclosures with the state Board of Elections was Monday, July 16. The disclosures show candidate fundraising and expenditures from the last six months, from January to July.
All 213 seats in the state Legislature -- 150 Assembly and 63 Senate -- are on the ballot this year, but few incumbents face competitive races. The state Assembly is overwhelmingly composed of Democrats, most of whom do not have a primary challenger. The state Senate, however, has become a battleground for control between Democrats and Republicans, with Democratic conference members holding 31 seats and Republican conference members 32 seats. After a Democratic unity deal in April, bringing a rogue group of eight "independent" Democrats back into the mainline conference, Republicans continued to hold power over the chamber with the help of Senator Simcha Felder, a conservative Democrat from Brooklyn who professes no loyalty to political parties and only votes on policies that he believes suit his district's interests.
In eight races, incumbent Democratic Senators who were once part of the Independent Democratic Conference -- a breakaway group that caucused with Republicans and helped them hold the majority -- face primary contests from progressive challengers. Those challengers are buoyed by an increasingly aware, angry, and active Democratic base that is set on removing the former IDC members from office.
Those former IDC members, led by Senator Jeff Klein of the Bronx, continue to face criticism over their alliance with Republicans and the progressive legislation and budgeting that it may have held up. The challengers and those supporting them have gained momentum following the recent victory of Alexandria Ocasio-Cortez, who defeated ten-term U.S. Representative Joe Crowley in the Democratic primary for New York's 14th congressional district. Notably, Crowley had helped brokered the reunification of the Senate Democrats, along with Governor Andrew Cuomo and other top party officials. Cuomo is himself facing a spirited primary challenge from actor and activist Cynthia Nixon.
The former IDC Senators include six representing parts of New York City: Tony Avella of District 11 in Queens, Jose Peralta of District 13 in Queens, Jesse Hamilton of District 20 in Brooklyn, Diane Savino of District 23 in Staten Island and Brooklyn, Marisol Alcantara of District 31 in Manhattan, and Klein of District 34 the Bronx and Westchester, as well as David Carlucci of District 38 and David Valesky of District 53, both north of the five boroughs.
While fundraising numbers only tell a portion of the story of a campaign or a race, campaign finance filings help indicate where candidate support comes from and what resources a candidate has to help get his or her message out to voters. Challengers to the IDC veterans were eager to tout their number of low-dollar donations as indicative of grassroots support, while the incumbents often posted healthy coffers, though possibly tainted by money transferred from a party account ruled in violation of election law.
District 11
Former New York City Comptroller John Liu launched a late-stage challenge against Sen. Avella, jumping into the race earlier this month in time to petition his way onto the ballot. Liu has yet to raise funds for the race but he has an open campaign account, likely from his previous attempt to unseat Avella in 2014, with a little more than $3,000 in cash on hand as of January. Liu won 47 percent of the vote that year, just after he had lost in the Democratic primary for mayor of New York City in 2013.
Avella, whose district covers who represents northeastern Queens, raised nearly $147,000 in the last six months, of which $68,000 was transferred from the Senate Independence Campaign Committee fund set up by the then-IDC and the Independence Party. A state court ruled last month that the joint fundraising arrangement was illegal, and the transfers could possibly even violate contribution limits established in election law. Avella spent about $80,000 over the filing period and has a balance of about $170,000 in his campaign account.
District 13
One of the Democrats likely most affected by Crowley's loss is Sen. Peralta, who is relying on the support of the Queens Democratic Party -- chaired by Crowley -- to help him retain his seat in northern Queens. With the party having lost the sheen of immense power, some Queens Democratic insiders say it could affect the candidates who have received its endorsement.
Peralta has raised $322,000 and spent $297,000 of it since January. The SICC was more generous with him, transferring $113,500 to his campaign, with the most recent check having been sent just last week. He has about $182,000 remaining in his campaign account.
Peralta is being challenged by Jessica Ramos, a former aide to New York City Mayor Bill de Blasio. Ramos raised $171,000 over the last six months and has spent $102,000 of it. She has just about $99,000 in cash on hand. In publicizing her haul, Ramos promoted the fact that she had raised most of the funds, about $129,000, from more than 1,400 individual donors, contrasting it with Peralta's 238 individual donors who gave him about $69,000.
District 20
Sen. Hamilton, who represents parts of central Brooklyn, pulled in about $295,000 for his reelection bid and spent $202,000. As with the other IDC senators, the SICC gave him a major boost with $109,700 transferred to his account. He has about $212,000 left to spend.
Hamilton's challenger is Zellnor Myrie, an attorney from Brooklyn. Myrie raised $163,000 in this filing period and spent about $96,000. He has just under $156,000 left in cash on hand. Myrie had more than 4,400 individual donors accounting for 98 percent of his fundraising haul, a fact he highlighted while pointing out that Hamilton had only 243 individual donors.
District 23
The district covers Staten Island's northern shore and parts of southern Brooklyn and is represented by Sen. Savino. The senator hauled in $451,000, of which $270,000 was transferred from an earlier campaign account to a new one. She spent $193,000 in the same period and has $259,000 left in her campaign account.
Savino's primary challenger, community activist Jasmine Robinson, has not yet filed her disclosure with the BOE. She said in an email that her campaign received an extension and will file the report next week.
District 31
Sen. Alcantara, who is running for a second term, represents a district that covers long stretches of the west side of Manhattan. The incumbent, who narrowly won a tight three-way race in 2016, raised $116,000, which was outpaced by her $130,000 in expenditures. She also had the benefit of receiving $66,000 from the SICC. She has about $132,000 in cash on hand.
Alcantara is facing Robert Jackson, a former City Council member who unsuccessfully challenged her in the 2016 primary for District 31. Jackson raised more than $156,000 and spent about $103,000. He has $157,000 remaining in his account.
District 34
District 34 spans across Westchester and parts of the Bronx, and is currently held by Sen. Klein. As the former leader of the IDC, Klein played a powerful role in the state Legislature for more than seven years and was one of the proverbial 'four men in a room' who decide the state budget, along with the governor, Senate majority leader, and Assembly speaker. As part of the Democratic reunification deal, Klein assumed the position of deputy to the Democratic conference leader Sen. Andrea Stewart-Cousins.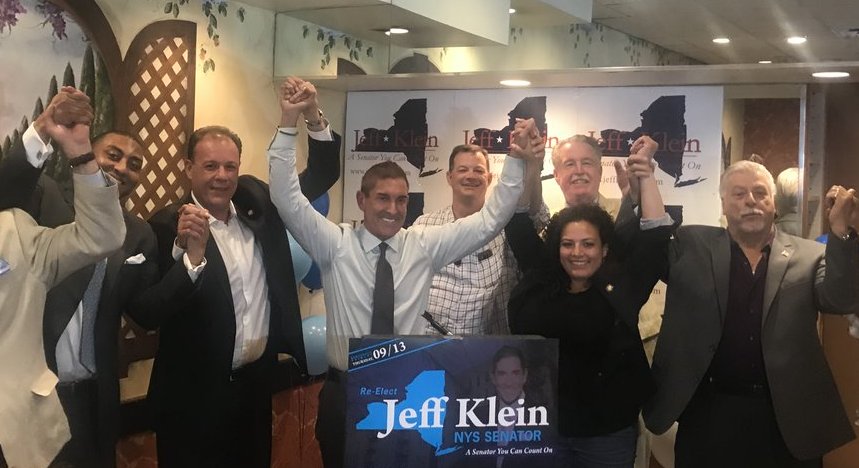 Klein raised nearly $740,000 -- $200,000 from the SICC -- between January and July and spent $613,000. He has a whopping balance of $2.1 million, having built up his campaign warchest over the last several years.
Alessandra Biaggi is the upstart candidate taking on Klein in the primary. Biaggi's latest filings were not available on the BOE website but her campaign said she had raised $260,000 and had about $50,000 in expenditures.
District 38
Sen. Carlucci, who represents Rockland County and parts of Westchester, raised $114,000 for reelection and spent only $32,000. He received $26,000 from the SICC. He has a balance of more than $440,000.
Carlucci's opponent is Julie Goldberg, whose disclosures were not available with the BOE. Goldberg's campaign manager, Susanne Kernan, pointed to technical issues with the submission and provided the filings to Gotham Gazette. They showed nearly $17,000 in contributions and and about $4,000 in expenditures, leaving her a balance of under $13,000.
District 53
The district spans Madison County and parts of Onondaga and Oneida, and is represented by Sen. Valesky. He raised $126,000 and spent about $74,000 in the last six months. The SICC gave him $36,000. He has $665,000 remaining in his campaign account.
Valesky's opponent, Rachel May, raised $84,000 and had expenses worth about $38,000. She has $81,000 in cash on hand.
[Read: New York Democrats' Season of Choosing]
Other Senate Primaries To Watch
District 22
Democrats see an opportunity this year to unseat Brooklyn Sen. Marty Golden, one of the few Republican elected officials in New York City. His district is situated in southern Brooklyn covering the neighborhoods of Bay Ridge, Dyker Heights, Bensonhurst, Marine Park, and Gerritsen Beach. Golden raised about $32,000 and has spent more than $125,000 since January. But he maintains a healthy campaign account, with $485,000 in cash on hand.
Two Democrats are competing in the September 13 primary -- Andrew Gounardes, who was an aide to former City Council Member Vincent Gentile, and Ross Barkan, a journalist-turned-candidate. The winner will take on Golden in the general election.
Gounardes raised $124,000 and spent $47,000, and had a closing balance of $181,000. Barkan raised about $71,000 and spent $66,000. He has about $59,000 remaining.
District 17
Felder's role in propping up the Senate Republicans has prompted a primary challenge from attorney Blake Morris.
Felder represents the neighborhoods of Borough Park, Midwood, and parts of Flatbush, Kensington, Sunset Park, and Sheepshead Bay. The senator is well resourced, having raised more than $430,000 since January and having spent about $110,000. He has a balance of $637,000, far surpassing his opponent.
Morris had raised $41,000 by the Monday deadline and had spent $31,000 of it. He has a little over $10,000 in his campaign account with under two months till the primary.
Note - This article has been updated to more accurately reflect Sen. Jeff Klein's fundraising and expenditure over the last six months. The numbers previously included were from his latest disclosure report which only showed his campaign finance activity since May.