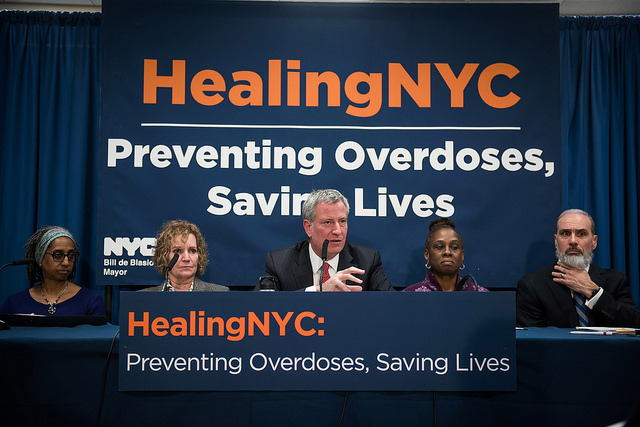 Mayor de Blasio & HealingNYC (photo: Ed Reed/Mayor's Office)
---
More than 1,400 New Yorkers died of drug overdoses in 2017, most of them the result of opioid abuse, and one of the next steps the administration of Mayor Bill de Blasio plans to take in fighting rampant opioid addiction is to open safe injection sites, which the administration is calling "overdose prevention centers." There is currently no timeline for the four planned pilot sites to open, the city's health commissioner said during a recent interview, as the de Blasio administration waits for approval from its state-level counterparts.
At a safe injection site, individuals struggling with addiction are allowed to inject and consume drugs under the supervision of medical professionals. Over 100 safe injection sites operate around the world in more than 60 cities, and the first North American location launched in Vancouver, Canada in 2003. It prevents approximately 35 cases of HIV and three deaths a year, according to a 2008 study conducted by the University of Pennsylvania.
Safe injection sites are generally thought to reduce the health risks of drug addiction by providing sterile and safe equipment, like needles, access to medical staff, and treatment referrals, with the hope that users will seek a pathway out of drug use. They also concentrate drug use in controlled locations, reducing the public disorder associated with public injections and improper syringe disposal. According to New York City officials, no one has ever died inside a safe injection site.
The New York City Department of Health and Mental Hygiene plans to run a one-year pilot program establishing four safe injection sites, with one each in Manhattan's Washington Heights and Midtown neighborhoods, Brooklyn's Gowanus, and Longwood, in the Bronx --- all at sites currently run by community non-profits that offer needle-exchange programs and would run the "overdose prevention centers" with the city's blessing and a beefed up police presence nearby.
As DOHMH released a report studying the possibility and recommending the pilot, de Blasio, a second-term Democrat, gave his blessing, pending certain next steps. The decision immediately provoked blowback from Republicans and some moderate Democrats, like the Staten Island district attorney, Michael McMahon. Some don't want city government sanctioning any drug use, others worry about impacts on communities where the sites may be opened, either in the first round or beyond.
De Blasio has said that the program "will save lives and get more New Yorkers into the treatment they need to beat this deadly addiction." The city plans to open facilities only after a six-to-twelve-month period of outreach to residents of the planned neighborhoods, and once it receives a permission of sorts from the State.
Department of Health and Mental Hygiene Commissioner Dr. Mary Bassett discussed her support of the opening of the sites and the larger context of the city's efforts to fight drug abuse and addiction in New York City during a recent appearance on the "What's The [Data] Point?" podcast from Gotham Gazette and Citizens Budget Commission.
She said that a recent modeling exercise showed that these sites could save up to 130 lives a year. New York City recently reached record numbers of overdose-related deaths, with 1,441 New Yorkers killed in 2017.
"These deaths are all preventable and we want to ensure that people survive opioid use," she said. "These sites will save lives, they will reduce transmission of preventable diseases like HIV or Hepatitis B or C, and they will provide people with a first step towards being in a safer place, including being on treatment."
Bassett also said that the facilities would provide safety and protection for those struggling with addiction, particularly women, who may be subject to predatory activity while under the influence of opioids.
The plan, however, is contentious.
For one, it may violate federal law. The legality of safe injection sites has never before been tested in court, but a Department of Justice attorney in Vermont stated last year that workers at safe injection sites would be exposed to criminal charges, and the sites' property would be vulnerable to federal forfeiture.
Bassett said that the city has requested that the state Department of Health "provide a legal umbrella" for the plan, but that nothing has yet been developed.
"Unfortunately, the timeline is really dependent on actions that the city doesn't entirely control," Bassett said. "The mayor made a couple of conditions, he said that he wanted to see the state provide a legal umbrella for a demonstration project that Deputy Mayor Herminia Palacio wrote to the State Health Commissioner requesting this research designation and there's been some back and forth on that but it hasn't been acquired. The next thing was to have the elected official who represented the district where the OPC, as we call them now, was planned should support its implementation, and finally that there would be a community consultation process whereby communities can express their concerns and efforts can be made to address those concerns. That's the process but at the moment it doesn't have a timeline. Obviously as health commissioner, I'm confident that these would save lives."
Jonah Bruno, the New York State Department of Health director of communications, wrote in an email to Gotham Gazette that the city's plan is currently being evaluated.
"We are reviewing the City's proposal," Bruno wrote. "We support the mission of reducing opioid related deaths and have been studying multiple options for combating the opioid epidemic."
Special Narcotics Prosecutor Bridget Brennan highlighted the legal risks of safe injection sites during a televised forum on the opioid crisis broadcast by NY1 in May, during which Bassett also participated.
"First and foremost, they're not legal," Brennan said. "They're not legal under state law and they're not legal under federal law."
"When you look at the potential benefit from the safe injection site and you balance it off against the downsides," she continued, "I think you just come up saying, 'this just isn't a good deal.'"
The plan is also controversial for reasons beyond its legality. Bassett said that, while de Blasio supports the proposal, he has several preconditions for its enactment, including the approval of elected officials representing districts slated to host sites and the implementation of a community consultation process.
Bassett acknowledged on What's the [Data] Point? that the facilities would only be a relatively small part of the city's broader response to the opioid epidemic. While they are projected to save hundreds of lives, the city has thousands of overdose deaths to eliminate, and a much more expansive set of programs that opening the injection sites.
Last year, as part of its HealingNYC plan to reduce drug overdose deaths by 35 percent over the next five years, DOHMH unveiled a campaign to encourage judicious prescribing, including one-on-one educational visits with clinicians. Bassett said that doctors should prescribe opioids less often, for shorter durations, and at lower doses.
"[The overdose prevention centers] would never be enough, and we really shouldn't start thinking of them as a magic bullet," she said. "They're part of a multi-pronged response."
What it boils down to, Bassett said, is that people with a drug addiction "don't want to die. They want to be in a safe place...We want to make sure people survive opioid use."
[LISTEN: What's The [Data] Point? 1,441, with City Health Commissioner Dr. Mary Bassett]
***
by Jordan Kimmel & Daniel Yadin
@GothamGazette