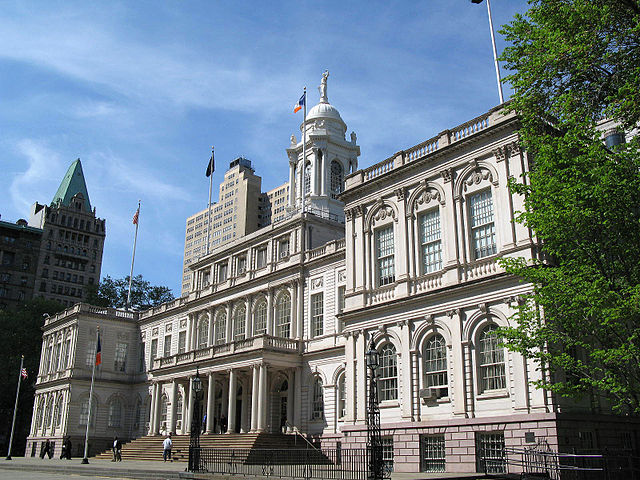 New York City Hall
---
What to watch for this week in New York politics:
This Thursday will be three weeks from primary day and campaigns are beginning to heat up. Candidates for state office continue to canvass for votes, announce new endorsements and appear at various issue-focused forums, and many have begun to level sharp attacks against their opponents. This last week, candidates filed their 32-day pre-primary campaign finance reports, showing how they've spent their campaign cash and how much they have left as elections get closer. The next round of fundraising and expenditure reports will be due September 4. Several candidates are also set to debate each other next week. Governor Andrew Cuomo will face his Democratic primary opponent, actor and activist Cynthia Nixon, in an August 29 debate hosted by WCBS. Cuomo's running mate, Lieutenant Governor Kathy Hochul will also appear at a debate with her primary opponent, New York City Council Member Jumaane Williams, taped on August 29 at Manhattan Neighborhood Network. That debate will air September 2. NY1 will host a debate on August 28 for the four Democratic primary candidates vying for the nomination for attorney general.
In government, there's also a few events to watch this week. Mayor Bill de Blasio is holding another "City Hall in Your Borough" week in Brooklyn. He held the last round in Staten Island in July. The mayor is expected to tour several locations across the boroughs with local Council Members, hold ribbon-cuttings and will likely announce several borough-focused initiatives. He is also holding a town hall in Canarsie on Thursday. He'll also likely face questions this week over his administration's announcement of its borough-based jails plan and an ongoing investigation into yeshivas which seems to have stalled.
It's a slow week at the New York City Council after a flurry of activity. Last week the Council passed a first-of-its-kind cap on for-hire vehicle licenses along with other regulations related to ride-hailing services such as Uber and Lyft. The City Council also launched the eighth cycle of participatory budgeting on Friday, seeking public input on projects to fund in 32 Council districts. Each district will receive $1 million in funding.
Governor Cuomo is in New York City on Monday with no events on his public schedule.
As always, there's a great deal happening all over the city, with many events to be aware of - see our day-by-day rundown below.
***Do you have events or topics for us to include in an upcoming Week Ahead in New York Politics?
e-mail Gotham Gazette editor Ben Max: This email address is being protected from spambots. You need JavaScript enabled to view it.***
The run of the week in detail:
Monday
Mayor de Blasio and many administration officials will be in Brooklyn this week for the second "City Hall In Your Borough" installment of 2018. Before he begins his Brooklyn week, however, at 10:30 a.m. on Monday, de Blasio will appear with State Assembly Speaker Carl Heastie and other elected officials including Public Advocate Letitia James and Comptroller Scott Stringer at the groundbreaking for the Edenwald YMCA in the Bronx.
At 12:30 p.m. Monday, Mayor de Blasio, Deputy Mayor Alicia Glen, Schools Chancellor Richard Carranza, Brooklyn Borough President Eric L. Adams and Council Member Rafael Espinal will deliver remarks at the groundbreaking for a new school in East New York.
From 5:00 to 6:30 p.m. Monday, the mayor will campaign with Zellnor Myrie, the Democratic primary challenger to state Senator Jesse Hamilton, at the Franklin Avenue subway station.
The mayor will make his weekly appearance on NY1's Inside City Hall on Monday in the 7 and 11 p.m. hours.
At 4 p.m. Monday, Lieutenant Governor Kathy Hochul will deliver remarks at the New York State Annual Recovery conference.
Tuesday
At 10 a.m. Tuesday, the Board of Standards and Appeals will hold a public hearing at 22 Reade Street in Manhattan.
At 6:30 p.m. Tuesday, Indivisible Nation BK and dozens of groups and clubs will host a forum for Democratic gubernatorial candidates at the Golden Imperial Palace in Sunset Park. Cynthia Nixon will participate; Governor Cuomo has been invited. The forum will be moderated by Gotham Gazette's Ben Max and Politico's Madina Toure.

From 5:30 to 8:30 p.m., NYC Transit President Andy Byford will host the first of a series of town halls on the MTA's "Fast Forward" plan to modernize city transit. The town hall will be held at the Milton G. Bassin Performing Arts Center at York College in Jamaica, Queens.
Wednesday
At 10 a.m. Wednesday, the City Planning Commission will hold a public meeting at 120 Broadway.
At noon Wednesday, Mayor de Blasio and Brooklyn Borough President Eric Adams will host a city resource fair at the Ingersoll Community Center in Downtown Brooklyn.
From 5-6 p.m. Wednesday on WBAI radio -- 99.5FM or wbai.org -- tune in for Max & Murphy, hosted by Gotham Gazette's Ben Max and City Limits' Jarrett Murphy.
At 6 p.m. Wednesday, the Panel for Educational Policy will meet at MS 131 in Chinatown.
Thursday
Mayor de Blasio will hold a "Brooklyn-exclusive local media roundtable" on Thursday morning as part of City Hall in your Borough.
At 10 a.m. Thursday, City & State will host its 2018 "Education Summit," discussing "critical issues such as school choice, closing the achievement gap, and school safety." Schools Chancellor Richard Carranza will participate in a one-on-one discussion with City & State editor-in-chief Jon Lentz. Other speakers will include State Education Commissioner MaryEllen Elia, UFT President Michael Mulgrew, City Council Members Mark Treyger, Brad Lander, and Donovan Richards, State Senators Jamaal Bailey and Marisol Alcantara, and Assemblymember Deborah Glick, among others. The event will take place at the Museum of Jewish Heritage in Battery Park City.
At 6:30 p.m. Thursday, Mayor de Blasio will hold a town hall meeting at the Hebrew Educational Society in Canarsie, Brooklyn, with City Council Member Alan Maisel, Brooklyn Borough President Eric Adams, U.S. Rep Hakeem Jeffries, State Senator Roxanne Persaud, and Assemblymember Jaime Williams.
At 7 p.m., Women's Health and Reproductive Rights (WHARR) will host a "Women Smashing the Status Quo" forum featuring Cynthia Nixon, Zephyr Teachout, Jasi Robinson and Julia Salazar, at Small City in Brooklyn.
Friday and the weekend
Mayor de Blasio may make his weekly appearance on WNYC's Brian Lehrer Show at 10 a.m. Friday.
***
Have events or topics for us to include in an upcoming Week Ahead in New York Politics? E-mail Gotham Gazette executive editor Ben Max any time: This email address is being protected from spambots. You need JavaScript enabled to view it. (please use "For Week Ahead" as email subject).
***
by Samar Khurshid and Ben Brachfeld
@GothamGazette