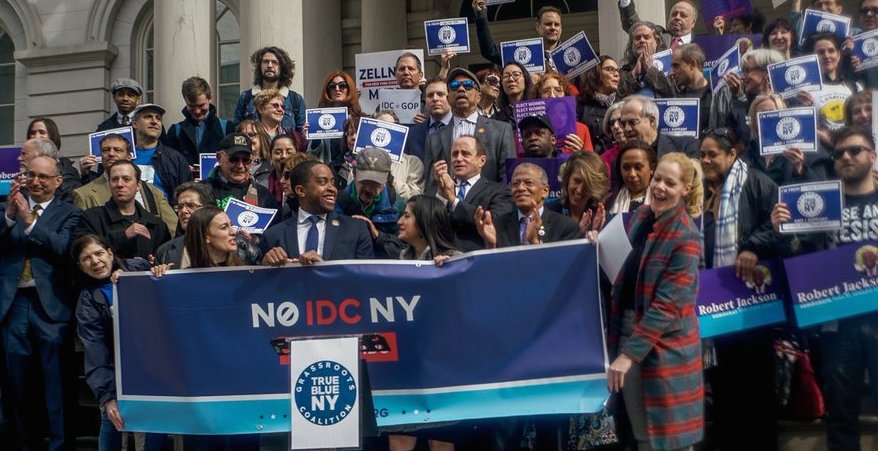 A 'True Blue' rally (photo: @indivisibleny13)
---
Prior to September 13, primary day, the True Blue coalition, made up of progressive activists from about 60 individual groups across the state, had one main goal: to depose all eight state Senators of the erstwhile Independent Democratic Conference (IDC) and another rogue Democratic Senator from Brooklyn, Simcha Felder, all of whom have bolstered and voted with the Republican majority. But after emerging victorious in six of those races, most of which came as a surprise, the activist network is turning its newfound influence and experience to the bigger objective of bringing the state Senate under outright Democratic control through November's general election.
"The plan only was the 'No IDC' races until Thursday," said Harris Doran, a steering committee member of No IDC NY and an activist at Rise and Resist, two groups that are part of the larger coalition. "Right now, we're all having conversations about what to do." That conversation kicked off in earnest on Tuesday night, Doran said, with an initial meeting that occurred just 48 days before Election Day, November 6.
Progressive activists have long blamed the IDC and Felder for allowing Republicans to hold the state Senate and block a slate of progressive legislation. Though the IDC rejoined the mainline Democrats earlier this year, activists sought to and succeeded in replacing many of them with Democrats who the activists saw expressing truer progressive bonafides. Even as those candidates seem set to win in the November 6 general, it would still leave the Democratic conference with 31 members in the 63-member Senate. Republicans have 32 seats including Felder, who handily beat his Democratic primary opponent, Blake Morris, and is expected to be easily reelected in November.
On Tuesday evening, dozens of True Blue coalition activists met to strategize about how they can carry their efforts forward. "What you have right now is the entire anti-IDC movement researching, analyzing, looking at all the candidates and deciding who we want to support and how, and how many," Doran said, before previewing an exceedingly ambitious goal. "One thing that was decided was that we don't just want to flip one seat, we want to flip nine...We want to get to 40 Democrats. We want more than just a majority."
He continued, "With the IDC races, a lot of people were new activists. Some people, it was the first time they ever door-knocked, the first time they did a lot of things. So now the entire movement is experienced and has won six really difficult races. So everyone's really excited to apply what we've learned and also grow and move forward."
A top Democratic party operative who wished to remain unnamed to discuss races candidly pointed to several districts where Democrats see an opening against Republican incumbents -- District 4, where Louis D'Amaro is challenging Sen. Phil Boyle; District 5, where Jim Gaughran is challenging Sen. Carl Marcellino; District 6, where Kevin Thomas is challenging Sen. Kemp Hannon; District 7, where Anna Kaplan is challenging Sen. Elaine Phillips; District 22, where Andrew Gounardes is challenging Sen. Marty Golden; District 41, where Karen Smythe is challenging Sen. Sue Serino; District 46, where Pat Strong is challenging Sen. George Amedore Jr.; and District 56, where Jeremy Cooney is challenging Sen. Joseph Robach.
There are also a few open seats that have become competitive battlegrounds. Those include District 3, where Monica Martinez, a Democrat, is facing off against Dean Murray, a Republican; District 39, where James Skoufis faces Republican candidate Tom Basile; District 43, where Democrat Aaron Gladd is going against Republican Daphne Jordan; and District 50, where Democrat John Mannion is taking on Republican Bob Antonacci.
The only race where the party may have to play defense, according to the source, is in District 8, where incumbent Democratic Sen. John Brooks is being challenged by Massapequa Park Mayor Jeff Pravato. Republicans also seem intent on challenging Sen. David Carlucci, a former IDC member who survived his primary challenge last week and is facing C. Scott Vanderhoef, a Republican, in the general.
On Tuesday, State Republican Party Chair Ed Cox told New York Now, "We've got a good chance with the Brooks seat in Nassau County and I think we have got a good shot where Scott Vanderhoef, the five-time elected county [executive] of Rockland County is running for the state Senate seat there. Of course, Senator Carlucci has had a tough primary and is wounded to begin with and that's a seat we've held before and I think we can win that one again."
All but the Golden race are outside New York City.
The True Blue activists, who engage in a variety of campaign tactics including door-knocking and phone-banking, have yet to settle on which races they'll jump into. "There are a lot of metrics involved, like the district's partisan lean and the issues that they support, and of course there are other aspects like where they are geographically and where we can have the most impact," said Mia Pearlman, co-leader of True Blue NY, an individual group from which the larger coalition drew its name. "Once the coalition groups decide where they want to put their energy, then we'll work on sort of helping each campaign," Pearlman said. "What we tried to do with the IDC challengers...is to get groups in the coalition to adopt a campaign and then put all their resources directly into the campaign."
Since these races span the state, the activists will look to get involved largely remotely, Pearlman said, including through phone-banking, text-banking, postcards, and fundraising. "Hopefully we'll also be going to some of these districts to help out," she said. In past cycles, volunteers have boarded buses from the city to spend days in swing districts canvassing, but a lot can be done remotely. The involvement of New York City-based activists can be used against the candidates they are seeking to help, as Republicans outside the city often tell suburban and upstate voters that a GOP Senate majority is the only thing keeping taxes from skyrocketing and city liberals from taking over all of state government.
True to recent form, the activists aren't looking to simply back any Democrat and, both Doran and Pearlman said, will be closely scrutinizing candidates to see who matches their priorities.
"It's very important to the coalition that we support true progressives so we will be vetting candidates based on their policy positions and where they've raised money and their endorsements," Pearlman said. "And we're also excited to find candidates who have a lot of grassroots support in their districts, if there is a grassroots, because I think that that shows the strength of the candidate who may be able to win regardless of what the metrics might seem to predict."
Pearlman emphasized that the decisions would be made independent of the state Democratic establishment, even if the coalition seeks advice on candidates. "While we are of course happy to talk to the establishment forces about who they would recommend, we have a great track record of helping candidates win who no one thought could possibly win in districts that people had completely written off."
"We have no interest in having potential Cuomo lackeys elected to office to do his bidding," Doran said, noting for example that Cuomo had urged certain candidates to run including Monica Martinez, and Peter Harckham, who is running against Republican Sen. Terrence Murphy in District 40. Doran didn't preclude the possibility of supporting those three candidates, noting that the coalition would evaluate each of them to see if they share their progressive values. "We don't want to risk having Senators that may not be called the IDC but could be IDC-lite Democrats in the State Senate," he said.
The Working Families Party, which was also instrumental in helping the various insurgent challengers against the IDC as well as Julia Salazar's defeat of incumbent Democratic Senator Martin Dilan, will also be heavily involved in the effort. "There are at least three of four top-tier Senate races that we think are very flippable," said Joe Dinkin, WFP campaign director, earlier this week. "I think the surge in turnout in the primary and the energy we're seeing on the ground is indicative of the fact that the blue wave is very real. We're gonna see a lot of Democrats turning out to vote and we have a really good shot to pick up seats in the state Senate."
Doran said, no matter the race, the effort will boil down to a robust ground game and voter contact campaign. "Nothing is stronger than going out and meeting people in the districts. People, not money, are the power," he said, echoing a line regularly used by Alessandra Biaggi, who defeated former IDC leader Jeff Klein in the marquee race of the Senate primaries. And though he wouldn't elaborate on specific tactics, he promised, "Obviously we will have some new fun surprises."
[Read: How Insurgent Forces Activated, Educated and Brought the IDC Down]
Note - This article has been updated to clarify Doran's comments related to three Democratic state Senate candidates.