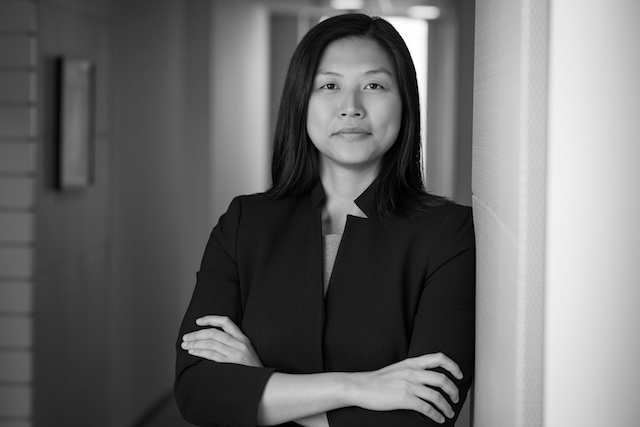 Kelly Jin (photo via the mayor's office)
---
After a yearlong vacancy in the position, Mayor Bill de Blasio named Kelly Jin as the city's new Chief Analytics Officer and Director of the Mayor's Office of Data Analytics. Jin, who started in her new position on Monday, replaced Amen Ra Mashariki, who left the position in 2017 to work in the private sector at mapping firm Esri.
While tasked with helping the mayoral administration effectively use data in governing, the position's most notable concrete responsibility is managing the city's open data program, wherein city agencies upload datasets to a public portal accessible online to everyone, as required by law. The program began in 2012 under former Mayor Michael Bloomberg, and was expanded significantly by the de Blasio administration through the "Open Data for All" plan.
The Open Data Portal currently hosts over 2,200 datasets from 98 different city agencies. The most recent annual report from the agency, filed last month, showed 629 datasets having been added by 38 different agencies, including data on taxi and for-hire vehicle trips, intimate partner violence at the community board level, and a large-scale measure of poverty in the city.
Agencies from the NYPD to the Department of Education to 311 have datasets on the portal, with some agencies having more than others. However, the program has faced criticism for not doing enough to ensure that agencies upload their datasets on time, and for the generally slow progress that has been made.
"Our data analytics team is a crucial part of bringing important city initiatives to life, tracking their progress, and finding new ways to understand the city through data," de Blasio said in a statement about Jin's addition to his team. "I know Kelly has the experience and the drive to use our data resources to help City Hall and city agencies make better decisions and craft better policies, as well as manage the largest Open Data program in the country."
Jin was most recently the "Director of Results-Driven Government" at the Laura and John Arnold Foundation, a philanthropic enterprise that promotes making decisions in government, science, and other areas by following evidence. She previously worked at the White House as a policy advisor to the US Chief Technology Officer under President Obama, and before that led the City of Boston's Data Analytics Team.
In a Tuesday interview with Gotham Gazette, Jin identified improving data infrastructure and integration of data between agencies as goals for her tenure with New York City. She also said she would seek to create better implementation tools, and use data to help agencies make better decisions.
"What I've learned across all the different orgs is that executives and leadership of the various agencies, they're looking for help around decision-making at the executive level," Jin said. "So, this is really, 'how can we use evidence and data and summarize that,' because this is not waiting a few months to hear about results, but is really about there are priorities, clear priorities here within the city and with the mayor that this team is already tasked with and helping to get data into the hands of executives, so that they can ask and answer better questions."
Jin noted work the unit has done with the Department of Transportation on Vision Zero as an example of the kind of data-driven policymaking she'd like to see expanded.
Jin, who reports to the Director of the Mayor's Office of Operations, Jeff Thamkittikasem, also noted that, since she only began working in the city this week, she hopes to set up meetings with agency officials to discuss plans for more effective compliance with open data targets and deadlines, and gain insights into the intricacies involved with the office and open data.
"I think that it is setting up some initial meetings on my end," Jin said. "I hope to get with those particular agencies pretty soon here as I get started."
The 19-month long vacancy in the position Jin now holds apparently did had little impact on the work of the seven person-strong team she's now leading in terms of the Open Data Portal: the 629 datasets published in 2018 represent a nearly fourfold increase over the 170 datasets released in 2017; 2016 saw 150 datasets uploaded to the portal. There are major deadlines to meet.
"The team, over the last year-and-a-half, has worked closely with the Mayor's Office of Operations, and so when it comes to reporting and compliance on open data, I know that the team has pushed forward on that work in partnership with the agencies to release different datasets," Jin said.
Jin said that she hopes to travel across the city to learn how data can be used to improve people's lives, and said she would like to hold town hall meetings, something Mashariki also did.
"I'm open to ideas. If there's a quote from me here, it's I'm open and have open ears for additional ideas," Jin said. "I think right now, the possibilities here of getting out and talking to different stakeholders, and town halls, definitely going to be doing a circuit through the different boroughs to get a better understanding of what data and what policies are impacting folks."