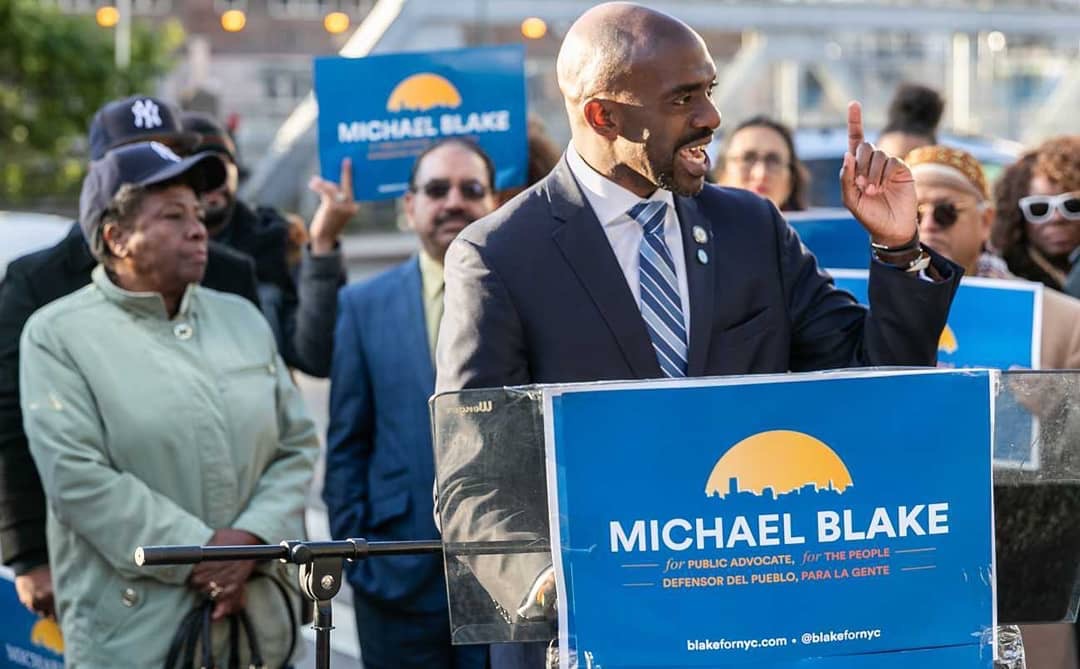 Michael Blake (photo via Blake campaign)
---
Michael Blake wants to bring his experience in federal and state government to city government as the next Public Advocate of New York City. Currently a member of the state Assembly from the Bronx, Blake worked in the administration of President Barack Obama before he became a political consultant and successfully ran for Assembly, defeating the chosen candidate of the political machine in his home borough thanks to a variety of factors, including his national network and fundraising prowess.
With the anticipated ascension of Public Advocate Letitia James to state Attorney General via November's election, Blake declared his candidacy for the special election that would occur in February if James is indeed successful.
After visiting five boroughs Sunday, including a cold but lively rally in the Bronx, Blake spoke with Gotham Gazette on Monday about his campaign and how he would shape the public advocate's office, one of just three citywide elected positions, but one with limited defined powers and resources.
Blake said his focus would be "jobs and justice," naming issues such as improving conditions at public housing, monitoring the closure of Rikers Island jails and pushing related criminal justice reform, altering the specialized high schools admissions process and improving the quality of K-8 schools, enhancing opportunities for women- and minority-owned businesses, more transparency at the city Department of Education, and holding the MTA accountable for better transit service. He touted successes he says he's had in the Assembly on several of those issues, especially securing more funding for NYCHA, boosting MWBEs, raising the age of adult criminal responsibility, and bringing to New York Obama's My Brother's Keeper initiative that focuses on empowering young men of color.
"I want to be someone that champions causes that people might not be attentive to and might not be fighting for in the way they should," Blake said, promising to be a "very proactive" public advocate. "Whether that is changing it through legislation in the City Council, whether it be pushing for our colleagues in the state government to make those changes...and, frankly, we can't ignore the impact of the federal government on our livelihood in the city."
Would he be ready to call out the administration of Mayor Bill de Blasio or any other mayor? "I think of anyone that's been talking about running, I think I have a pretty good track record of calling out the administration on things that they've been wrong on," he said, going on to contrast himself in particular to former City Council Speaker Melissa Mark-Viverito, who is exploring a run for public advocate and Blake indicated he thinks is too close to de Blasio.
Blake said that "criminal" activity had taken place as NYCHA officials "lied" about elevated lead levels in housing developments. Of course he would call out the city administration on such issues, he said.
"Now, do I think that you need to go down a road where you're picking fights unnecessarily? Absolutely not, but when someone's done something wrong you call it out," he said. People just want help, however you have to get it done, Blake said, arguing he is uniquely situated to best pull the levers of government at all levels.
Success as public advocate would look like helping to "truly transform what's happening with NYCHA," Blake said, along with impacting how the school system is functioning, especially with regard to literacy rates, middle school quality, and college- and career-readiness, among other goals.
On criminal justice, Blake said he absolutely wants to see the Rikers jails closed, but that he has questions about the city's plan to do so. "Building new mini Rikers is not fixing the problem," he said. "I have repeatedly asked the mayor directly, [First Deputy Mayor] Dean Fuleihan and all of their team, 'Why do you need to build new jails?'"
Blake cited the high percentage of people detained at Rikers that are not convicted of any crime, mostly locked up because they can't afford bail. "We're not having a real conversation around incarceration," he said, "when you actually look at the numbers, the city's on record with me, that they can get to this 4,500 number [of detainees] without state policy changes, they can do that through administrative changes." Combine that city action with what a Democratic state Legislature may be able to do if the elections go the party's way, he said, "so you then have speedy trial and bail and open discovery," and the inmate population gets lower and lower -- "then you have not demonstrated why you need new jails."
Blake pointed out that a commission led by former Chief Judge Jonathan Lippman, empaneled by Mark-Viverito, had recommended a small jail on Staten Island, part of having a jail in each borough near the courthouses. "If we're really talking about equity, why are we only talking about four places?" Blake said. "Because of the politics, the politics of it. When we think through the dynamics, the conversations that people don't want to have, is it really a development deal? Is it that they just want to find a way to get access to the land at Rikers?"
On the controversial topic of admissions to the city's specialized high schools, Blake said it should move away from a single test. "It should be multi-measured," he said. "It should be assessed on your grades, it should be assessed on writing samples, it should be assessed on, yes, the exam being one part of that. It should be assessed on an interview." He spoke of personal experience, saying, "The notion that one exam would determine who I am, I think that's pretty ridiculous. I recognize, I'm one of the kids who made it. I grew up in the hood, I got a chance to work for a President, I came back home. I'm not the anomaly in terms of having the capability, I'm just maybe the anomaly in having access to the opportunity."
He said having a man of color as public advocate would be a good thing for the city.
He also said he wants to see a "Rooney Rule" -- a mandate in the National Football League (NFL) that teams must interview a candidate of color for a head coaching vacancy -- for mandating that for most government contracts one finalist must be an MWBE firm.
Blake is sure to promote these policy positions on the campaign trail -- he indicated he's excited to travel around the city making his case, including at what could be a dozen or more candidate forums as community, advocacy, and other groups seek to have public advocate hopefuls appear before them. If James wins on Election Day, November 6, she would likely not vacate her position until she is sworn in at the beginning of January, which would then trigger the short process whereby the mayor must declare a special election for mid-February.
That special election would be nonpartisan, meaning no party primaries and each candidate must run on a ballot line of their own creation -- there would be no Democratic or Republican nominee, for example. The special election would fill the position for the rest of 2019, with a regular election in the fall of that year to determine who would complete the rest of James' term, which runs through 2021, the next city election year.
Roughly a dozen potential candidates have been rumored or confirmed they are running or exploring it. Along with Blake, Brooklyn City Council Member Jumaane Williams, fresh off a campaign for lieutenant governor, declared his candidacy for public advocate this week. Activist and journalist Nomiki Konst had previously declared, while Manhattan Assembly member Daniel O'Donnell had already announced his exploration of a bid, and several others, like Mark-Viverito, have told media outlets they are examining the possibility. Those names include a slew of other City Council members beyond Williams. Brooklyn Borough President Eric Adams is also rumored as a possibility, though he has previously indicated he would be running for mayor in 2021, which would not be ruled out if he ran for public advocate and won.
Blake expressed confidence about his chances.
"There are a lot of people around New York and around the country that will be excited" about his candidacy, he said, when asked if he thought his ability to raise money would again be a major benefit, especially in a shortened campaign. He pledged not to take money from corporate PACs.
In 2013, Blake managed the public advocate campaign of Reshma Saujani, who was among those who lost to James in the Democratic primary. Blake gained insights into running a citywide race, especially learning the intricacies of the city's many neighborhoods.
He said he will be able to build the coalition needed to prevail. "When you look at a path to victory, our work with our communities of color across the city...we're able to build up a lot of local support, some of them not ready to be public [yet]." Blake acknowledged a need to do well in Brooklyn, Southeast Queens, Harlem, his hometown of the Bronx, and among "white progressives."
"You have to be a masterful organizer. We're talking about a race that could be in the dead of winter in February, you have no idea what the weather is like...and nothing else on the ballot...and we have a very good track record of mobilizing," he said. "We're ready to build."
One key to Blake's Assembly win in 2014 was the support of the large and influential 1199 SEIU labor union, of which Blake's late father was a longtime member. Blake expressed some cautious optimism about again earning support from 1199 and others, citing the presence of a leader of Local 372 of DC37 at his kickoff rally.
"We're going to show, very intentionally and methodically, the pretty widespread support that we're ready to roll out pretty quickly across unions and across all different coalitions," Blake said.
Asked about his role with the Democratic National Committee, where he is a vice chair who travels the country giving pep talks, leading trainings, and helping to organize, Blake said that much of that will calm down after the midterm elections in November. He also said his priority would be the role of public advocate, which is different than the technically part-time position of state Assembly member, and comes with a much higher salary to boot. Blake has done some consulting while in elected office and has a significant tax debt to New York State that he said stems from residency issues he worked out several years ago and he's been paying down. He added that it could be advantageous to both the national party and the city for him to hold both roles, noting that he had succeeded as a vice chair the former mayor of Minneapolis.
Blake repeatedly indicated that his state and national experience would be advantageous to both his campaign for public advocate and in filling the role if elected, given that the city is so reliant on the state and federal governments. He also said he thinks his independence will stack up well against potential competition when it comes to the de Blasio administration -- the public advocate is expected to hold the mayor accountable, though different officeholders have approached it differently.
"When we think about the dynamics about others that consider running, it would be hard for them to convey that they have independence from the mayor," Blake said. "I mean, pretty consistent track records, many of them have demonstrated being closely aligned."
"I am ready to hold them accountable," he said of the city administration. "But it's not just about holding people accountable, you have a plan of action, it's a very concrete thing."