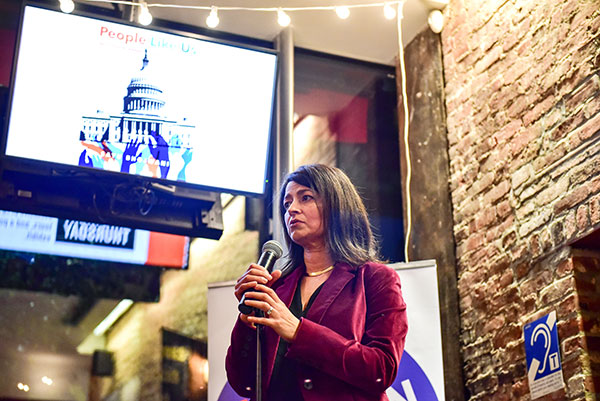 Sayu Bhojwani (photo: Sean Zanni)
---
On the same day the planes struck the World Trade Center on September 11, 2001, Sayu Bhojwani cast her first ever ballot in an American election.
It was a series of strange coincidences for Bhojwani: a newly naturalized citizen voting for the first time, a tragic event triggering a hostile and xenophobic environment for many immigrant communities in New York, and a referendum on the ballot that fateful Tuesday that would establish an Office for Immigrant Affairs in the city Charter – the very office Mayor Michael Bloomberg would appoint her to helm as the first commissioner just six months later.
"Had I been appointed commissioner a year earlier, before September 11, it would have felt very different," said Bhojwani, 51, at a recent press conference with NYU journalism students. An Indian immigrant from Belize, she first arrived in the U.S. at age 17 for college. "The symbolism of someone from my community being in that position was far more important than I realized to the community," she said.
Bhojwani has been busy in the 14 years since her two-year stint as the commissioner of the Office of Immigrant Affairs, where she acted as a liaison between the Bloomberg administration and the city's many immigrant communities and an advisor to the mayor on related policy. This month, the New Press published her debut book, "People Like Us: The New Wave of Candidates Knocking at Democracy's Door," a quasi-how-to-run manual centered on immigrant experiences in politics. Much of the book's anecdotes come from candidates who worked with New American Leaders, the non-partisan organization Bhojwani founded in 2010 that trains immigrants and other underrepresented communities to run for office.
Her timely appointment as the first commissioner of Immigrant Affairs in New York City may seem serendipitous, but the main tenet of "People Like Us" is not to say that representatives from marginalized communities are elected through happenstance. Rather, her book highlights the unique struggles that distinguish candidates of color – and, in particular, those with immigrant backgrounds – from the usual players and power-brokers within the political system.
So often, immigrants running for office face what Bhojwani calls "our own glass ceilings," a psychological barrier that keeps candidates from believing that they are ready to serve in public office. But there are also systematic setbacks, like a lack of financial means to run a competitive campaign, that keep people from entering the political arena. Candidates of color often do not have the same access to wealth as white candidates, they are often not part of the same networks of power.
"We don't realize that it's a system. That's the problem," Bhojwani said. "We think, 'Oh, it's us. If only I had more networks. If only I studied more.'"
Bhojwani mentions that New York City dismantles several institutional setbacks present in other places or levels of government. The city has term limits and a public financing system for municipal positions, pays good salaries, and is home to single-member districts – all of which help to prime the political arena for newcomers.
Still, New York can do better, Bhojwani argues, at both the city and state levels.
In 2015, Latinos made up 8 percent of the New York State Legislature although they composed nearly 19 percent of the state's population, according to a study conducted by the National Conference of State Legislatures and the Pew Charitable Trusts. Additionally, only two Asian-American representatives, Assemblymembers Ron Kim and Yuh-Line Niou, currently serve in a Legislature of 213 seats. And in a city where women are over 50 percent of the population, only 11 of the City Council's 51 members are female. In fact, the underrepresentation of women in the City Council spurred 21 in '21, an initiative launched by former City Council Speaker Melissa Mark-Viverito and others to elect at least 21 women into the Council by the year 2021, which is the next city election cycle.
Along with underrepresentation in New York government, newcomer candidates must also overcome the challenge presented by establishment-backed competitors, including incumbents, and the state's well-oiled Democratic machinery.
"The Democratic machine is incredibly strong in New York," Bhojwani said. However, in the wake of a robust primary season that saw insurgent, progressive challengers unseat a web of incumbents in the State Senate as well as long-time Congressional Rep. Joe Crowley, she added, "I think everything is topsy-turvy this year."
Candidates like Alexandria-Ocasio Cortez, who defeated Crowley, and Julia Salazar, women of color who both handily defeated Democratic incumbents in their respective district primaries after campaigning on their immigrant backstories (Salazar with much controversy), are part of this reactionary wave of young progressives aiming to carve out a place for themselves and their community in the political landscape.
After the 2016 election of President Donald Trump, Bhojwani said that New American Leaders (NAL) experienced an 80 percent increase in the number of applications that same year.
Catalina Cruz – likely to become the first 'Dreamer' to serve in elected office in New York after winning her primary election for State Assembly in a Queens district including neighborhoods like Jackson Heights, Elmhurst and Corona – tapped into NAL's network after deciding she wanted to run in November of last year.
"The importance of having a program that recognizes the uniqueness of the immigrant experience of trying to run for office, it's key at getting more immigrants and people of color to actually run for office," Cruz said of NAL in comparison to other candidate-training organizations.
At a weekend-long conference hosted by NAL, Cruz gained crucial insight on how to run a campaign and to navigate different elements of the political system. The path to political office is a trail she says is tread upon differently by women of color and, particularly, those from low-income backgrounds, than by traditional politicians. Asking for campaign donations, for example, was a psychological barrier she had to overcome. "When you grow up poor, like a lot of us did in [NAL's conference], you have a very different relationship with money," Cruz said. "So asking for donations is not the easiest thing to do because you are taught that nobody outside your house was supposed to know you're having money issues." For Cruz, NAL's training session helped to unpack this key campaign component.
"What we face when we walk in a room in politics is very different than people who are not immigrants," Cruz said.
NAL training sessions – which require a $150 registration fee, although waivers are available for those who can't afford it – hone the skills that potential candidates already have. The workshops also provide resources for the basics of running a campaign, such as public speaking, fundraising, and campaign messaging.
The organization emphasizes the importance of preserving a candidate's story. "There's a lot of whitewashing that happens of candidates," Bhojwani said. "We really emphasize the importance of showing up the way you are and talking about it."
NAL has trained over 600 people since its inception in 2010, with 63 alumni in elected office. One of them is Carlos Menchaca, the City Council member for Brooklyn's District 38, who is also the city's first Mexican-American in public office and the first openly gay Council member from Brooklyn.
"One of the biggest influences that the New American Leaders has had on me is helping me realize how powerful my immigrant story is," said Menchaca, who is featured in Bhojwani's book. "That can be one of the most powerful things that can happen in a campaign running for office."
When Menchaca first ran for City Council in 2013, he attempted to unseat incumbent Sara Gonzalez, a daunting task that he took on with enthusiasm and skill, but no infrastructure. Menchaca started small. He called his friends, old classmates, people who knew him, and asked each for a $38 donation for the 38th district. "That's the thing about the New American Leaders," Menchaca said. "They make you realize that you have a powerful network of people who believe in you and and that share the values that you have." Within the first two weeks, Menchaca raised $40,000 – twice the required amount needed to run – for his campaign.
He ended up winning a hard-fought primary, the only candidate to unseat an incumbent in that year's primaries, and went on to win the general election with 90 percent of the vote. However, unseating establishment-backed incumbents -- or any incumbents, really -- is "not the kind of thing that happens regularly in New York," Bhojwani said.
"Machine politics are very strong with the caveat that the ground is shaking beneath us right now," Bhojwani said of 2018.
What comes next is unclear. While NAL experienced a surge of applications in the wake of Trump's inauguration, it is still hard to generalize an entire movement or to predict its trajectory in dismantling a system of barriers for immigrants in U.S. politics, Bhojwani said.
"I think about the work we do as being about expanding the tent of democracy…rather than saying, 'OK, I'm going to run and I'm going to get South Asian voters to support me,'" Bhojwani said. "That is not how Catalina or Alexandria…won, right? They won by inviting more people to participate."