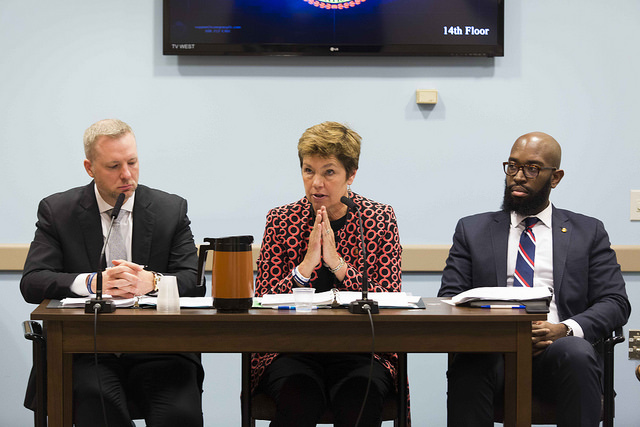 Veterans Services Commissioner Loree Sutton, middle (photo: Emil Cohen/City Council)
---
The New York City Council's Committee on Veterans met Monday to discuss a bill that would require the city's Department of Veterans Services to release an annual report detailing certain information about its work to help the city's military veterans, including the number of its employees and types services it is providing.
The chair of the committee, Council Member Chaim Deutsch, a Brooklyn Democrat, advocated for the bill, Intro. 1118, as a necessary step toward better understanding of what DVS is doing and what may be needed to improve services for veterans. However, DVS Commissioner Loree Sutton suggested that an additional report would be redundant, as DVS is already required to give a report to the committee under law (Local Law 23 of 2015, introduced by Council Member Paul Vallone, a Queens Democrat) and it also takes part in the Mayor's Management Report, which gives detailed accounts of city agencies and their effectiveness.
"Currently, City budget documents and the MMR include most of the information sought through Intro. 1118," Sutton said. "While DVS looks forward to continued collaboration with the City Council concerning DVS personnel and performance metrics, we are confident that these aims can be best achieved through existing reporting mechanisms."
The bill would specifically ask for the title of and services provided by each employee, as well as the number of veterans and families to whom services had been provided and how they learned about the services.
Most of this information is indeed available elsewhere. The Mayor's Management Report gives a summary of the services provided by DVS, the number of veterans and their families engaged by DVS and the number of them given assistance. When it comes to DVS employees and their titles, those can be found on the department's website. However, this leaves questions concerning how the veterans and their families learned about services provided by the department and what services each employee specifically provides unanswered.
While Sutton believes any additional information should simply be added to the current required report, Deutsch said the bill is an important step forward.
"I think that this bill is a step forward to receiving the information that we need and we deserve and the veterans deserve," Deutsch said. "And this way we can better continue to understand what the issues are and how we could better implement [solutions in] some of the areas that need improvement."
After discussion between Deutsch and Sutton, the committee allowed advocates to voice their views.
President and Founding Director of NYC Veterans Alliance Kristen Rouse said the bill does not require enough reporting on the part of DVS.
"We state our strong support for this committee providing oversight of the services provided to veterans and their families by DVS and other city agencies, programs, and funding," Rouse said. "We are, however, uncertain of whether Intro. 1118 or other recent bill proposals will effectively accomplish the oversight and accountability that our community has called for and deserves."
Rouse went on to mention that the information DVS provided the committee under Local Law 23 had not yet been made publicly available, and that even better than the proposed bill would be "for this committee to examine ways it can further empower DVS to accomplish its mission." Asking for the report to be made public, better tracking of services provided by DVS through VetConnect, and the creation of an Agency Chief Contracting Officer to manage city contracts for veterans services, Rouse proposed multiple reforms to which Deutsch responded, "we'll have the committee get back to you."
Director of the Veteran Advocacy Project Coco Culhane said her organization "supports the introduction of Local Law 1118 and believes that DVS reporting on even more figures than they already do will benefit the entire community."
Senior Veteran Transition Manager of the Iraq and Afghanistan Veterans of America Vadim Panasyuk noted the redundancy of the bill Sutton alluded to earlier, suggesting that different metrics should be used to better evaluate DVS.
"IAVA supports the intent behind this bill," Panasyuk said. "However, it appears that it is somewhat redundant as some of the data is already available, and does not require the reporting of necessary metrics to accurately evaluate this department's performance and many of its various initiatives."
Panasyuk would like to see more qualitative data used in conjunction with "organizational and programmatic" metrics in order to better understand the population being served by DVS and the needs of that population.
Another adjustment to the bill was suggested by Vallone, who said it was "critical" that they incorporate a requirement for DVS to distinguish in reports which veterans found them through sister agencies and which came directly to them.
Ashton Stewart, coordinator with SAGE Vets Program, an LGBT veterans advocacy group, also requested a more detailed report. "This bill is just a start of the reporting, we need to start from somewhere," Deutsch said.
Earlier in the hearing, other topics were discussed as part of oversight by the committee. Deutsch expressed concern over a decrease in applications for and awards of vending licenses to veterans, and inquired about why significantly more veterans where using federal housing vouchers in the Bronx than any other borough. Sutton commented on the delay of federal GI Bill housing allowances for student veterans, noting that DVS would collaborate with the Department of Social Services to attempt to allocate resources towards supporting students negatively affected by the delays.