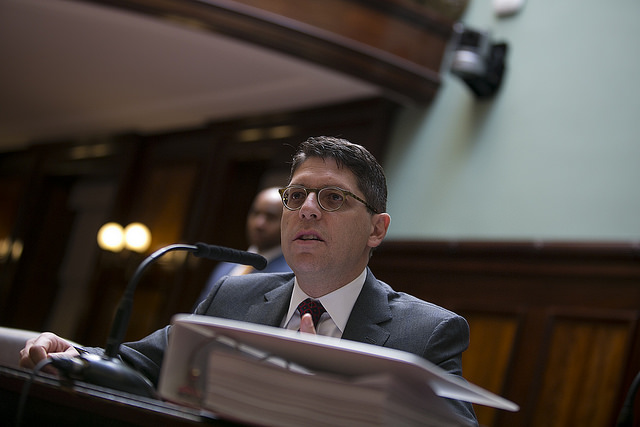 Mark Peters (photo: William Alatriste/City Council)
---
Department of Investigation Commissioner Mark Peters, in his final days on the job after Mayor Bill de Blasio fired him on Friday, refuted the mayor's stated reasons for the termination in a bluntly worded letter sent Monday to City Council Speaker Corey Johnson and Council Member Ritchie Torres who chairs the Committee on Oversight and Investigations, and released to the news media (read the full letter below).
Peters, who was once treasurer to de Blasio's first mayoral campaign, has had a tense relationship with City Hall over the last few years. Under his leadership, DOI has conducted several investigations into city agencies that have angered the mayor and embarrassed his administration. Peters was asked to resign Friday afternoon but refused, following which he was terminated in a meeting with First Deputy Mayor Dean Fuleihan. De Blasio announced that Margaret Garnett, New York State's executive deputy attorney general for criminal justice, was being nominated to replace him -- the DOI commissioner is the only city agency head that must be approved by the City Council.
Along with repeated clashes with City Hall, part of the pretext for Peters' firing was the finding of an independent investigator that the DOI commissioner overreached his authority and made misleading statements to the City Council and to top administration officials about his attempt to bring a Department of Education investigative office under his control. "The DOI Commissioner is supposed to be most pristine of all – that's not pristine," de Blasio said at a Friday news conference, where he said he regretted appointing Peters to the post and explained his decision to fire him.
Under the city Charter, Peters was allowed an opportunity to give a public explanation. In his letter on Monday, he pointedly sought to rebut the administration's rationale for letting him go. He insisted that the independent investigator's report on his actions, while pointing out issues for which he had apologized, "contains multiple factual errors that the Mayor now repeats" and said that the mayor's interactions with DOI and current investigations into the administration "must cast doubt upon the Mayor's true motives." Peters said the mayor's actions could have a chilling effect on the independence of the next DOI commissioner and said he was willing to appear before the City Council to apprise them of investigations into the administration "so that the Council at least has a record of these investigations in the event that they are unreasonably delayed or discontinued by my successor."
He detailed interactions with the mayor and other members of the de Blasio administration, including one phone call on which he alleges de Blasio screamed at him over an imminent report and instances whereby he alleges that administration officials repeatedly attempted to stop him from releasing damning reports, such as those into NYCHA and the Department of Correction.
"The suggestion that anyone at City Hall – including the Mayor – tried to stop any DOI review is entirely false," de Blasio spokesperson Eric Phillips said in a statement Monday morning. "What is not in question is that Margaret Garnett is the most qualified, independent person to lead DOI and restore credibility in its important work."
Council Member Torres, in a statement on Monday, said Peters' letter "reveals a pattern of interference with DOI investigations and intimidation against DOI officials that borders on the unethical and should be illegal." He did not, however, say whether the Council would call Peters in to testify at a hearing.
Peters' full letter: