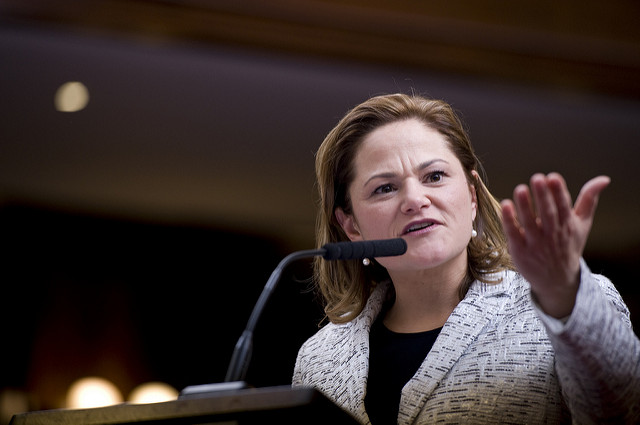 Melissa Mark-Viverito (photo: William Alatriste/City Council)
---
Former City Council Speaker Melissa Mark-Viverito announced her bid for Public Advocate on Tuesday, becoming the latest candidate to throw their hat in the ring for the wide open race to succeed Attorney General-elect Letitia James.
Mark-Viverito, a Democrat who served as speaker from 2014 through 2017 and has since served as Vice President of the Latino Victory Fund, which seeks to elect more Latinos to office, launched her campaign with two exclusive interviews, a Twitter video, and an event at the Borough of Manhattan Community College, where on Tuesday evening she was surrounded by several elected officials, including Diana Ayala, her successor representing the 8th Council District in East Harlem and the South Bronx, as well as activists and supporters.
Also in attendance was Carmen Yulín Cruz, the mayor of San Juan, Puerto Rico, who has been close to Mark-Viverito.
"New York is a great city," said Yulín Cruz, introducing Mark-Viverito in front of about 100 supporters. "I used to love New York, now I adore New York. But like every great city, you need somebody to advocate for you, you need somebody to fight for you, you need somebody to bring people together."
Mark-Viverito is pitching her candidacy for the office, which is largely defined by the officeholder and generally tasked with being a watchdog over the mayoral administration, as someone who will be honest with New Yorkers, as she promised to do in her launch video, and who fights on behalf of women, immigrants, LGBTQ individuals, subway riders, public housing residents, and others.
The former speaker immediately jumps toward the top of a crowded pack of candidates vying to become of one just three citywide elected officials in a race that is difficult to forecast and will likely be decided by a very small percentage of voters during the February special election.
Mark-Viverito's following among progressive activists, support from elected officials, relationships with labor unions and other groups, and significant campaign war chest offer her advantages, though the bulk of the short race is yet to unfold and Mark-Viverito has never run a borough-wide or citywide race. She will likely face questions about her closeness to Mayor Bill de Blasio, who helped her become Speaker but whom she has battled on several fronts over years and criticized in starker terms of late.
In her kickoff speech, in which she occasionally repeated lines in Spanish, Mark-Viverito identified several issue areas that she would prioritize as Public Advocate, including transit, housing, immigrant rights, and criminal justice reform, among others.
"Our elected officials keep telling us the subway is getting better. They keep saying affordable housing is growing. They keep saying NYCHA repairs are speeding up. Here's the problem: instead of the truth, we get excuses. Instead of fighting for you, we get leaders who are protecting the bureaucracy or bickering endlessly among themselves," Mark-Viverito said. "I'm running for Public Advocate because I want to speak up for you."
She noted her early advocacy for closing Rikers Island as a high point of her speakership.
"In 2016, I was the first citywide official to call for closing Rikers Island and to put forward a plan to make it happen—and Mayor de Blasio said it was a 'noble idea,'" she said. "But we brought community activists and elected officials to the table and pushed forward—and now Rikers Island is closing for good."
Mark-Viverito also noted her work to decriminalize certain low-level offenses like littering or public drinking, and to provide immigrants facing deportation with attorneys. She also noted work she's done on the federal level since leaving office to oppose the Trump administration's policies, especially on immigration.
Mark-Viverito has recently come out forcefully against the deal to bring Amazon to Long Island City, referring to it earlier this month as "$1.2 billion to lure a company that exploits working people and destroys organized labor," and using "DeBezos New York" to reference both de Blasio and Amazon CEO Jeff Bezos and make the point that the mayor was giving away too much to the e-commerce giant.
"As your Public Advocate, I will speak up for New Yorkers who are sick and tired of the city giving billions in tax breaks to Amazon and ignoring community input instead of investing in crumbling infrastructure," she said, "when we all know Amazon deserves tax breaks about as much as Donald Trump deserves a medal of honor."
In her launch video, Mark-Viverito also made reference to the constant fighting between de Blasio and Governor Andrew Cuomo, promising to be a voice for New Yorkers sick of their squabbling who simply want solutions.
While Mark-Viverito became Council speaker as de Blasio's pick over the objections of the party machines that normally choose the speaker, and was at times criticized for being too close to the mayor, she did take de Blasio on in several instances, including pushing for the closure of the Rikers jails, a cause de Blasio eventually backed. And despite pushing the aforementioned criminal justice reforms, she occasionally drew criticism from progressives on police-related matters, including her shepherding the addition of 1,100 new officers to the NYPD force -- another instance where she moved de Blasio to her position.
Though Mark-Viverito was hesitant to publicly criticize de Blasio's controversial fundraising practices, which were the subject of law enforcement investigations but no charges against the mayor, she did move through legislation that changed the laws around how elected officials can raise money for political groups that push their agendas.
One key element of Mark-Viverito's opening pitch to become Public Advocate is diversity in city leadership, where the mayor, comptroller, and her successor, Council Speaker Corey Johnson, are all white men. James, the outgoing public advocate whom Mark-Viverito supported for attorney general, is an African-American woman and Mark-Viverito has made electing more women to office a key focus.
"As the state and the nation move in one direction, our city is slipping backwards," she said, referring to the fact that more women were just elected to Congress and the state Legislature. "When I first arrived in the City Council, we had 18 women out of 51 members. Today, we have just 11 women in the Council. And as Tish James vacates the Public Advocate's office, we will have three white men occupying all citywide positions of leadership. How can this be? In a city as diverse, as progressive, as fierce as New York—we cannot let this stand."
Both in her launch video and her speech, Mark-Viverito stressed both that she is "aggressive" and that she has received sexist criticism because of it.
Once James vacates the office at the beginning of the new year, Johnson will assume responsibility for the office of Public Advocate until the February special election, the date of which will be set by the mayor right after James moves on.
The public advocate field appears that it will be large, though some candidates who are exploring or declared may not wind up seeing a run through. In fact, just after Mark-Viverito spoke in Manhattan, Assemblymember Latrice Walker declared her candidacy for Public Advocate during an interview on NY1. Walker and Mark-Viverito join a field that includes declared or exploring candidates such as City Council Members Jumaane Williams, Rafael Espinal, Ydanis Rodriguez, and Eric Ulrich; Assemblymembers Michael Blake and Danny O'Donnell; activist Nomiki Konst, attorney Dawn Smalls, historian David Eisenbach, attorney and Obama and Clinton administration alum Dawn Smalls, entrepreneur Theo Chino, civic technologist Benjamin Yee, and de Blasio administration alum Ifeoma Ike.
Ben Max contributed to this article.