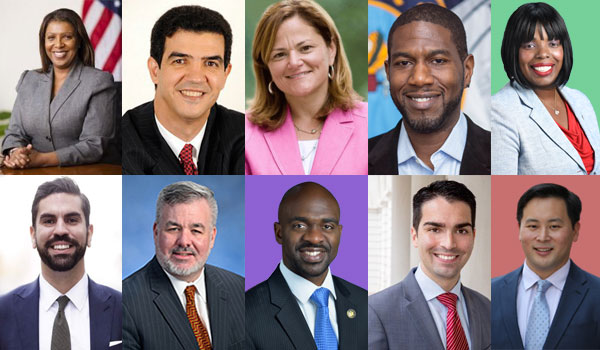 (l-r) Tish James, Ydanis Rodriguez, Melissa Mark-viverito, Jumaane Williams, Latrice Walker
Rafael Espinal, Danny O'Donnell, Michael Blake, Erich Ulrich, Ron Kim
---
There are roughly two dozen candidates who have officially declared or indicated they are exploring a run in the February special election for New York City Public Advocate, which will take place Tuesday, February 26.
Attorney General-elect Letitia James officially vacates the office of New York City Public Advocate on January 1, setting off the next steps of the process, whereby Mayor Bill de Blasio will officially call what will be the first citywide special election since the current city governmental structure was designed in 1989.
Candidates have already been hitting the forum and debate circuit, with groups and voters across the city eager to hear from those seeking to become of just three popularly-elected citywide officials. The Public Advocate is significantly less powerful than the Mayor or the Comptroller, but has a citywide perch, important responsibilities as a watchdog and ombudsperson, the power to introduce legislation and file litigation, and a bully pulpit. People who have held the position in its relatively short history have been elected mayor (Bill de Blasio) or almost so (Mark Green), and now attorney general.
It won't be completely clear who is fully running to become the next Public Advocate until candidates collect signatures to get on the ballot and file their fundraising numbers with the Campaign Finance Board. Special elections in the city are "nonpartisan," meaning there are no party primaries and candidates cannot run on the major party ballot lines. Each candidate will create their own party label to run on, and they'll need to collect 3,750 valid signatures from registered voters of any party (or none) to make the ballot.
Declared and exploring candidates include several current and former elected officials and a variety of other individuals looking to pull off a surprise win. With the prospect of well more than ten candidates on the ballot and low voter turnout virtually a given, the winner of the special election could be anyone who finds the right formula for the necessary thousands of voters.
The winner of the special election will quickly have to win a regular election, though, since city law dictates that for such a vacancy, there is not only a special election but then a regular election, with party primaries if needed, the following fall. So, there will be an election for Public Advocate in November, with September party primaries if necessary, in the fall of 2019.
Below is a running list of candidates, either declared or exploring, for the Public Advocate special election (in alphabetical order):
-Manny Alicandro is an attorney who recently sought the Republican nomination for attorney general. @Manny_Alicandro
-Assemblymember Michael Blake represents part of the Bronx and is also a vice chair of the Democratic National Committee. @MrMikeBlake
-Theo Chino is a bitcoin entrepreneur and county committee member. @theochino
-Daniel Christmann is a radio host. @EcallerTh
-David Eisenbach is a professor of history at Columbia University, who unsuccessfully challenged Tish James in the 2017 Democratic primary for Public Advocate. @Eisenbach4NY
-City Council Member Rafael Espinal represents part of Brooklyn. @RLEspinal
-Peter Gleason is an attorney and former police officer and firefighter, who once represented the infamous "Soccer Mom Madam." @PeterGleasonEsq
-Gwen Goodwin is a community activist and past candidate for City Council.
-Tony Herbert is a community activist who was a candidate for Public Advocate in 2017. @herbert4nyc
-Ifeoma Ike is an attorney and co-founder of consultancy Think Rubix, LLC. @IfyWorks
-Walter Iwachiw is a perennial Republican candidate for various offices, such as mayor, state Assembly, CUNY Student Senator, and even U.S. president.
-Assemblymember Ron Kim represents parts of Queens. @rontkim
-Nomiki Konst is a journalist, activist, and member of the Democratic National Committee. @NomikiKonst
-Abbey Laurel-Smith @The46thPOTUS_
-Danniel Maio is a former candidate for state Assembly.
-Melissa Mark-Viverito is former Speaker of the City Council who helped lead the Latino Victory Fund after being term-limited out of office at the end of 2017. @MMViverito
-Assemblymember Daniel O'Donnell represents part of Manhattan. @DannyforNYC
-Jared Rich is an attorney from Brooklyn. @JaredRichNYC
-City Council Member Ydanis Rodriguez represents part of Manhattan. @ydanis
-Ralph Schweizer is a Bronx activist. @RealRalphNYC
-Diane Signorile is a real estate broker from Staten Island. @kittydat2
-Curtis Sliwa is a radio host. @CurtisSliwa
-Nancy Sliwa is an attorney and real estate broker who ran for attorney general this year on the Reform Party line. @SLIWA4NYAG
-Dawn Smalls is an attorney who previously worked in the Obama and Clinton administrations. @DawnSmalls2
-John Tabacco is the New York State Reform Party secretary. @HTBExperts
-City Council Member Eric Ulrich represents part of Queens. @eric_ulrich
-Assemblymember Latrice Walker represents part of Brooklyn. @WalkerForNYC
-City Council Member Jumaane Williams represents part of Brooklyn. @JumaaneWilliams
-Ben Yee is a technology entrepreneur, member of the Democratic state committee, and secretary for the Manhattan Democratic Party. @yben
-Mike Zumbluskas is the former chair of the Manhattan Independence Party. @MikeZumbluskas