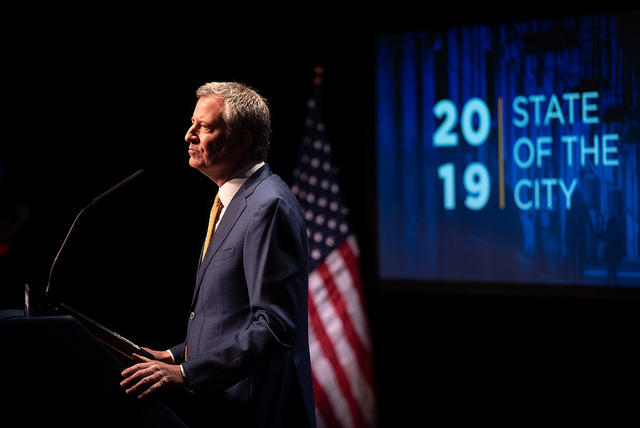 Mayor de Blasio gives his 2019 State of the City (photo: Michael Appleton/Mayor's Office)
---
Delivered his sixth State of the City address on Thursday, Mayor Bill de Blasio loftily touted his accomplishments of the last five years and pledged ambitious efforts to make New York City "the fairest big city in the country." Speaking at the Symphony Space on Manhattan's Upper West Side, the mayor unveiled new ideas aimed at improving the lives of working New Yorkers and reiterated sweeping proposals that he announced earlier this week on everything from health care to paid vacation days, early childhood education to bus speeds, and much more. He also outlined much, if not all, of the agenda he wants passed at the state level this year.
Before a packed auditorium filled with fellow elected officials -- including Attorney General Letitia James, City Comptroller Scott Stringer, City Council Speaker Corey Johnson, City Council members, state legislators, and congressional representatives -- de Blasio spent nearly an hour invoking the themes of the "tale of two cities" that first got him elected mayor in 2013, with a newly stated focus on improving people's "quality of life" and underscoring a call for the redistribution of income.
"Life in the fairest big city in America should never feel impossible," he said, speaking of the personal struggle that he and First Lady Chirlane McCray faced when raising their children and also caring for their ailing parents. "We shouldn't feel such pressure on the quality of our lives."
The mayor articulated how working New Yorkers feel those pressures, and vowed new initiatives to provide relief. "Millions of people in this city, tens of millions across the country, are boxed in to lives that just aren't working for them," he said. "You haven't been paid what you deserve for all the hard work. You haven't been given the time you deserve. You're not living the life you deserve."
Among those proposals were two that the mayor announced this week, garnering national attention by releasing the announcements through national media. The first is an expansion of the city's health care programs to provide care to 600,000 uninsured residents by increasing enrollment of insurance-eligible individuals in the city's public option, MetroPlus, and by creating NYC Care, which would give undocumented immigrants and those who won't or otherwise can't join MetroPlus access to primary and specialty care, mental health services, and more. NYC Care, which aims to provide a health care card to as many eligible individuals as possible and match all of them to a primary care doctor, is expected to cost $100 million annually once fully implemented by 2021.
The second proposal is a push for City Council legislation, sponsored by Council Member Jumaane Williams since 2014, to guarantee two weeks of paid personal time to workers, which the city estimates could affect more than 500,000 full-time and part-time employees who currently receive no paid time off. It would apply to anyone working at a company or organization of more than five employees.
"For decades, working people have gotten more and more productive," the mayor said. "At the same time, they've gotten a smaller and smaller share of the wealth they create. Here's the truth...there's plenty of money in the world. There's plenty of money in this city. It's just in the wrong hands."
Though de Blasio has repeatedly called on state lawmakers to increase taxes on higher earners, and he did so again on Thursday, de Blasio has not convinced Governor Andrew Cuomo or state legislators to follow his pleas. Appearing somewhat resigned to that fact, even in a new Albany era where Democrats control the executive and legislative branches, de Blasio laid out a variety of other proposals he believes will foster greater equity.
Riding high on his successive policy announcements, the mayor seemed more emboldened and enthusiastic than during past State of the City addresses, which have at times been more sobering. Last year's speech contained few novel ideas save for his announcement that he would convene a Charter Revision Commission to explore campaign finance reforms and improvements to voting and civic participation (the commission's eventual proposals, including lower campaign contribution limits, a new civic engagement commission, and term limits for community board members, were overwhelmingly approved by voters in November). And that speech came on the heels of a successful 2017 reelection campaign in which de Blasio offered almost no new policy plans, largely pledging to deepen and expand ongoing work.
The mayor had more to offer on Thursday, though much of what he discussed also fits under the category of expanding existing programs, like a faster rollout of his 3-K initiative to provide free early education to three-year-olds. He announced a number of new proposals including expanding the mandate of the city's consumer affairs department. De Blasio rechristened the agency the Department of Consumer and Worker Protection, reflecting its new responsibilities of safeguarding the interests of all temporary and permanent workers, even undocumented ones, with a new focus, he said, on freelancers, nannies, and others who may not have traditional benefits through their employers.
The mayor also signed an executive order on the spot to create a new Mayor's Office to Protect Tenants, aimed at tamping down tenant abuse and combating predatory landlord practices. He also vowed that in cases of the worst landlords, who fail to rectify their behavior after repeated fines and violations, the city would move to seize buildings and transfer them to nonprofit management. It's unclear whether the new mayoral office's mandate would overlap with the Department of Buildings' Office of Tenant Advocate, which was created by the City Council through legislation passed in 2017.
De Blasio also announced new public transportation initiatives, including an expansion of the NYC Ferry system, such as connecting Staten Island to the west side of Manhattan, and improvements to the bus system to ensure faster travel time, installing new protected bus lanes and an NYPD tow unit dedicated to keeping those lanes free of parked cars.
He did of course make it clear that the greatest transit priority for the city was funding the MTA to fix the subways -- he reiterated his support for a dedicated additional tax on high earners -- but seemed to acknowledge there's more momentum for other options like congestion pricing, which he has warmed to without actually expressing support for. He called on his fellow elected officials to lobby the state before the budget is due on April 1. "In the next 80 days, the fate of the MTA, the fate of our subways and buses, will be determined once and for all," he said.
Boasting of the success of his universal pre-kindergarten program, de Blasio also touted the expansion of prekindergarten to 3-year-olds, which he announced in 2017. The program is expected to reach 20,000 children in the coming school year, he said, outlining several new neighborhoods where the program will open soon. He also announced a new plan to recruit and retain more teachers at schools in the Bronx and an expansion of an existing partnership with Warby Parker to give free eye exams and glasses to kindergartners and first-graders across the city.
Early in the speech the mayor reviewed what he sees as some of his major successes, including early childhood education, higher graduation rates, record-low crime and traffic fatalities, more tenant protection, paid sick leave and a higher minimum wage, and more. He very briefly mentioned areas of significant challenge to his administration, such as management of crumbling public housing and reducing homelessness.
At different points, de Blasio ticked off aspects of what he wants to see from state government this year, especially from now until a new state budget is due April 1, a list topped by MTA funding, but also including criminal justice and voting reforms, an extension of mayoral control of city schools, and stronger rent regulations that help protect tenants.
Toward the end of the speech, de Blasio said the city would help establish retirement plans for all workers who lack them in the city. In 2016, the mayor had attempted to move forward with a "Retirement Security for All" plan but it was eventually hamstrung by federal regulatory changes signed by President Donald Trump in 2017. City Council Members Ben Kallos and I. Daneek Miller reintroduced the legislation before the Council earlier this year and heralded the mayor's announcement, which follows a new state law with a similar goal. The city plans to help workers set up private retirement accounts and may mandate some businesses to offer the option for workers to make contributions to their accounts, but no public or private money will be contributed to the accounts, only a portion of workers' income, if they choose to participate.
"This country has spent decades taking from working people and giving to the one percent," de Blasio said. "This city has spent the last five years doing it the other way around. We give back to working people the prosperity they have earned. And we are just getting started."