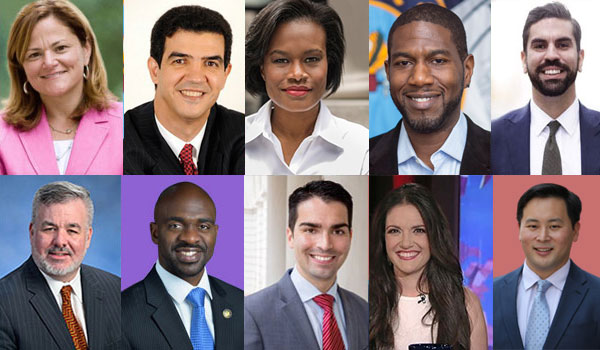 ---
The biggest moment so far in the short, crowded, and contentious race to become the next New York City Public Advocate will be Wednesday night, as 10 qualifying candidates take the stage for the first of two televised debates.
The citywide special election has attracted a wide and deep field of candidates -- there will be 17 names on the February 26 ballot -- including several sitting elected officials, each hoping to become the city's watchdog and ombudsperson, one of just three citywide elected officials and next in line to the mayor. The public advocate has a lot of responsibility but limited powers, which do include the ability to introduce legislation to the City Council, and a roughly $3 million annual budget.
With 10 candidates on stage, each trying to introduce and differentiate her or himself to voters, the debate could prove somewhat pivotal as contestants try to make their mark, and spur media attention, volunteers, and donors toward their campaigns. The debate may be the first time many voters are paying attention to the race or meeting some, if not all, of the candidates. Below, you'll find a guide of eight things to watch for in the debate.
But first: while some say the public advocate position should be eliminated or mock it's relative lack of power, the debate, and the larger election, are important -- the last two public advocates are now the Mayor (Bill de Blasio) and state Attorney General (Letitia James). Meanwhile, before moving on to bigger or simply other things, the public advocate can have significant impact on city government through the bully pulpit, policy reports, legislation, legal action, and coalition building.
The 10 candidates who will participate in the first debate are former City Council Speaker Melissa Mark-Viverito, activist Nomiki Konst, attorney Dawn Smalls; State Assembly Members Michael Blake, Ron Kim, and Daniel O'Donnell; and City Council Members Rafael Espinal Jr., Ydanis Rodriguez, Eric Ulrich, and Jumaane Williams.
Airing from 7 to 9 p.m. Wednesday night on NY1 from the CUNY-TV studio in Manhattan, it will be the first of two televised debates in the special election (the second one is February 20). It will be moderated by NY1 political anchor Errol Louis, with questions also coming from panelists including Laura Nahmias of Politico New York. Candidates qualified by hitting the New York City Campaign Finance Board financial raise-and-spend threshold of $56,938, as dictated by city law. The debate will also air on NY1's website and Facebook page (and on the city's "NYC Life" channel available on all cable providers, as mandated by a new city law).
Here's what to watch for in the debate:
1. How will each candidate try to define themselves?
Candidates have a choice to make in terms of how they balance talking about their personal story, their accomplishments, their plans for how they'd run the public advocate's office, how they would approach Mayor Bill de Blasio, and what sets them apart from their competition. The questions will influence these choices, but candidates can spend their allotted time, including but not limited to any opening and closing statements, returning to their chosen talking points.
There's a good chance you'll hear a lot of sentences that start with: "I'm the only candidate in this race..." or "I'm the only one on this stage who…"
Mark-Viverito is likely to stress both her experience leading the City Council, especially on criminal justice reform, and the need for diversity in top city positions, where the current mayor, comptroller and City Council speaker are all white men. Williams will talk about his work as "an activist elected official" who has staked out progressive positions on police reform and affordable housing.
Blake will tout accomplishments by the Democratic majority of the state Assembly like raising the age of adult criminal responsibility, his work for President Barack Obama, and his "jobs and justice" platform in this race. He'll bill himself as an organizer, a coalition builder. O'Donnell will talk about his independence, exemplified, he'll say, by his refusal to sign a letter enticing Amazon to consider New York City for a headquarters; and his successful push to pass marriage equality in New York.
Kim will also talk about his opposition to Amazon, while also touting his platform to recreate the public advocate's office as one focused on helping to eliminate student debt. Espinal will highlight legislative accomplishments, like repeal of an antiquated law limiting which clubs are allowed to host dancing and creation of the Office of Nightlife, and what he's working on now: legalization of e-bikes and e-scooters as well as other climate-friendly policies. He'll explain he's focused on making it easier for everyday New Yorkers to live in this city.
Smalls will discuss her carefully-outlined platform and how she'll focus the public advocate's office on four key areas: homelessness, housing, transit, and civic participation; and she'll highlight her work as an attorney and in the Obama administration. Konst -- who along with Smalls are the only two who have not held elected office -- will fill the "outsider" lane, talking about the need for someone with her independence from the political muck and investigative skills as a journalist to come in and shake things up, call it like it is, and provide real oversight. She'll stake out far left policy positions like calling for a $30-an-hour minimum wage and vilifying the real estate industry, as well as politicians beholden to it, who she'll say have caused an affordability crisis in the city.
Rodriguez will talk about his immigrant story and fighting for immigrants during his career as an activist and as an elected official, and explain that's what he'll do as public advocate if elected to the post. He'll also talk a lot about transit and refer to his work as the City Council's transportation committee chair over the last several years. And Ulrich, the lone registered Republican on the stage, will argue he's the only one who can truly hold Mayor de Blasio accountable given their widespread disagreements, though he'll also explain that he's a "moderate" and "Rockefeller" Republican who is progressive on social issues, perhaps saying that he sees himself in the mold of (now-Democrat) Michael Bloomberg. He may highlight his support for Amazon coming to Queens as the Democrats on the stage mostly criticize the deal.
Everyone will rail against the MTA.
Most of the candidates will express support for congestion pricing, some may also call for a millionaire's tax to fund subway upgrades or for the city to take control of the subways and buses.
Everyone will say what has gone on at NYCHA is a disgrace. Solutions there, however, may not roll off the tongue.
2. The Elephant in the Room
As the only Republican on the stage, Ulrich has a clear mission in the debate and the broader race: to attract as many moderates and conservatives, independents and Republicans, as possible to pull off a victory in a crowded race where someone could win with 30% of the vote, maybe even less.
While the rest of the candidates will argue over their progressive bona fides, pitching themselves to many of the same voters, Ulrich will likely focus his fire on de Blasio (others will do some of that, too, of course), and position himself as the alternative to a bunch of Democrats trying to out-socialism each other. Ulrich may also have to be clear that he's not a supporter of Donald Trump -- he backed John Kasich in the 2016 GOP presidential primary and has criticized the president repeatedly, drawing ire from some of his fellow Republicans, though much of the city's GOP establishment has gotten behind his candidacy. In the City Council, Ulrich very often votes with the Democratic majority while his two fellow Republicans vote "no," sometimes along with several more conservative Democrats.
3. How negative will it get?
It's a sprint of a race and a crowded field. The candidates have been traversing the city meeting with clubs and organizations and appearing at candidate forums and debates, which have apparently only had a few tense moments between the candidates, though there have been many comments about some of the perceived frontrunners (Williams, Mark-Viverito, and Blake), along with a few criticisms for others, like Espinal, who has been tweaked for his support of a neighborhood rezoning in his district that some say will (or already is) spur gentrification and displacement.
Candidates will likely mostly stick with more vague comments that include phrases like "unlike some of my opponents," but we may see some more pointed criticisms. How hot things get will depends on a few things: whether one or two candidates decide to go negative and open the floodgates; how much urgency certain candidates are feeling with less than three weeks until the election; and whether there is a "cross-examination" round where candidates get to ask one of their opponents a direct question.
Look for Williams, Mark-Viverito, and Blake to be the most frequent targets of any negative comments, outright attacks, or those pointed candidate-to-candidate questions.
What might come up exactly?
For Mark-Viverito, it could be questions about her support of a rezoning in her City Council district, her closeness with de Blasio or with Oscar López Rivera, how she's handled some of her campaign financing, or whether she provided strong enough oversight of issues at NYCHA while she was City Council speaker. As the candidate who has held the most power in government, she has both the most to point to in terms of accomplishments but also a series of vulnerabilities.
For Blake, possibly the outside income he has earned as a consultant or his support for charter schools. For Williams, perhaps that he just ran for lieutenant governor and is now pursuing another higher office or some of his campaign financing, but most likely the ongoing questions around his support for a woman's right to choose and for marriage equality. There was also a recent report about a campaign staffer who was a teacher and had been fined for sending inappropriate messages to a student.
Espinal could face some questions, or at least barbs, about the East New York rezoning that he negotiated with the de Blasio administration. Ulrich could face questions about Trump, as virtually every Republican running for office over the last few years has, even those who have not supported the president who is deeply unpopular in New York City.
If Konst is particularly critical of her opponents and one or more decide(s) to fire back, she could face questions or comments about what exactly she has accomplished, especially for New York City voters, or what qualifies her for a citywide office.
Amazon is likely to come up several times, particularly with regard to the 2017 letter that some of the public advocate candidates did sign, encouraging the company to consider New York. Those signees, including Mark-Viverito, Williams, and Blake, have criticized the deal and said that while they may have signed a letter of interest, they were not signing off on any deal and expected a better process. That hasn't been a good enough answer for O'Donnell, Kim, Konst, Espinal, and others.
And there could very well be new questions or critiques thrown by one candidate at another. There's clearly opposition research happening by some campaigns, with a lot at stake in the election.
Even though there will be 10 candidates and there's potential for a lot of cross-talk, the debate is very likely to stay orderly. The candidates involved are all respectful of rules and Louis always runs a tight ship.
4. The Wild Cards
Konst is certainly known to speak forcefully and critically, and if she's throwing verbal punches, she may take some control of the conversation by virtue of putting some of her opponents back on their heels. If other candidates have to appeal to the moderator to "have a chance to respond to that," she may get the kind of debate attention she may need.
O'Donnell can also be particularly biting, though it's unclear how harsh he wants to get with his competition -- he's also quite affable.
Rodriguez has had a penchant for saying somewhat controversial things in his time in the Council, including when he was arguing that the City Council was not going far enough as it was voting itself a large salary raise. How bold does he get?
Blake and Mark-Viverito are both exceptionally competitive and may decide that what it takes to win is to try to dominate the debate, including by being particularly sharp with their competitors.
And while Smalls is consistently calm and collected, she may present something of a wild card in that she may impress a lot of people watching, giving herself even more of a chance (she's raised a good bit of money and is strong at local forums) in what is very clearly a long-shot bid.
5. The Former Public Advocates
There's a good chance that the candidates will have a lot of harsh words for one former public advocate, Bill de Blasio, and a lot of kind words for another, Tish James.
There have only been four public advocates since the position was created through charter revision commission late last century. The other two are Mark Green and Betsy Gotbaum. Green has endorsed Williams this year, while Gotbaum is the executive director of Citizens Union, a good government group and co-sponsor of the debates.
The candidates may be asked to discuss which of the former public advocates they most admire or would borrow strategies from, or candidates may offer some of those examples themselves.
Essential to the whole night is that the candidates must individually and collectively make the case that the position of public advocate is important, worth keeping, and worth caring about enough for people to vote. Perhaps more important than their stances on any issues is whether the candidates can outline strong strategies for how they'll engage everyday New Yorkers and respond to the issues that they raise and be an aggressive and effective watchdog over city government.
When the candidates talk about the position, how much fire is in their bellies -- and is the fire about using the office to help people or about using it to move on to the next thing? Maybe both?
6. The Mayoral Pledge
As it has throughout the race, the question of mayoral aspirations is likely to come up. After all, Green and de Blasio both ran for mayor while they were public advocate and James likely would have if the attorney general position hadn't opened up with Eric Schneiderman's dishonorable resignation.
Some candidates, like O'Donnell, have pledged to never run for mayor, while Williams and Blake have pledged not to run in 2021 if successful in this special election and then in the fall election that will follow. Mark-Viverito has said she's not ruling anything out.
Ulrich has said he will run for mayor if he's elected public advocate.
7. Policy Talk
The debate could be quite substantive. The candidates on the stage are all serious people who want to work in government and to accomplish things to help people and the city overall. They've been touring the forum circuit where they've been asked about all sorts of broad and specific issues, from affordable housing to congestion pricing to policing and more.
The public advocate is able to carve out policy areas to focus on based on the interests of the officeholder, though major issues facing the city also command attention. The candidates have all put forth ideas and policy proposals, discussed legislation they may look to introduce if elected, and changes they believe are needed to major institutions, from schools to the MTA.
Hot button issues like the Amazon deal, NYCHA's future, congestion pricing and how to fix the subways, and more could all come up. Like in all candidate debates, pay special attention to which candidates actually offer solutions to key problems facing the city and which only talk about what's gone wrong and how much of a shame it is.
It will be particularly interesting to get candidates on the record about as many key issues as possible, like infill development on NYCHA land or neighborhood rezonings, the mayor's affordable housing plan, police accountability, school turnaround, the BQX, parking placard abuse, bus lane enforcement, and more. What do the candidates think should be done about climate change? Homeless shelter siting? And so on.
Much of the policy that is discussed will depend on the questions from the moderator and panelists, and they are sure to cover a lot, but candidates can also find ways to work in key points they want to make about where they think the city needs to go.
8. The Non-Debaters
Watch for them on social media during the debate and at local forums between Wednesday and the election on February 26. The public advocate candidates not in the debate include Ben Yee, David Eisenbach, Jared Rich, Tony Herbert, Manny Alicandro, and Helal Sheikh (Latrice Walker will be on the ballot but she has dropped from the race).

Final Notes
The co-sponsors of the debate at 7 p.m. Wednesday are Spectrum News NY1 and Spectrum News Noticias NY1, Politico New York, Citizens Union, Borough of Manhattan Community College, Latino Leadership Institute, The League of Women Voters of the City of New York, NAACP New York State Conference Metropolitan Council, and Delta Sigma Theta Sorority, Inc., and East Kings County Alumnae Chapter.

The second debate, likely with a smaller field of candidates, will take place on Wednesday, February 20, again on NY1 and NYC Life.

The citywide election is open to all registered voters on February 26.
Note: this article has been corrected to reflect that Blake has said he won't run for mayor in 2021 if he is elected public advocate.