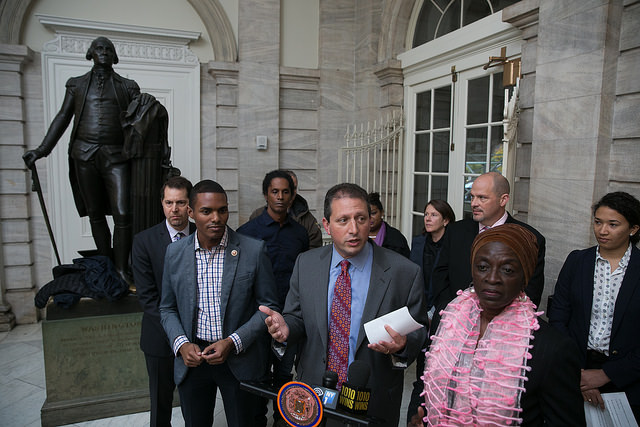 Council Members Lander, Torres, Barron & others (photo: William Alatriste/City Council)
---
The Civic Engagement Commission that city voters approved in November is now accepting applications from New Yorkers interesting in serving on the panel that will help craft strategies for getting more residents of the five boroughs engaged in civic life. Though appointments to the commission will be made by top city elected officials, the open application process allows regular New Yorkers to throw their names and resumes into the pool of candidates for placement on the commission that will deal with things like citywide participatory budgeting and election poll-site translation services.
The commission, which is scheduled to be empaneled on April 1, will consist of 15 members: eight appointed by the mayor, two by the City Council speaker, and one by each of the borough presidents. The initial appointees will have either two- or four-year terms to stagger subsequent appointments; later members will serve four-year terms, with the exception of the chair, who would serve at the mayor's discretion. The commission was created out of a proposal from a Charter Revision Commission empaneled last year by Mayor Bill de Blasio that put three questions on the November ballot, all of which were approved.
New Yorkers have until February 22 to apply through a fairly simple online form that asks several questions about the applicant's interest in the commission and relevant experience, with a function for uploading a resume. Potential applicants are reminded that the purpose of the commission is "to enhance civic participation in order to enhance civic trust and strengthen democracy in New York City," and that the commission will do its own work while also partnering with public and private entities to help foster civic engagement across the city.
Applicants are told to "please take note that an application submitted on this site may not be the only method by which candidates for appointment are identified by the appointing authorities, including the Mayor, and does not create a right to any further process or to appointment to the Commission or to any other City position."
City Council Member Brad Lander, who had introduced legislation to create a similar entity, an office of civic engagement, and championed the Civic Engagement Commission put forward by the mayor's charter revision commission, sent out an e-mail blast to his constituents on Thursday celebrating the launch of the commission and application process, and encouraging people to apply.
"I'm pleased to report that it's getting started in the right way, with openness and participation," Lander wrote, noting that "unlike any other citywide board or commission" the Civic Engagement Commission has an open application process. "The Civic Engagement Commission has the potential to breathe new life into our local democracy," Lander wrote. "If you know someone with great experience and relationships, who'd make a difference as a commissioner, please encourage them to apply. We are, of course, looking for a Commission that is as diverse as New York."
While many of the commission's endeavors will be determined by its members, some are prescribed, chief among them a new citywide participatory budgeting program, expanding a program that currently exists in 34 of 51 City Council districts at the discretion of local Council members.
Participatory budgeting, first used in New York City in 2011 when four Council members used some of their discretionary funds for the program, allows residents to propose and vote for specific projects in their district to be financed via capital funds allocated to Council members. At least $1 million per district is budgeted via direct democracy, and residents have funded projects ranging from fixing school bathrooms to mobile showers for use by homeless people, among many other projects.
The commission would be required to develop the program by the start of Fiscal Year 2021 on July 1, 2020, when the mayor would implement it.
The commission's other initially-delegated tasks include improving language access for New Yorkers at poll sites and in other city programs, assisting and training newly term-limited community boards, and partnering with community organizations in their own efforts at enhanced civic engagement. The commission will also develop new civic engagement initiatives in the years to come.
There are few restrictions on who can apply or be appointed to the commission. An applicant must be a resident of the city and a U.S. citizen, and cannot be an "officer of a political party" or a candidate for various elected offices, from mayor to borough president to City Council. The commission seeks candidates "who are representative of, or have experience working with" immigrants and those with limited English proficiency.
With the exception of the city's non-citizen population, the commission is essentially open to anyone. The report by the mayor's Charter Revision Commission last year said that, besides the immigrant and non-English-proficient communities, the panel would seek applicants representative of "people with disabilities, students, youth, seniors, veterans, community groups, good government groups, civil rights advocates, and categories of residents that are historically underrepresented in or underserved by City government."
Ben Max contributed to this story.