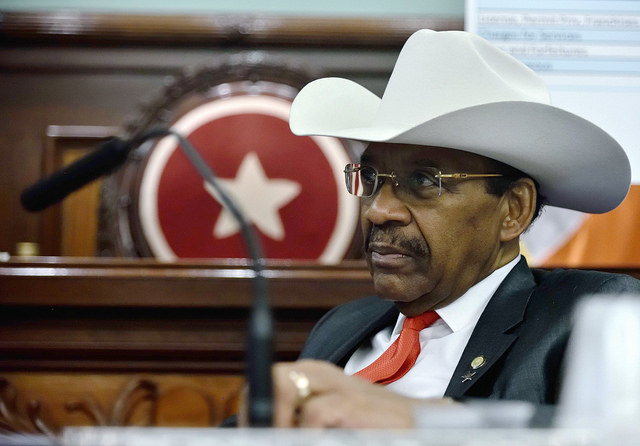 (Photo: John McCarten/NYC Council)
---
In a rare move on Wednesday, the New York City Council voted to dissolve a standing committee after its chair, Council Member Ruben Diaz Sr., made homophobic remarks in a recent radio interview and repeatedly refused to apologize for them in the days after.
Diaz Sr., a Pentecostal minister with a long history of anti-LGBT positions and actions, said last week in the radio interview that the City Council is "controlled by the homosexual community," as reported by NY1. The comment drew a swift backlash from dozens of elected officials, including several openly gay members of the Council, and others demanding that he apologize. But Diaz Sr. doubled down, leading many Democrats, including City Council Speaker Corey Johnson, to call for his resignation.
On Wednesday, the Council voted 45-1 to dissolve the For-Hire Vehicles committee chaired by Diaz Sr. The committee was created at Diaz Sr.'s request last year to oversee the burgeoning ride-hailing service industry and has passed 16 bills in that time, including measures to increase wages paid to for-hire vehicle drivers. It's jurisdiction will be transferred to the transportation committee under Council Member Ydanis Rodriguez.
At Wednesday's vote, Council Member Chaim Deutsch, who also holds anti-LGBT views, was the sole dissenting voice, saying the Council should educate Diaz Sr. and "bring him closer than further and let him know that words are very strong." Council Members Rodriguez, Andy King, and Fernando Cabrera (also a conservative member from the Bronx) abstained from the vote. Diaz Sr. himself was not present in the chamber.
For Johnson, who is openly gay and openly HIV positive, the vote was an emotional moment as he grappled with his own personal experiences and the hurt he said Diaz Sr.'s comments had caused to Council members and staff. Johnson has spent days apologizing for having given Diaz Sr. the benefit of the doubt and elevating him to committee chair, considering the reverend's long history of anti-LGBT positions and actions. "I will apologize again, deeply, for making a mistake and having a blind spot to begin with in trying to give everyone a fresh start...I made a mistake. I'm sorry. I'm sorry to all the people who came before me and allowed me to be here today, and I'm sorry to gay and lesbian New Yorkers who deserve so much better," he said.
Johnson's comments do not necessarily tell the whole story, though, given that his ascent to the speakership included support from the Bronx Democratic Party, where Bronx Borough President Ruben Diaz Jr., the Council member's son, is especially powerful, and after he had courted Diaz Sr.'s backing.
The resolution to dissolve Diaz Sr.'s committee moved swiftly through the Council. The Committee on Rules, Elections and Privileges met on Wednesday morning at a hastily convened hearing and unanimously approved the measure before it was voted on by the full Council. Separately, the Committee on Standards and Ethics is also probing Diaz Sr.'s remarks and could recommend disciplinary action ranging from censure to removal from office.
Council Members Ritchie Torres, Daniel Dromm, Carlos Menchaca, and Jimmy Van Bramer, all of whom are openly gay, took turns critiquing Diaz Sr. and commending Johnson for taking the necessary steps to hold him to account.
"This behavior is not new," said Dromm, speaking just after Council Member Deutsch. Dromm cited his own decades-long opposition to Diaz Sr.'s homophobia and said, "I don't think any amount of education at this point is really going to help him."
Torres, with tears in his eyes, emphasized that Diaz Sr.'s comments were not reflective of the politics of the Bronx, which he also represents, and he said he was "naive to expect redemption" from Diaz Sr. based on his record. "Imagine if someone said the Council was controlled by a black cabal or a Jewish cabal. The Council would take action," he added.
Diaz Sr. has announced that he is holding a rally with supporters on Thursday in the Bronx. The Council member is eligible to run for another term in the Council in 2021. One of his 2017 Democratic primary opponents, Amanda Farias, has already announced her intention to run for the seat.
Van Bramer, who spoke about struggling with suicidal thoughts as a young gay man, condemned Diaz Sr.'s "hate speech." "Demonizing people causes real and permanent pain," he said. "When elected officials speak with such hate, young people internalize that hate. That in and of itself is a form of violence."