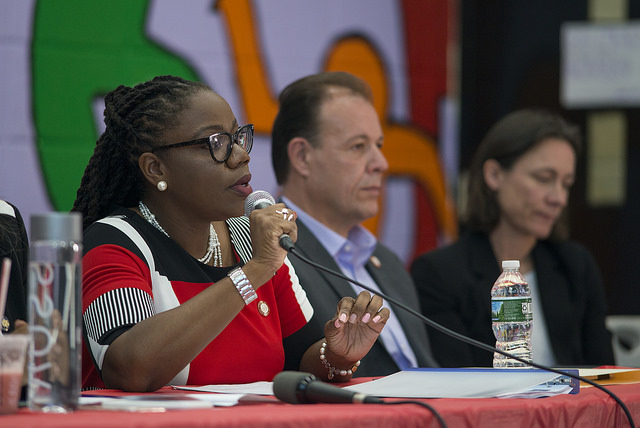 Alicka Ampry-Samuel (photo: Jeff Reed/City Council)
---
As Mayor Bill de Blasio recently announced his "NYCHA 2.0" plan to secure the future of the city's public housing authority, an agreement with the federal Department of Housing and Urban Development that includes a new federal monitor of NYCHA, and a new interim chair to lead the authority, the City Council member charged with oversight of NYCHA has some questions.
Alicka Ampry-Samuel is the chair of the City Council's public housing committee and represents parts of central Brooklyn, home to many NYCHA residences. During a recent appearance on the Max & Murphy show on WBAI radio, Ampry-Samuel explained some of her concerns about the latest NYCHA-related developments, said that de Blasio had not reached out to her ahead of announcing that Sanitation Commissioner Kathryn Garcia would be named interim NYCHA chair, and promised a public hearing on the city's deal with HUD in the coming months.
Ampry-Samuel had measured praise for de Blasio's NYCHA 2.0 plan, which includes fairly aggressive measures to bring in new revenue to address the housing authority's $30 billion-plus in physical needs, but she joined the chorus of critics who have questioned the mayor's deal with HUD that includes no new federal money for NYCHA.
"We are seeing better things, but tell that to the person who's suffering right now," Ampry-Samuels said of the general situation across NYCHA, particularly relative to last winter, when there were widespread heat and hot water outages. "It's hard for them to receive that response because they're thinking, 'What about me?' That's not the case in my home."
On January 31, de Blasio announced at a press conference with Department of Housing and Urban Development Secretary Ben Carson a deal that includes the federal government taking more direct oversight of NYCHA in response to years of crisis, criticism, management turmoil, and federal law enforcement inquiry.

Opponents have criticized the deal as giving too much power to a federal government that has often been at odds with the de Blasio administration and not supportive enough of public housing. The deal includes no new federal funding but a federal monitor who will be tasked with tracking NYCHA's actions.

"Who is this person?" Ampry-Samuel said of the impending monitor. "Do they care about public housing, or is just a business-minded person who's coming in to change and reform management, coming in to change the operational structure? Or is this someone who's going to come in and look at NYCHA 2.0 and raising revenue to deal with the $32 million capital repairs it needs."

Ampry-Samuel took a measured, pragmatic approach throughout the discussion. "With there now being federal monitor, this is opportunity to have an independent voice and be able to sit down with residents and the City of New York and say, 'These are the things you have in place' and review it. Go line by line and say, 'You have not been able to do what you needed to do in the past and this is a way forward.'"

In December, de Blasio announced NYCHA 2.0, a revamped comprehensive plan to reform NYCHA and bring in more than $20 billion in revenue to repair the crumbling and dangerous public housing home to more than 400,000 New Yorkers. Some of the measures de Blasio had either rejected in the past or supported in far more limited fashion, but he said that without large-scale federal help, the city had no other viable options.
According to a de Blasio press release, the plan will resolve $24 billion in repairs, including renovations for 175,000 residents. Some of that will depend on new development on underused NYCHA land, such as parking lots, where a mix of market-rate and affordable housing will be erected. Ampry-Samuel appeared to acknowledge the elements of the plan as necessities, despite the fact that many have expressed grave concerns about such "infill" housing. The development process must be community-led, she said, and the money from development must be reinvested in the particular NYCHA projects where the new housing is built.

"We have to figure out ways to bring money in, but we have to make sure that the residents who are already part of the fabric of that development benefit from all the deals," she said. "And we have to make sure it doesn't happen to them -- it happens with them."

Just last week de Blasio announced his next choice for interim chair of NYCHA: Kathryn Garcia, commissioner of the city's Department of Sanitation, whom de Blasio had also recently put in charge of lead remediation efforts, which came out of the NYCHA lead paint scandal. Garcia replaces outgoing interim chair Stanley Brezenoff who recently criticized the city's deal with HUD.
"I can't figure why [the next NYCHA chair] is someone who has no housing background, no one with experience to that level," said Ampry-Samuel. "She's a great woman, with a great career, she rose through the ranks at Sanitation, but we can't play musical chairs with this type of situation."
A permanent chair, perhaps Garcia, is expected to be named after the federal monitor is in place, given that the monitor will have a say in approving de Blasio's choice to head the authority.

The City Council Committee on Public Housing plans to hold an oversight hearing with Garcia, the administration, and a HUD representative on the deal between HUD and the city and NYCHA in the next several weeks, Ampry-Samuel said. She called for the creation of a chief resident officer as an advisor to the chair of NYCHA. The position, she hopes, could spur a greater relationship between NYCHA and NYCHA residents, though there are also tenant councils.
Asked about a time frame for the hearing she promised, Ampry-Samuel was hesitant to provide specifics, given how unsettled things are and how fresh the deal with HUD was, but she said she looked forward to a public discussion of all the recent changes and those to come.
[Listen: Max & Murphy Podcast: The Future of NYCHA with City Council Member Alicka Ampry-Samuel]