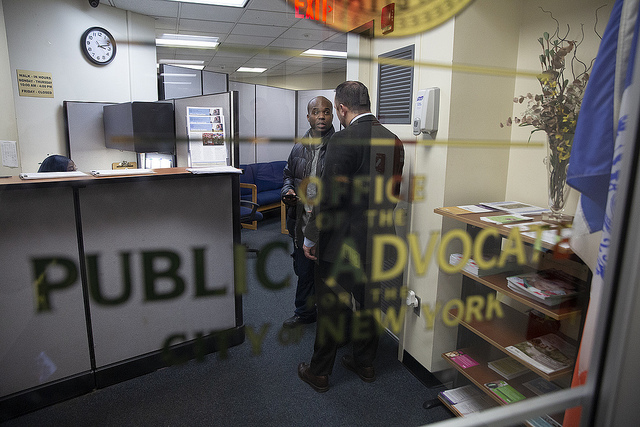 (photo: William Alatriste/City Council)
---
New York City's special election for Public Advocate will take place this Tuesday, February 26, and there will be 17 candidates on the ballot, although one has suspended her campaign. Ten of these candidates qualified for the first official televised debate, then seven of those ten qualified for the second debate. Those candidates and others in the race have also been appearing at many local forums, making the rounds on television and radio, and taking part in other aspects of campaigning as they make their pitches to voters on why they should be the next citywide official tasked with providing oversight of the rest of city government and being an ombudsperson for New Yorkers.
The public advocate also has the power to introduce legislation to the City Council and the post comes with a budget of roughly $3.5 million. The position has proved to be a springboard, with its most recent occupant, Letitia James, now in the Attorney General's office, and her predecessor, Bill de Blasio, now the Mayor. Most candidates have said that if they win on Tuesday they do not intend to run for mayor in 2021; meanwhile, the winner of the special election would need to then win an election later this year to hold the seat for 2020 and 2021. There will be June party primaries if necessary and there will be a November general election.
As the candidates finish campaigning, below is a look at how each has sought to define themselves and their candidacy. Next to each candidate's name is his or her self-created party ballot line, a necessity given that special elections are nonpartisan.
Melissa Mark-Viverito (Fix the MTA)
A former Speaker of the New York City Council, Mark-Viverito has continued in her public advocate campaign to focus on her two top issues as Council speaker: immigrants' rights and criminal justice reform, including the plan to close Rikers Island jails, which she spearheaded and brought Mayor de Blasio along to support. She's also focused on the MTA, wanting to see the legalization of marijuana use, with tax revenue going toward the subways and buses, along with congestion pricing as another funding source.
Mark-Viverito has stressed the need for diversity in government, including to have female representation among officials with citywide responsibilities -- the current mayor, comptroller, and Council speaker are all white men. She's criticized de Blasio and Governor Cuomo for failing to work cooperatively on the MTA and other matters, part of continuing attempts to prove that she would be tough in holding de Blasio accountable given that the two have had a close working relationship, including the mayor helping Mark-Viverito to become the speaker.
Michael Blake (For the People)
A member of the state Assembly from the Bronx, Blake is also a vice-chair of the Democratic National Committee. He touts his work on the campaigns and in the administration of President Barack Obama, and in Albany on issues from criminal justice reform to economic opportunity.
Blake has led the race in fundraising and has received a wide variety of endorsements from elected officials and political clubs. His campaign slogan is "jobs and justice for the people," and he's focused on issues including affordable housing, NYCHA, criminal justice reform, and empowering women- and minority-owned businesses (M/WBEs). Blake was critical of the deal to bring Amazon to Queens that later fell apart, but has indicated he wanted it reworked, not scrapped altogether. That stance is indicative of the fact that Blake often takes somewhat more moderate positions than some of his fellow Democrats, especially those in the public advocate race.
Jumaane Williams (The People's Voice)
A City Council member from Brooklyn, Williams has been seen as the frontrunner in the race from the start given the momentum from his 2018 primary challenge of incumbent Lieutenant Governor Kathy Hochul, when he ran alongside Cynthia Nixon in her campaign for governor. That race gave Williams a leg up in name recognition and relationships that quickly carried over to this campaign, helping him land a long list of endorsements from clubs, groups, and leaders.
He often calls himself an "activist elected official, long before it was popular," saying "I can be the voice for change while effectively being the person making that change." Williams has long focused on both affordable housing and criminal justice reform. In this race he has often touted his opposition to the Mandatory Inclusionary Housing policy passed last term under de Blasio and Mark-Viverito.
During the first debate, both Blake and Melissa Mark-Viverito criticized Williams over his past statements on abortion and marriage equality. Williams has indicated an evolution on both issues and apologized to members of the LGBT community for past statements that he says did not express clear enough support. He has said that he would not want to pursue abortion for a pregnancy he was involved with, but that he has consistently supported women having the choice.
Dawn Smalls (No More Delays)
Smalls is an attorney and former official in the Clinton and Obama presidential administrations. In a first run for office, she often touts her work to implement the Affordable Care Act and says she has the ability to break through government bureaucracy. Smalls also says she is "completely independent of the political structure" in the city, so she can be "a true watchdog over the mayor and the City Council."
Smalls has focused her campaign on the MTA and housing, saying that a top priority would be the homelessness crisis, especially women and children. She has shown some unfamiliarity with city government and politics, but has said that her experience, knowledge, and approach to government should win over those who are interested in an outside and not worried if their public advocate doesn't know every piece of legislation that has gone through the City Council in recent years.
She opposed the Amazon deal, but said her criticisms were on the process, specifically the lack of public comment. In the second debate, she said "I'm the only person on this stage who did not attend an anti-Amazon rally" and that "if New Yorkers wanted to welcome Amazon, we should absolutely welcome Amazon."
Rafael Espinal (Liveable City)
A City Council member from Brooklyn, Espinal has focused his campaign on making the city more "liveable," meaning easier to afford, get around, and enjoy. He often touts his record championing the city's nightlife industry, its workers, and others affected by laws governing it -- his legislation repealed the Cabaret Law, which limited where dancing is allowed in the city and he and others called racist and homophobic.
Espinal has a focus on environmental issues and a forward-looking campaign, with a promise to legislate for a city of the future. He was ardently opposed to Amazon bringing a massive campus to the city, instead calling for investments in small businesses and infrastructure.
Ron Kim (People over Corporations)
A member of the state Assembly from Queens, Kim has focused his campaign on both fighting big corporations such as Amazon and using the office to help cancel out New Yorkers' student debt. Kim was fully opposed to Amazon coming to New York and has railed against any and all "corporate giveaways" by government.
Kim has said in the effort to attack the student debt issue he would move away from the public advocate office's typical and core functions, such as being a watchdog over city agencies.
Nomiki Konst (Pay People More)
An activist and journalist who has been involved in a variety of short-term projects, Konst has said she's a member of the Democratic Socialists of America and has run a far-left campaign. A Bernie Sanders delegate who was named by Sanders to a reform and unity commission of the Democratic National Committee, where she made some waves and developed a larger progressive following (also aided by her appearances on cable television political talk shows), Konst has proposed a $30 minimum wage as the centerpiece of her campaign agenda.
Her campaign is also focused on fighting the power of big real estate (she's said "real estate developers own this city") and she has regularly railed against the elected officials in the race, arguing that New Yorkers should elect a true outsider to the role of watchdog, also highlighting her skills as an investigative journalist. She has promised to have public advocate campaign staff spread throughout the five boroughs. Konst recently failed to answer a number of questions about her resume and biography for a Politico New York profile.
Danny O'Donnell (Equality for All)
A member of the state Assembly from Manhattan, O'Donnell was the first openly gay man elected to the state Legislature and a lead sponsor of the Marriage Equality Act in 2011. He touts his independence and says "the public advocate needs to be a loudmouth and that's what I intend to be on your behalf."
He says his top priority as public advocate would be to expand the power of the office, such as giving the public advocate subpoena power, and promises a push to "downzone" parts of the city to limit large real estate development and enhance community input on projects. O'Donnell was a steadfast opponent of Amazon coming to Queens.
Eric Ulrich (Common Sense)
A City Council member from Queens and the only Republican elected official in the race, Ulrich says he would be "Bill de Blasio's worst nightmare" as public advocate." He promises to hold the mayor and City Council accountable. He often frames his positions, such as support for the Amazon deal and opposition to congestion pricing, as defending the outer boroughs.
He cites his biggest accomplishments as work he has done for the city's military veterans and for rebuilding in his community, which was especially hard hit by Hurricane Sandy. He's opposed to closing the Rikers Island jails, but wants to renovate them, and says community jails would make neighborhoods less safe, but could not provide evidence for that theory given that Manhattan and Brooklyn already have downtown jails.
Ulrich calls himself a "Rockefeller" or "Bloomberg" or "moderate" Republican, who is socially progressive and economically conservative. He has been a staunch supporter of women's reproductive rights and LGBT marriage equality. He has said de Blasio and the City Council have been spending far too much money in the city budget, and will pursue greater oversight on that issue if elected.
Ydanis Rodriguez (Unite for Immigrants)
A City Council member from Manhattan, Rodriguez has top priorities of fighting for immigrants and transit -- he has been the chair of the City Council's transportation committee for more than five years now. He wants municipal voting rights for immigrants who don't currently have them, and a bailout for taxi medallion owners.
Rodriguez helped usher through the Inwood neighborhood rezoning, which he says wasn't perfect but is a positive for the community given the investments it will bring. He also cites his support of the stalled Small Business Jobs Survival Act in the City Council, which would regulate lease renewals for small business in the city. During the campaign Rodriguez received a full-throated endorsement from City Council Member Ruben Diaz, Sr., who made his latest homophobic remarks while pushing Rodriguez's candidacy on a radio program. Rodriguez explained he disagreed with Diaz Sr.'s remarks, but did not disavow the endorsement.
***CATCH UP ON ALL GOTHAM GAZETTE COVERAGE OF THE PUBLIC ADVOCATE SPECIAL ELECTION HERE***
Manny Alicandro (Better Leadership)
An attorney, Alicandro is a Republican who argues he is the only true conservative in the race, taking on Ulrich for being more of a moderate. Last year, he unsuccessfully sought his party's nomination for state Attorney General. His reason for running is that he is "fed up with the dysfunction of city hall."
"I'm the only pro-Trump candidate in the race," he's said, positioning himself as an outsider. His top priorities are fixing the MTA, investigating NYCHA, and addressing the homelessness crisis.
David Eisenbach (Stop REBNY)
Eisenbach is a history professor at Columbia University who unsuccessfully challenged Letitia James in the 2017 Democratic primary for public advocate. He has been highly critical of Mayor de Blasio, saying he has been involved in "pay-to-play" corruption and too much real estate development. He regularly cites what he calls a "small business crisis" in the city and wants to pass the Small Business Survival Jobs Act.
Tony Herbert (Housing Residents First)
Herbert is a community activist and consultant, and an unsuccessful candidate for public advocate in 2017. He points to his experience as a community advisor and activist and has focused his campaign on repairing NYCHA, moving homeless people into affordable housing, and creating a citywide vocational education program.
Benjamin Yee (Community Empowerment)
Yee is an entrepreneur and civic technologist who has worked in and around Democratic politics for roughly a decade, including as secretary of the Manhattan Democratic Party. He has sought to engage more people in local politics through a program to help people run for county committee positions. In recent years he has been teaching civic engagement seminars across the city and he wants to implement a more robust program as public advocate. Most of his platform is centered on engaging and educating members of the public, empowering them to influence city government.
Yee also promises to investigate "bad actors" at the Board of Elections, who he says are responsible for voter purges and election mismanagement. He has criticized the city government for failing to enforce concessions made by developers to communities.
Jared Rich (Jared Rich for NYC)
Rich is a Brooklyn attorney and first-time candidate for office who promises to use the position of public advocate to be "the people's lawyer." He has said that he is "a litigator who will fights and a negotiator who will listen." His priorities as public advocate would be making every school in the city great, attacking the opioid distribution chain, and fixing city housing issues. He has called the current state of public schools "an embarrassment."
Helal Sheikh (Friends of Helal)
Sheikh is a public school teacher and community activist in Queens. He unsuccessfully sought the Democratic nomination to challenge incumbent City Council Member Eric Ulrich in 2017. His platform covers many of the same issues as his fellow Democrats in the race, but he has put a specific emphasis on addressing the needs of senior citizens.
Latrice Walker (Power Forward)
Walker, a state Assembly member from Brooklyn, dropped out of the race but was not able to remove her name from the ballot.
***CATCH UP ON ALL GOTHAM GAZETTE COVERAGE OF THE PUBLIC ADVOCATE SPECIAL ELECTION HERE***
***WATCH A 15-MINUTE INTERVIEW WITH ONE OR MORE PUBLIC ADVOCATE CANDIDATE(S) HERE***
Brendan Rose and Ben Max contributed to this article.