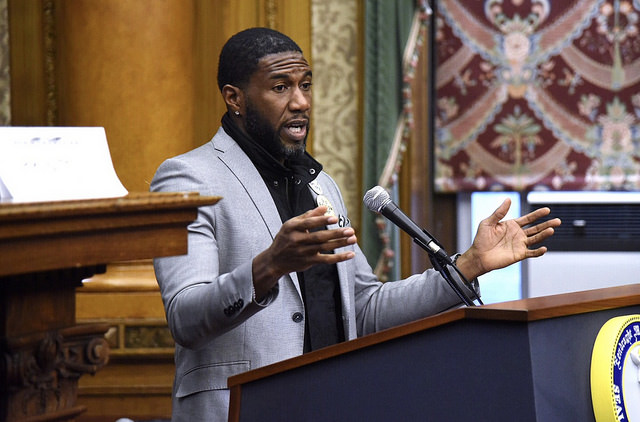 Jumaane Williams (photo: John McCarten/City Council)
---
Jumaane Williams, the outspoken New York City Council member from Brooklyn who touts himself as an "activist elected official," won the special election for public advocate on Tuesday, emerging victorious by a wider margin than most expected in a field with 17 candidates on the ballot. Only about a half-hour after polls closed at 9 p.m., NY1 television called the race for Williams, who had more than 30% of the vote with more than 50% of election precincts reporting. As of about midnight, Williams had roughly 33%, about one-third of the 402,000 votes reported at that point, with about 98% of precincts reporting results.
There are roughly 5.18 million registered voters in New York City -- turnout appears to be about 8%.
"This campaign may have been relatively short but this journey has been long," Williams said to supporters at his victory party at Cafe Omar in Flatbush, according to prepared remarks. "It traces back across years of working with all of you on the front lines of the issues that matter to all of us, of fighting for transformational change in the streets and in the halls of government."
Williams will serve the next ten months as one of three citywide elected officials, along with the mayor and comptroller, and will have to defend his seat in a potential June primary and the November general in order to serve the remainder of the term, which runs through 2021. Letitia James vacated the position after becoming the state attorney general, triggering the special election. The field featured several other current and former elected officals, such as City Council Member Eric Ulrich, the lone Republican elected official in the field and likely second-place finished, and former City Council Speaker Melissa Mark-Viverito, who appears likely to come in third.
Ulrich was in at about 19% of the vote, with Mark-Viverito at about 11 percent. Assemblymember Michael Blake was in fourth at about 8%, City Council Member Ydanis Rodriguez at 6%, and attorney Dawn Smalls at 4%. Other candidates included City Council Member Rafael Espinal and Assemblymembers Ron Kim and Danny O'Donnell, activists Nomiki Konst and Ben Yee, among others.
Williams was the presumed frontrunner from the start of the race -- though he rejected that status -- having secured 669,068 votes in an unsuccessful primary bid for lieutenant governor last year, 434,393 of which came from New York City alone. Williams retained momentum from that race and seemed to only add to the endorsements from advocacy groups, political clubs, and elected officials across the city.
Williams touted his credentials as a tenant organizer, activist, and legislator. He has repeatedly boasted of "putting my body on the line" as he did last year when he blocked an ambulance carrying immigration activist Ravi Ragbir, who was arrested at a routine check-in with federal immigration authorities. Williams' actions led to his arrest and a subsequent trial in which he was found guilty on one misdemeanor charge but not on others. He was sentenced to time served in police custody.
Williams has been both ally and antagonist to Mayor Bill de Blasio, himself a former public advocate. Williams has praised the mayor on improvements at the NYPD and on criminal justice reforms more broadly, but he has been critical that much-needed reform on police discipline and transparency has stalled. He has also focused on housing issues, saying that the mayor's approach to affordable housing is not aggressive enough. In his speech Tuesday, Williams issued a warning to the mayor, and others in power in the city and state. "I know that there are some who have sought to get rid of [the public advocate's office] and now, I'm sure there are powerful people who want it gone even more," he said. "But we aren't going anywhere. Instead, we're going to hold the powerful accountable. The mayor, the police commissioner, the governor, the big money interests. We are watching, and we will speak out."
As the public advocate, Williams becomes one of three citywide elected officials besides the mayor and comptroller. The public advocate serves as the city's ombudsperson, with a prominent bully pulpit and the ability to introduce legislation before the City Council. But the office itself holds few other powers and has a budget of only about $3.5 million -- the special election itself cost about $15 million in public funds.
Still, former public advocates have gone on to bigger things, as James' election showed. Her predecessor for two terms in the office was de Blasio. Williams has said he will not run for mayor in 2021. Though he may consider that pledge, most pressingly he needs to hold onto his newfound power later this year.
[This story has been and will be updated]
Ben Max contributed to this story.